Sometimes you read something that makes you want to just grab up all your Internet-connected devices and throw them into the fire. This may be such a story.
The Brexit surprise was the preliminary. The election of Donald Trump was the main event. Fascism is sweeping the "free" world, and Facebook is making it happen.
On November 9th, around 8:30 in the morning, psychologist Michal Kosinski awoke in his hotel room in Zurich.He was there to give a presentation on the dangers of Big Data and the so-called digital revolution. (Kosinski is a leading expert on psychometrics, a data-driven offshoot of psychology.)
What he saw when he turned on his TV confirmed what he had feared. The bomb had gone off. Despite the predictions of well-respected analysts and pundits, Donald Trump had been elected President of the United States.
On the same day, a little-known British company headquartered in London issued a press release: "We are thrilled that our revolutionary approach to data-driven communications played such an integral part in president-elect Donald Trump's extraordinary win," Alexander James Ashburner Nix is quoted as saying. Nix is British, 41 years old, and CEO of Cambridge Analytica. He only appears in public in a tailored suit and designer eyeglasses, his slightly wavy blond hair combed back.

The meditative Kosinski, the well-groomed Nix, the widely grinning Trump—one made this digital upheaval possible, one carried it out, and one rode it to power.
BIG DATA
It knows you better than you know yourself. Where does it get its information?
Where else? From YOU!
The emergence of Big Data has meant that everything we do, online or off, leaves digital traces. Every purchase with a card, every Google search, every movement with a cellphone in your pocket, every "like" gets stored. Especially every "like." For a while it wasn't entirely clear what any of this data would be good for, other than showing us ads for blood pressure medication in our Facebook feeds after we google "high blood pressure."
Would the emergence of "BIG DATA" be a boon or a bane to mankind?
Since November 9th, 2016, we know the answer. Because one and the same company was behind Trump's online ad campaigns and late 2016's other shocker, the Brexit "Leave" campaign: Cambridge Analytica, with its CEO Alexander Nix.
Psychometrics, also known as psychography, is a scientific attempt to "measure" ta person's personality. The standard approach is thge so-called Ocean Method.

Two psychologists were able to demonstrate in the 1980s that the character profile of a person can be measured and expressed in five dimensions, the Big Five: Openness (how open are you to new experiences?), Conscientiousness (how much of a perfectionist are you?), Extroversion (how sociable are you?), Agreeableness (how considerate and cooperative are you?), and Neuroticism (how sensitive/vulnerable are you?). With these five dimensions (O.C.E.A.N.), you can determine fairly precisely what kind of person you are dealing with—her needs and fears as well as how she will generally behave.
Since the 1980s, the problem faced by people studying psychometrics was the data-collection process. It meant asking subjects to fill out a complicated survey asking quite personal questions to fill out a character profile.
Then came the internet. And Facebook. And Kosinski.
In 2012, Kosinski demonstrated that from a mere 68 Facebook likes, a lot about a user could be reliably predicted: skin color (95% certainty), sexual orientation (88% certainty), Democrat or Republican (85%). But there's more: level of intellect; religious affiliation; alcohol-, cigarette-, and drug use could all be calculated. Even whether or not your parents stayed together until you were 21 could be teased out of the data.
Much depends on how well the analytics can predict the way a test subject will answer certain further questions. So, Kosinski kept expanding the envelope.
Soon, with a mere ten "likes" as input his model could appraise a person's character better than an average coworker. With seventy, it could "know" a subject better than a friend; with 150 likes, better than their parents. With 300 likes, Kosinski's machine could predict a subject's behavior better than their partner. With even more likes it could exceed what a person thinks they know about themselves.
Amazing. An astounding scientific feat with practical applications that could benefit the human race.
Or not.
In November 2015, the more radical of the two Brexit campaigns (leave.eu, led by Nigel Farage) announced that they had contracted with a Big Data firm for online marketing support: Cambridge Analytica. The core expertise of this company: innovative political marketing, so-called microtargeting, on the basis of the psychological Ocean model.
No way was the Brexit vote going to pass, remember? The British people were too smart, too sophisticated to disconnect themselves from the European Union.
Wrong.
When Kosinski learned his methods were being used for political purposes, he was appalled. So were many of his colleagues.
After the Brexit vote in July the email inquiries turned to insults and reproaches. Just look what you've done, friends and colleagues wrote. Kosinski had to explain over and over again that he had nothing to do with Cambridge Analytica.
SOON YOU WILL BE CALLING ME MR. BREXIT, TRUMP SAID
Political observers had already been pointing out the substantial similarities between Trump's agenda and that of the rightwing Brexit camp; only a few had noticed the connection to Trump's recent engagement with a largely unknown marketing company: Cambridge Analytica.
Alexander Nix is Chief Executive Officer of Cambridge Analytica.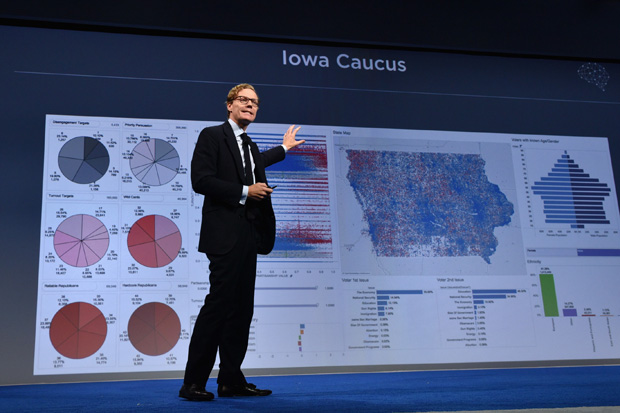 "At Cambridge, we've rolled out a long-form quantitative instrument to probe the underlying traits that inform personality. This is the cutting edge in experimental psychology," Nix said. "By having hundreds and hundreds of thousands of Americans undertake this survey, we were able to form a model to predict the personality of every single adult in the United States of America."
At first, Cambridge Analytica pushed the candidacy of Texas Senator Ted Cruz.

"It's easy to forget that only eighteen months ago Senator Cruz was one of the less popular candidates seeking nomination, and certainly one of the more vilified," he said. "In addition, he had very low name recognition; only about forty percent of the electorate had heard of him."

Cambridge Analytica had begun engaging with US elections towards the end of 2014, initially to advise the Republican Ted Cruz, and paid by the secretive American tech billionaire Robert Mercer. Up to that point, according to Nix, election campaign strategy had been guided by demographic concepts. "But this is a really ridiculous idea, the idea that all women should receive the same message because of their gender; or all African-Americans because of their race."
Instead, Cambridge Analytica understood that people are motivated to act by two things… that which causes pleasure, and that which causes pain or fear.
LET'S HEAR IT FOR PAIN AND FEAR!
In the Miami neighborhood of Little Haiti, Cambridge Analytica regaled residents with messages about the failures of the Clinton Foundation after the 2010 earthquake in Haiti, in order to dissuade them from turning out for Clinton. This was one of the goals: to get potential but wavering Clinton voters—skeptical leftists, African-Americans, young women—to stay home. To "suppress" their votes, as one Trump campaign staffer bluntly put it. In these so-called dark posts (paid Facebook ads which appear in the timelines only of users with a particular suitable personality profile), African-Americans, for example, are shown the nineties-era video of Hillary Clinton referring to black youth as "super predators."
While Hillary Clinton remained mired in the traditional campaign models, Cambridge Analytica insinuated itself into the Trump campaign.
And while the Clinton team sat back in the confidence that it was safe with its demographic calculations, a new crew was moving into the Trump online campaign headquarters in San Antonio, Texas, as Bloomberg journalist Sasha Issenberg noted with surprise after a visit. The Cambridge Analytica team, apparently just a dozen people, had received around $100,000 from Trump in July; in August another $250,000; five million in September. Altogether, says Nix, they took in around fifteen million.
Think it was an accident that Trump focused on Michigan and Wisconsin in the last few days of the campaign? Think again.
The company divided the US population into 32 personality types, and concentrated on only seventeen states. And just as Kosinski had determined that men who like MAC cosmetics on Facebook are probably gay, Cambridge Analytica found that a predeliction for American-produced cars is the best predictor of a possible Trump voter. Among other things, this kind of knowledge can inform Trump himself which messages to use, and where. The decision to focus candidate visits in Michigan and Wisconsin over the final weeks of the campaign was based on this manner of data analysis. The candidate himself became an implementation instrument of the model.
WINNER: TRUMP! AND CAMBRIDGE ANALYTICA!
Another big winner in the election was Cambridge Analytica. Steve Bannon, a Cambridge Analytica board member and publisher of the ultra-rightwing online site Breitbart News, was named Trump's chief strategist. Marion Maréchal-Le Pen, ambitious Front National activist and niece of the presidential candidate, has tweeted that she has accepted the firm's invitation to collaborate. In an internal company video, there is a live recording of a discussion entitled "Italy." Alexander Nix confirms that he is in the process of client acquisition, worldwide. They have received inquiries out of Switzerland and Germany.
Kosinski will accept no ownership of the monster some say he created.
The world has been turned upside down. The Brits are leaving the EU; Trump rules America. It all began with one man, who indeed tried to warn of the danger, and who still gets accusatory emails. "No," says Kosinski quietly, shaking his head, "this is not my fault. I did not build the bomb. I just showed that it was there."
BOOM!
For more of our reporting on Cambridge Analytica and its Breitbart connection…