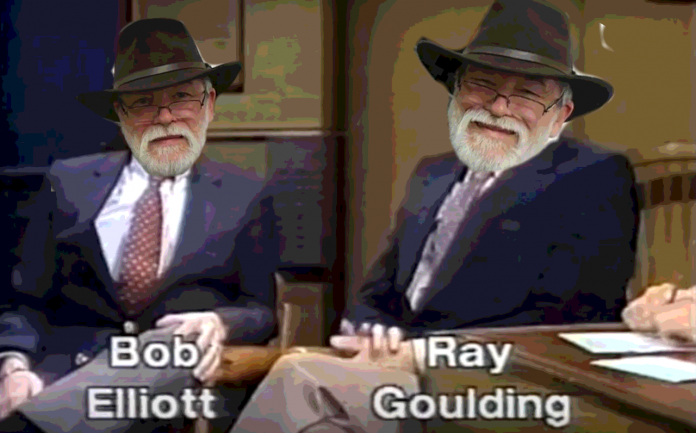 William John Joseph Hoge III, thief of the intellectual property of others in order to make his dry popcorn fart of a blog marginally entertaining is at it again.
This time he's stealing from the legendary comedy duo, Bob Elliot and Ray Goulding, aka "Bob and Ray."
He thinks his sin is excused by tagging the blog post as "Bob and Ray". It is not an excuse.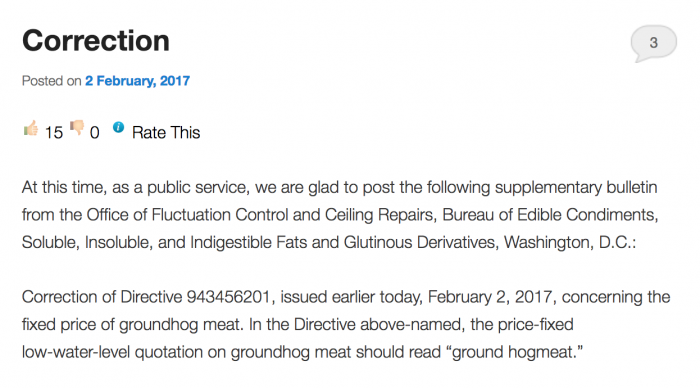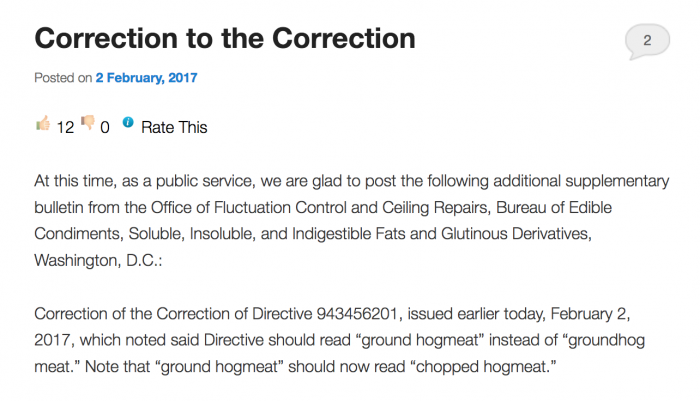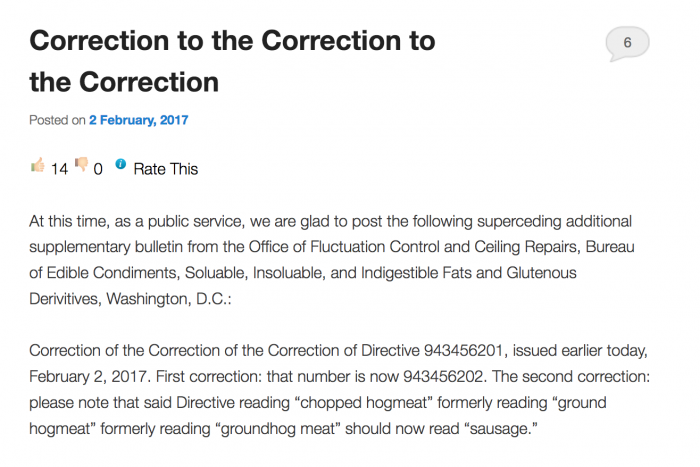 As noted, he believes his sin is expiated by including the below.


Tagged "Bob and Ray"? Suppose you're younger than, say, 60 and you have no idea who Bob and Ray were? Why is Hoggy tagging something with the names Bob and Ray?
PLAGIARISM!
But his readers are yapping for more!

Now, if I may, I would like to demonstrate the proper way to use the very same joke while giving attribution to the joke's creator. Among other places on the Net, it can be found here.
Anyway, it's ground already trod upon by the two and only Bob and Ray.  I can't find the audio, but here's the text; imagine these announcements, in the blandest possible voice, interrupting the radio show.
At this time, as a public service, we are glad to post the following bulletin from the Office of Fluctuation Control, Bureau of Edible Condiments, Soluble, Insoluble, and Indigestible Fats and Glutinous Derivatives, Washington, D.C.:

Directive 943456201: As of February 1, 2009, the price of groundhog meat will be fixed at a level higher than the price of groundhog meat on October 15, 2008, with the exception of the low-level water route outlined in the Bureau's directive 20066 of finding the Kansas City stockyards. Note: slightly higher west of the Rockies.
 ——————————————————————————————————
At this time, as a public service, we are glad to post the following supplementary bulletin from the Office of Fluctuation Control, Bureau of Edible Condiments, Soluble, Insoluble, and Indigestible Fats and Glutinous Derivatives, Washington, D.C.:

Correction of Directive 943456201, issued earlier today, February 1, 2009, concerning the fixed price of groundhog meat. In the Directive above-named, the price-fixed low-water-level quotation on groundhog meat should read "ground hogmeat."
——————————————————————————————————
At this time, as a public service, we are glad to post the following additional supplementary bulletin from the Office of Fluctuation Control, Bureau of Edible Condiments, Soluble, Insoluble, and Indigestible Fats and Glutinous Derivatives, Washington, D.C.:

Correction of the Correction of Directive 943456201, issued yesterday afternoon, February 1, 2009, which noted said Directive should read "ground hogmeat" instead of "groundhog meat." Note that "ground hogmeat" should now read "chopped hogmeat."
——————————————————————————————————
At this time, as a public service, we are glad to post the following superseding additional supplementary bulletin from the Office of Fluctuation Control, Bureau of Edible Condiments, Soluble, Insoluble, and Indigestible Fats and Glutinous Derivatives, Washington, D.C.:

Correction of the Correction of the Correction of Directive 943456201, issued earlier, February 2, 2009. First correction: that number is now 943456202. The second correction: please note that said Directive reading "chopped hogmeat" formerly reading "ground hogmeat" formerly reading "groundhog meat" should now read "sausage."
If WJJ Hoge III (who is still trying to find out where I live, for some creepy stalkerish reason since I am most decidedly NOT a teenage girl) had an ounce of integrity, he would stop stealing other peoples' work and claiming it as his own.
TAGGED: DIPSHIT PLAGIARIST DEMENTED SENILE OLD MAN