There are reasons I am very reluctant to give my personal home address to WJJ Hoge III of Westminster, Maryland. They revolve around issues of personal security and safety based on the fact that each time I have revealed my home address, Hoge has promulgated that address to his network of slime-covered operatives who use the information to stalk me and endanger my life and safety.
I. HOGE CONTINUES TO DENY THAT HE HAS CLAIMED I AM FAKING MY PARKINSON'S DISEASE.
Hoge has, in fact, made such declarations. In a 2014 court document, I made the following claim.
Note: In the document I claim having advanced Parkinson's (at that point, 14 years post diagnosis. I had a full-time caregiver until she died in June 2015. I needed (and still need) a walker to perambulate long distances. As I had given up driving for safety reasons and Gail did not like driving long distances, I needed to make arrangements to get to and from Westminster from Elkridge, Maryland. And it is a fact that stress tends to worsen and accelerate the decline of Parkinson's disease, a progressive neurological disorder.
IN HIS REPLY, HOGE DENIED I SUFFER FROM PARKINSON'S DISEASE. HE DENIED THAT STRESS MAKES IT WORSE.
In his hate blog, Hoge wrote at the time…
"I denied the level of incapacitation he claimed."
That, of course, is bullshit. I did not claim it was impossible to make arrangements and travel. I claimed it took effort and arrangement.
HOGE DENIED THE ALLEGATIONS OF PARAGRAPH 8, in effect denying that "I suffer from advanced Parkinson's disease, have (had) a full-time caregiver, had a strict regimen of daily medications, needed a walker, and the need to jump through hoops to arrange transportation to and from Westminster to perform for his amusement.
Then, in Pararaph 9, HOGE DENIED THAT THE CONSTANT THREAT OF PRISON WAS A STRESSOR THAT COULD AND DID CAUSE MY CONDITION TO WORSEN.
So, in this court document, Hoge denied I suffer from advanced PD and that his constant efforts to throw me behind bars on a whim tended to make the illness worse. There's nothing in those documents about "exaggerating" my illness. HE DENIED I HAVE IT IN HE FIRST PLACE!
I must be one HELL of an actor!
Hoge's readers certainly got the message Hoge was sending.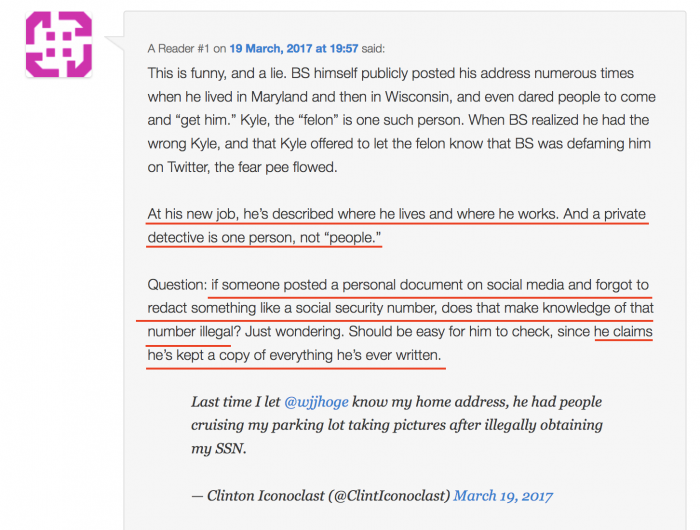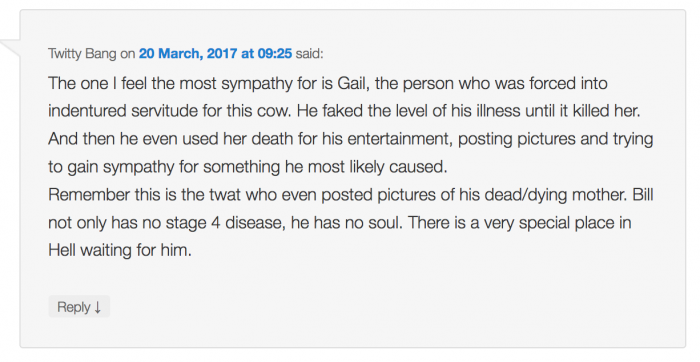 I have never posted my current address. Hoge's readers accuse me of using my disease to kill my wife. As the owner of a blog, Hoge is not legally responsible for his commenters, OTHER THAN THE RESPONSIBILITY THAT FALLS ON US ALL TO BEHAVE LIKE DECENT HUMAN BEINGS. I am being sued for agreeing with a comment about Hoge's alleged lust for teenaged booty. How does Hoge justify ignoring his duties to moderate his blog for the sake of human decency?
II. THE LAST TIME I GAVE HOGE MY HOME ADDRESS
His lickspittle "A Reader" tells the story.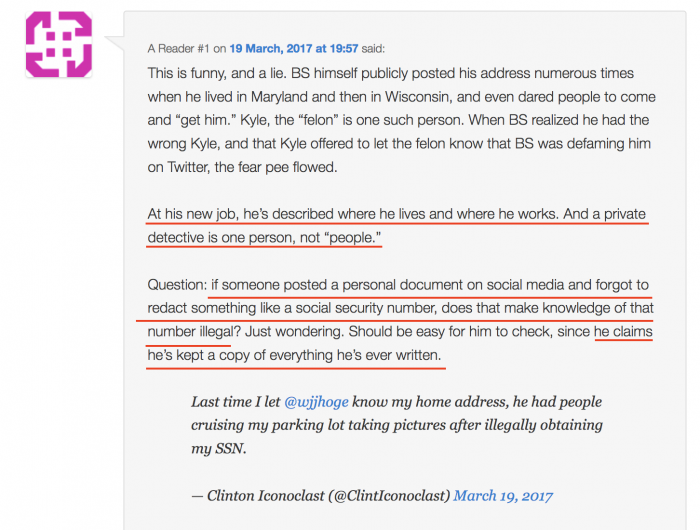 So a private investigator was hired to cruise my parking lot to take pictures of my car. Who paid for this PI? And what motivated "Paul Krendler" to get illegal access to my SSN, then illegal access to my Wisconsin driver's license, to get this information?
'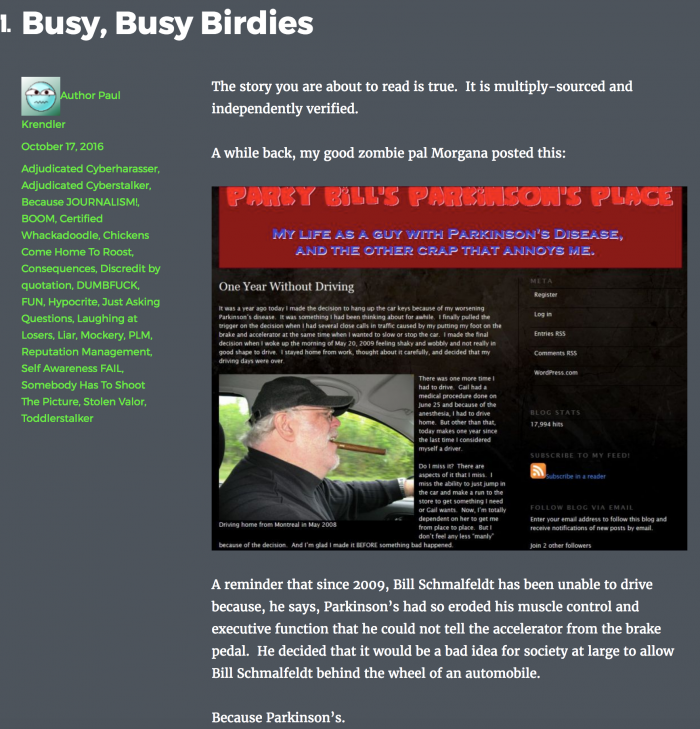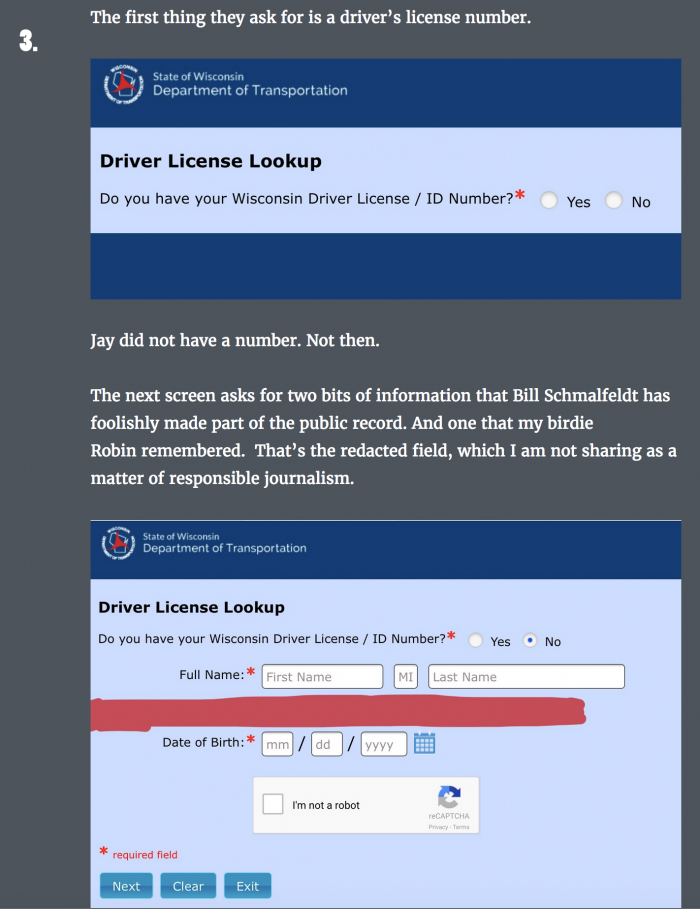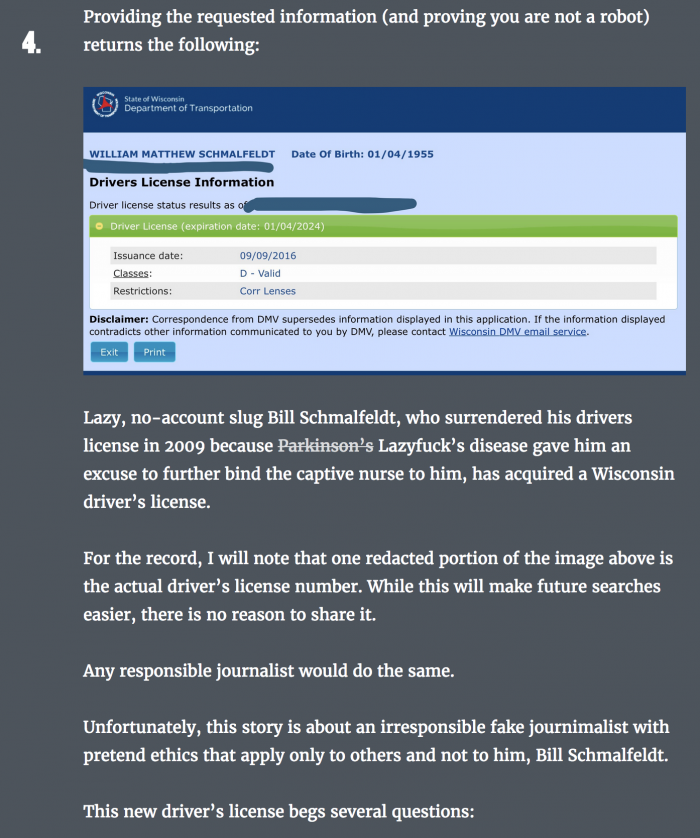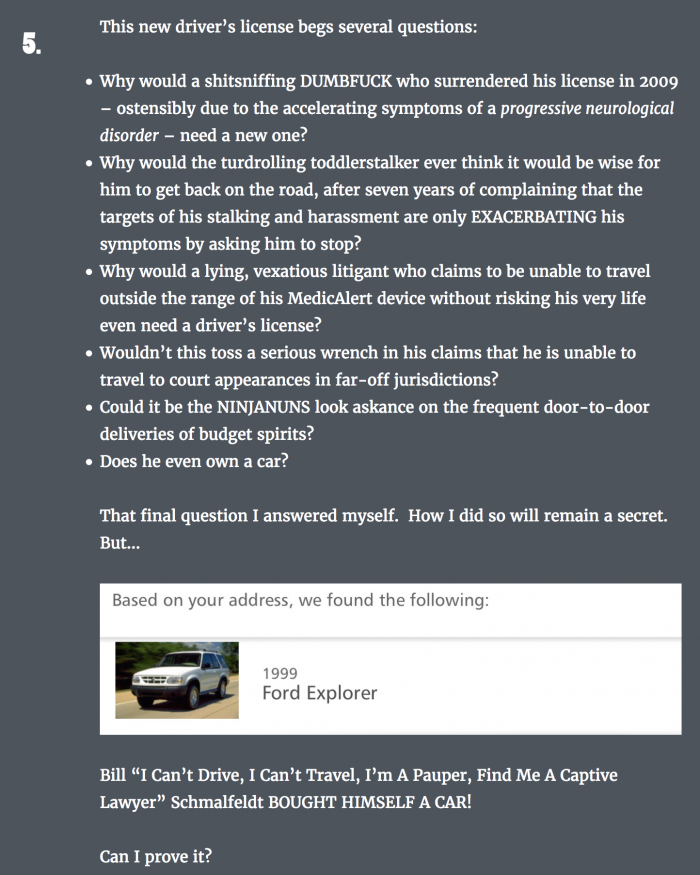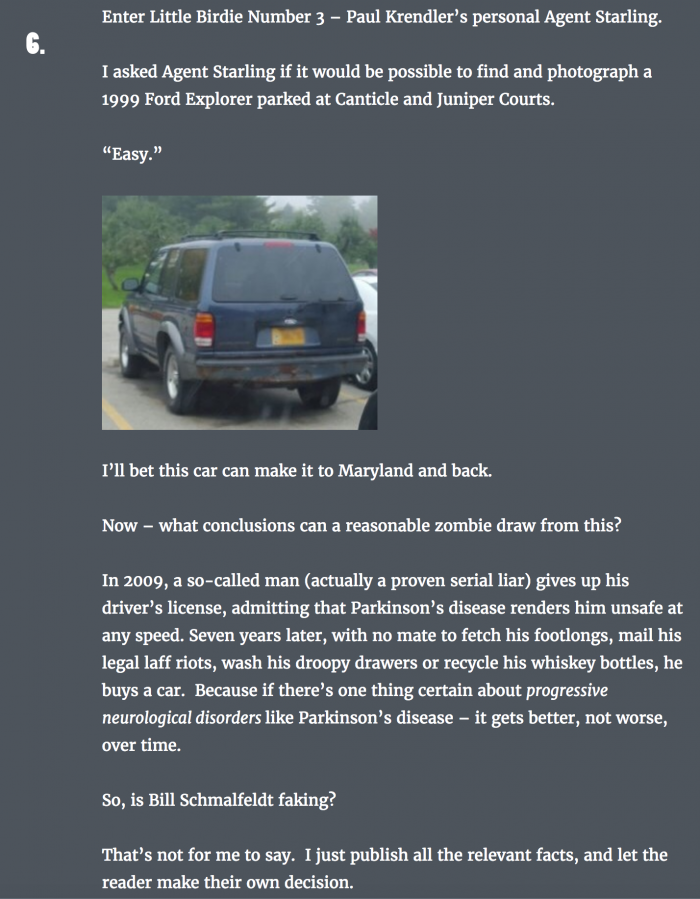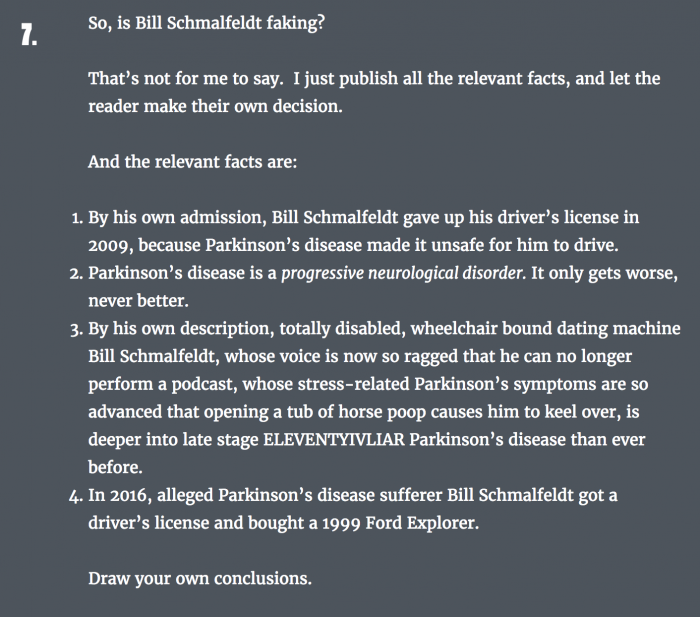 When Gail died, I lost my lover, my best friend, my caregiver. I was faced with a choice. I could sit in my recliner and wait to die (an attractive option at the time), or I could double down on my efforts to exercise, take care of myself, build up the strength in my arms and legs.
Once I felt I could do so safely, I applied for and got a drivers license. Then I got a car.
NONE OF THIS IS ANY CONCERN WHATSOEVER TO WJJ HOGE III OR HIS DROOLING FOLLOWERS.
I am stronger, I have lost nearly 20 lbs., the disease progresses but I am stronger.
To the best of my knowledge there isn't a single movement disorder specialist among WJJ Hoge's readership. Thus, they are engaged in pernicious and defamatory speculation designed to cause harm.
III. MY RADIO WORK POSES NO REAL STRAIN
The reason I retired from the NIH is complicated. I was hired to write and record podcasts and to serve as media liaison. That duty required escorting local and national media outlets during their visits to the NIH. I could no longer do that.
Now, Hoge and his slobbering readers are trying to get me fired from a 4-hour a day gig, where I remain seated, and speak for an average of 9 minutes every hour. It is a music intensive show. It is not a talk show. But such is their blind hatred that they cannot abide my doing something I enjoy, something that causes me no stress.
IV. HOGE HAS A HISTORY OF TRYING TO FRAME ME IN THE PAST
There is the much-written-about "letter" I am supposed to have mailed to Hoge in blatant violation of a peace order. "Paul Krendler" wrote the letter at the behest of Hoge, then mailed it to George Howell who took the letter to Howard County and mailed it from there.
Hoge attempted to foist a prank phone call website's offering as me, calling him, in violation of the peace order.
The voice was not mine.
https://www.prankdial.com/pranks/coming-for-thanksgiving
SUCH IS HOGE'S LUST TO FIND ME GUILTY OF SOMETHING, ANYTHING, THAT HE HAS SPENT GOD KNOWS HOW MUCH, IGNORED HIS DYING WIFE, MANUFACTURED AND FORGED EVIDENCE AND DONE ANY NUMBER OF ILLEGAL ACTS DESIGNED TO CAUSE ME LEGAL DIFFICULTIES.
I am prepared to discuss all of this with the judge at the next hearing I am required to attend. By Skype.
Be careful what you wish for, Hoggy,