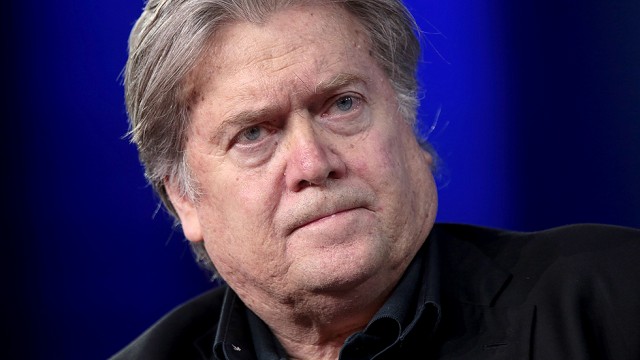 Something ain't right here.
Over the weekend, the self-professed rightful owner to the mantle of dead Andrew Breitbart, Lee Stranahan, quit Breitbart.com over a dispute with Breitbart management about his being a credentialed member of the White House press corps.
Today, we learn that the alt-right (white nationalist/supremacist) website is kvetching over a report on The Daily Beast announcing Breitbart.com was denied a permanent Senate press pass. The Hill reports:
"In yet another effort to smear Breitbart News, the Daily Beast rushed out an inaccurate headline about our standing with the Senate Press Gallery," Breitbart News Network Spokesman Chad Wilkinson said in a statement to The Hill Monday.

"They falsely claimed that our application for a permanent membership was denied.  In fact, the committee took no position either way and simply asked for additional information.

"In the meantime, it has extended our temporary passes."
The question seems to be, has Stephen K. Bannon — Trump's guru from the alt-right — severed himself completely from the inner workings of Breitbart.com.
In November of 2016, Breitbart News co-founder, president and CEO Larry Solov requested permanent press credentials. He said that Executive Chairman Steve Bannon, named a top strategist to President Trump, had resigned from the news site.

Solov wrote Bannon "has no editorial, executive, financial or other role or interest" in Breitbart News.

But the committee stated that other than "us trusting Larry," there wasn't any tangible evidence that Bannon had severed all ties, according to the Daily Beast report.
TRUST, BUT VERIFY?
The Hill reports there are still questions about the site's connections to Rebekah Mercer, a Republican mega-donor and Trump transition team executive, and the conservative nonprofit Government Accountability Institute (GAI), which was co-founded by Bannon and received investments from the Mercer family.
Mercer's father in Robert Mercer, a hedge-fund billionaire who reportedly invested $10 million in Breitbart News back in 2011.
According to The Hill, the committee will meet on April 25 to consider Breitbart's press pass status.