Amidst the Twitter talk this afternoon that President Trump may have violated US Law by attempting to intimidate a witness with his blustering, misspelled Tweet demanding that the Senate Intelligence Committee grill former acting-Attorney General Sally Yates over leaks to the media, it was Yates who refused to melt under the heat of the TV lights, bobbing and weaving and making the GOP Senators on the dais look like a band of marginally-intelligent chimps.
The New York Times reports:
■ Ms. Yates testified that she told President Trump's White House in its early days that his first national security adviser, Michael T. Flynn, was susceptible to blackmail.
■ Her testimony raises questions about how Mr. Trump responded to her concerns about Mr. Flynn, who was not fired until two weeks later, once Ms. Yates's unease became public.
■ Mr. Clapper confirmed that British intelligence officials shared "very sensitive" information about Russian connections to Mr. Trump's campaign.
Republican Senators did not want to talk about any of that stuff. They were kowtowing to the Tweeted demand of the Tangerine-in-Chief, blurted earlier this morning.
"Ask Sally Yates, under oath, if she knows how classified information got into the newspapers soon after she explained it to W.H. Council," Trump tweeted.
The Washington Post's conservative columnist Jennifer Rubin summed things up nicely.
UPDATE, 4:30 p.m.: Yates is giving a tutorial in committee testifying. She just walloped not one but two GOP senators. Sen. John Cornyn (R-Tex.) tried to accuse her of misconduct in refusing to defend the Trump administration's travel ban, which was ultimately blocked by multiple courts. Yates reminded him that at her confirmation hearing, Cornyn had asked if she would refuse to carry out an illegal or unconstitutional order. She recalled she had promised him she would indeed refuse. Ouch. Then up came Sen. Ted Cruz (R-Tex.) sleazily trying to get her to opine on Huma Abedin's email habits(!). When that led nowhere, he took to quoting the statutory basis for the travel ban. She corrected him by pointing out that there was subsequent congressional action that specifically prohibited religious discrimination. Moreover, she took the opportunity to drop the news bomb that the administration ordered the Office of Legal Counsel to not even tell the acting attorney general the ban was in the works. Game, set, match.
What next? Well, the inevitable Trump Twitter Tantrum of course.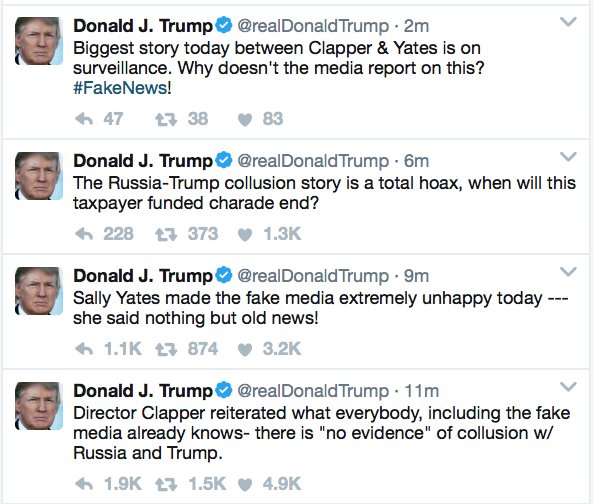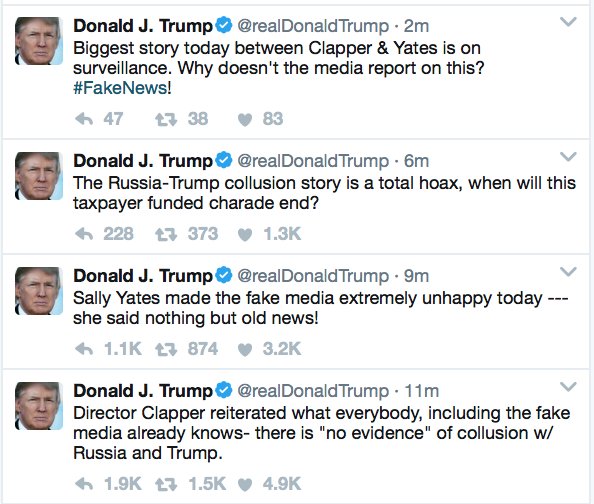 But seriously? Who knows?