Seems to me when you publish a story by wife of a Supreme Court Justice, that fact should be mentioned to give the story a bit of perspective. But this is The Daily Caller we're talking about, so fairness need not apply.
Big Old Ginny Thomas put down the Turkey Leg (no, not an affectionate nickname for SCOTUS Associate Justice Clarence Thomas) long enough to write about how it's the unfortunate right wingers who are being savagely attacked by liberals who are upset with their government being given to Russia.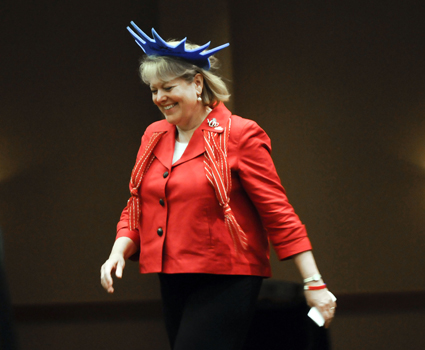 The left is using mob tactics to publicly "harm" conservative leaders, but one successful crisis communicator and digital forensics expert is working to shut down these liberal attacks.
(What's with the scare quotes around "harm?")
Brian Glicklich is best known as the digital forensics expert who successfully stopped the "Hush Rush" conspiracy intended to censor or force Rush Limbaugh out of business. "If you don't adhere to the left's orthodoxy, they will seek to harm you," said Glicklich in an exclusive interview with The Daily Caller News Foundation.
See, Glicklich doesn't LIKE the free market. It's BAD when people use their spending power to put the kibosh on oxycodone addled mega-liars like Rush Limbaugh.
I'm surprised that Ginny hasn't mentioned "Alinsky Tactics" in her…
"It takes great courage" to stand up to the left's escalating Alinsky tactics, he says. "It's meant to be personal. It's meant to be hurtful. It often involves not just you, but your families."
There it is.
And Glicklich? BU has had his number for quite some time.
And who could forget the love this publication shared for Groundswell's chief motivatrix?
More recently, Glicklich has come to the assistance of shrill right wing slant-head liar Sean Hannity, who is losing advertisers by the bucket load.
http://www.allsides.com/news/2017-05-30-0857/backlash-americans-stand-sean-hannity
Another one who seems to think the First Amendment guarantees folks the right to spew hatred on the radio is Dan Bongino, who keeps losing elections in Florida despite the vaunted endorsement of Maryland's WJJ Hoge III.
Dan Bongino, Conservative Review contributing editor and host of "The Renegade Republican" podcast, helped lend an influential voice to boycott USAA until it reinstated its advertising on Hannity's Fox News program.
Right Wingers are the first to call for a boycott. Stephen Colbert. Kathy Griffin and Bill Maher are recent examples.
Their hypocrisy blinds them to the fact that they who live by the boycott can also die by the boycott.