According to Digiday, Breitbart ads have plummeted nearly 90 percent in three months as Trump's troubles mount.
Six months ago, Breitbart was riding the wave of the election, plotting an international expansion to provide a platform to spread far-right, populist views in Europe. But today, Breitbart is facing traffic declines, advertiser blacklists, campaigns for marketers to steer clear and even a petition within Amazon for it to stop providing ad services.
There were just 26 brands appearing on Breitbart in May, down from a high of 242 in March, according to MediaRadar, which tracks ads on websites. Many conservative sites, including Townhall, The Blaze and National Review, have also had declines, although those declines are much less pronounced than Breitbart, according to MediaRadar.
Seems a prophetic gentleman once wrote these prophetic words of prophecy.
The Muckraker had a few drinks with a marketing director named Arthur Sando, a stranger he had just met, according to an article in the Hollywood Reporter.
"He was friendly and engaging," Sando recalled. "I said, 'You can't like the current slate of Republican candidates' and he said, 'Why would you say that?' I said, 'Well, they're talking about contraception,' and he said, 'The conversation is being framed by the liberal media.' I said, 'Well, the media isn't writing Rick Santorum's speeches for him.' We had a back-and-forth for awhile until we said we weren't going to agree on some things."
This friendly debate continued in the bar as the Muckraker sipped red wine, Sando said. "We just hit it off, he was delightful. There were other people who sat down and joined the conversation."
After about two hours of this friendly chit chat, the Muckraker decided it was time to amble on homeward. He exchanged contact info with Sando and was out the door.
He almost made it home. Less than an hour after exchanging business cards with Sando, Andrew Breitbart was slowly assuming room temperature on a gurney in a Los Angeles area hospital.
If there is an afterlife for right wing muckrakers, and if Breitbart can see what's going on with his empire, what's being done in his name in the months after his sudden death, one has to wonder if he would be pleased.
Somehow, we don't think so.
A whole cottage industry has arisen based on "knowing Andrew" or "being associated with Andrew" or "having been converted from liberalism by Andrew." As you will see, not all of these people who invoke Andrew Breitbart's name have his legacy as their primary concern.
(From the e-Book "EATING BREITBART" by Bill Schmalfeldt.)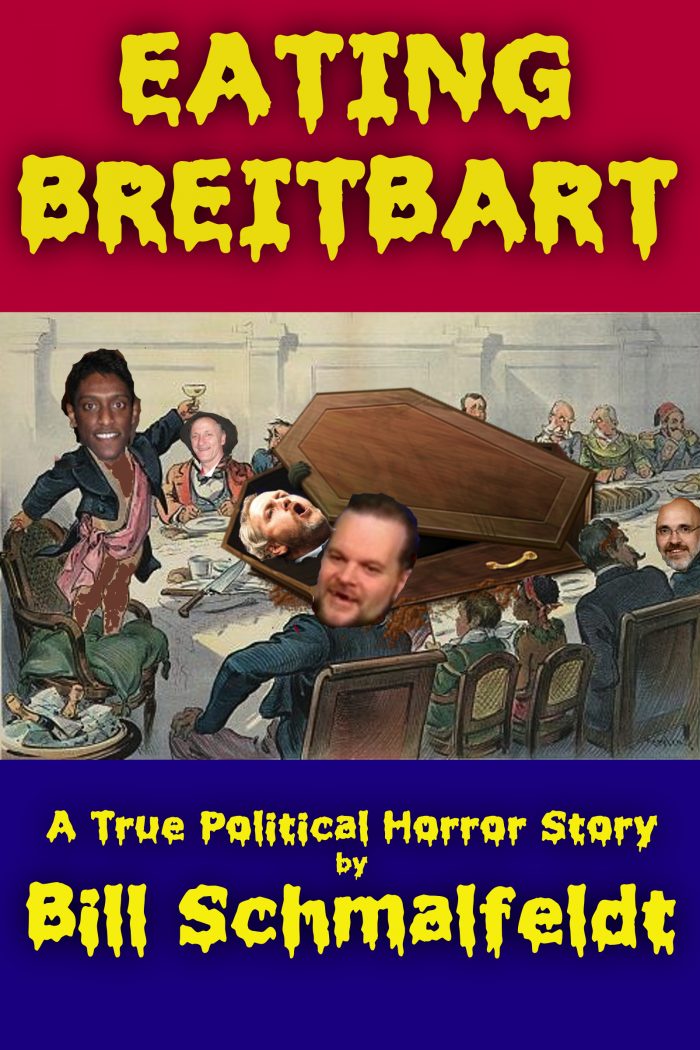 Ah. Good times! Good times!
But BAD times for the media empire created by the Muckraker!
Sad? Not really. Expected? See the e-book I wrote in 2012.
From January to March, there were 20 categories of advertisers on Breitbart, many of them coming from media/entertainment and retail, according to MediaRadar. But by April, the advertisers had dwindled to mostly targeted, conservative brands that were buying programmatically, including American Patriot Daily and Cosmohurtskids.com.
"What this means is that it's now only able to get demand via Google Ad Exchange and Taboola, and it's filled with classic direct-response advertising bought on a performance basis whose buyers don't care about the same things brands do," said Jonathan Mendez, CEO of Yieldbot, an ad-tech company that competes with Google by letting advertisers buy display ads by keywords.
Everything is proceeding as I have foreseen.
(Click here to purchase a copy of "Andrew Breitbart is Still Dead (And I Ain't Feelin' So Great Myself." The perfect Fathers' Day gift!)