Sell targets with Hillary Clinton's picture on them? Put crosshairs on the face of President Obama, Gabby Giffords and others? Do an updated version of Julius Caesar where President Obama is the assassinated Roman leader? Only candy-assed liberal snowflakes would be upset by such things.
How soon these anti-liberal incitements to violence fall victim to conservative amnesia on that very rare occasion when a self-identified liberal does harm to a Republican.
Remember Andrew Breitbart openly calling for the murder of liberals?
How about Rand Paul stating the REAL purpose of Second Amendment is to kill American tyrants?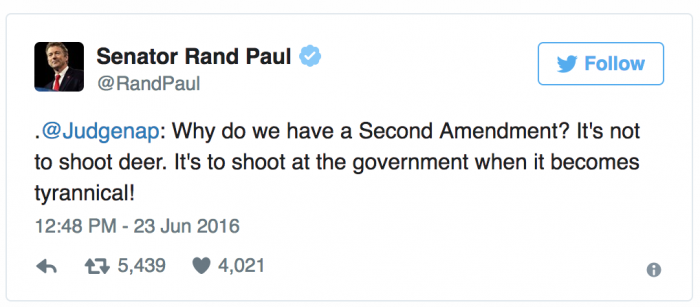 To listen to many of the yapping mouths on the right today, one would think conservatives have clean hands.
The president's son, Donald Trump Jr., pointed his followers on Twitter to commentator Harlan Hill saying, "Events like today are EXACTLY why we took issue with NY elites glorifying the assassination of our President." Recent theatrical performances, including by comedian Kathy Griffin and rapper Snoop Dogg, have portrayed President Donald Trump being hurt or killed.
"This could be the first political rhetorical terrorist attack," Rep. Rodney Davis (R-Ill.) said on CNN.
Conservative radio host Michael Savage tweeted "I warned America the Dems constant drumbeat of hatred would lead to violence!"
DrudgeReport highlighted left-wing Twitter users who "celebrated" the shooting.
Has anybody actually SEEN or READ Shakespeare's "Julius Caesar?" It is NOT a glorification of assassination. It is a story of the FUTILITY of political violence. You can cast Donald Trump, Barack Obama, Santa Claus or Tinky Winky of the Teletubbies as Caesar, and the message is the same! POLITICAL VIOLENCE DOES NOT WORK!
As we know, there's no victim like a white conservative victim. Just ask one. They are the most oppressed people on the face of the Earth. When people reject white, conservative Christianity, they declare a war on Christmas and Easter and God. When people reject the overt racism of white conservatives, we're called "easily-triggered snowflakes" who worship at the altar of "political correctness."
The scariest part of this whole narrative is how closely it hews to the path of the rise of the Third Reich. "YOU are not the cause of this nation's troubles. THEY are! THEY are the killers! THEY are the vandals. THEY are the outsiders, the breeders of violence and pestilence that must be eradicated to keep our nation pure and clean and safe and WE are the leaders with the guts to see that it gets done."
BE ALERT. STAY INFORMED. AVOID RUMORS. DO NOT RETWEET THINGS YOU DO NOT KNOW FOR A FACT TO BE TRUE. BE SMART. BE EDUCATED.
But most of all…
BE READY.
We fear the worst is yet to come.