William John Joseph Hoge III, a blogger from Westminster, MD, has long-allowed his readers to refer to pro bono legal representatives as "welfare lawyers." This only applies, however, when one of Hoge's opponents seeks a pro bono attorney.
When Hoge secures the services of a pro bono attorney, his actions are lauded by his readership. Because it's OK when HOGE does it.
And what a dilly of a pro bono attorney Mr. Hoge has procured to represent himself (and ONLY himself) in my lawsuit against Hoge, Patrick Grady, Sarah Palmer and Eric P. Johnson. We mean "dilly" in every positive sense of the word, because Louis D. Nettles is a prominent attorney in Florence, South Carolina, with a distinguished record that makes one truly wonder if Hoge gave him the full lay of the land in the case before he agreed to accept Mr. Hoge as a client — for free.
Mr. Nettles is perhaps best known for his representation of Howard K. Stern, Anna Nicole Smith's estate executor, who sued several individuals for taking property from Smith's residence in the Bahamas after her death on Feb. 8, 2007. The case concluded with a settlement in April 2012. KA-CHING!
He has appeared as an advocate for defendants and plaintiffs in the US District Court for the District of South Carolina 77 times according to PACER. Eleven of those instances have been before Judge R. Bryan Harwell, the presiding judge in our case.
4:06-cv-00374-RBH Haugen v. Tracy
Mr. Nettles represented Country Insurance and Financial Services in a case where the insurance company was neither a plaintiff or defendant. The case ended with a settlement between the parties.
4:08-cv-04155-RBH Pacific Capro Industries v. Global Advantage Distribution Warehouse LLC et al
Nettles and the senior partner at the law firm Karl Alan Folkens represented the Plaintiff. Although the plaintiff prevailed with a default judgment, Nettles and Folkens sought to have the case reopened to scoop up more attorney's fees. Judge Harwell denied the motion.
4:11-cv-00017-RBH Nason v. World Choice Investments LLC
Nettles rep the plaintiff who settled with defendant.
4:11-cv-00308-RBH Chu's Packaging Inc v. Sandhill Quilting Co Inc
Nettles represented the plaintiff. Defendant didn't respond to lawsuit. Winner, Nettles.
4:12-cv-02279-RBH Fountain et al v. Timmonsville, Town of et al
Nettles represented plaintiffs. Case resulted in settlement.
4:13-cv-01268-RBH Briggs v. FedEx Ground Package System Inc et al
Nettles represented the insurance company, and withdrew when the plaintiff decided not to assert underinsured driver policy.
4:15-cv-03361-RBH Gaetano v. National Union Fire Insurance Company of Pittsburgh PA
Represented plaintiff. Settled.
But it hasn't been all skittles and beer for the South Carolina attorney.
In 2014, Mr. Nettles represented four family members and the General Conference of the Free Will Baptist Church of the Pentecostal Faith in a suit against the New Hope Church, another family member, and three other individuals. The crux of the argument seems to be whether or not New Hope owned the property where it was situated free and clear of any legal interest claimed by the General Conference. A judge in Florence County ruled against Mr. Nettles clients. He appealed and the appeals court affirmed the decision of the Florence County judge. Mr. Nettles took the case to the state Supreme Court which refused to hear the case.
In 2012, Mr. Nettles represented an individual appealing a Spartanburg County trial courts award to CalTel, Inc. The SC Court of appeals ruled against Mr. Nettles' client. S.C. Ct. App. Feb. 22, 2012)
4:06-cv-01575-RBH Allora LLC v. Willoughby Family Investments LLC
Nettles represented three defendants and one cross defendant in this case. The case ended with a settlement between the parties.
4:10-cv-02717-RBH Cadence Bank NA v. Horry Properties LLC et al
Nettles represented three of the defendants. In a split decision, Judge Harwell gave the Plaintiffs a win on their first cause of action, and the defendants a victory on the second cause. Nettles asked Judge Harwell to alter the decision. He declined. Nettles appealed to 4th Circuit which affirmed the Judge's decision.
Again, we must remark on the double standard applied by the Hoge readership, who tend to deride lawyers found on AVVO as somehow being substandard.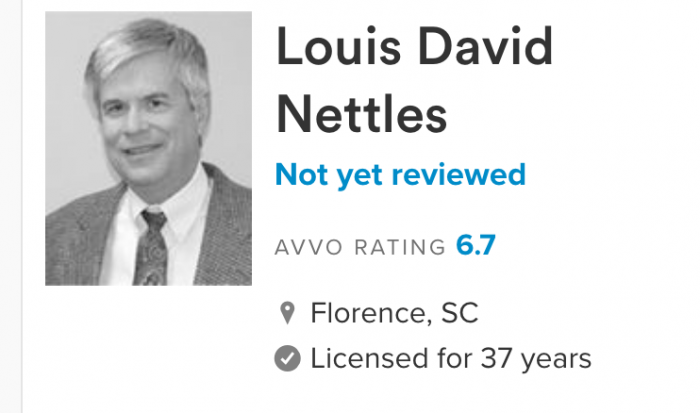 Seeing as how our PACER review of Mr. Nettles performance before Judge Harwell indicates a strong propensity to settle, and when representing a defendant settlement generally means the Plaintiff gets something from the Defendant (in this case, Hoge), we can only wonder what this means for the other defendants in this case.
Will Mr. Hoge tell his "welfare lawyer" (no offense intended to Mr. Nettles) to cut a deal to get him off the hook while leaving the other defendants hanging and twisting in the wind?
Time will tell.