At the beginning of the day, there were two solid votes against the Trumpcare bill in the Senate. That meant Senate Majority Leader Mitch McConnell (R-KY) could not afford to lose a single vote in an effort to bring the vote to the floor.
Tonight, McConnell lost two more votes. Sen. Mike Lee (R-UT) and Sen. Jerry Moran (R-KS) have publicly stated that they will under no circumstances vote in favor of a motion to proceed on the Trumpcare vote.
In its current form, Trumpcare is dead.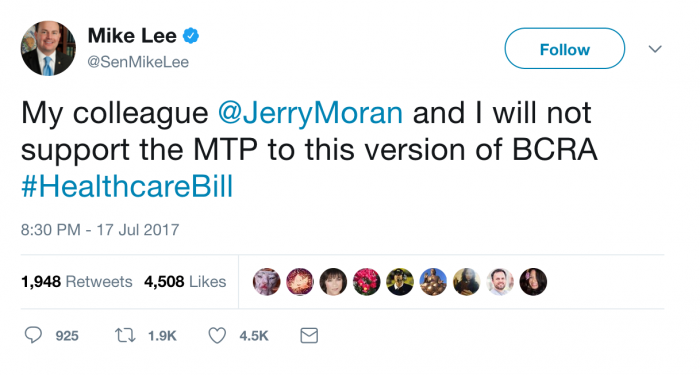 Confusion reigns in the Republican-controlled Senate as the GOP tries to decide what to do next. It was a strategic move by Lee and Moran as nobody wanted to be seen as the one Senator to kill the bill, hence the joint statement.