Donald Trump, the petulant, posturing, polyester president, has threatened to cut health care subsidies for the poor — and Members of Congress unless he gets his way.
NOW! NOW! NOW!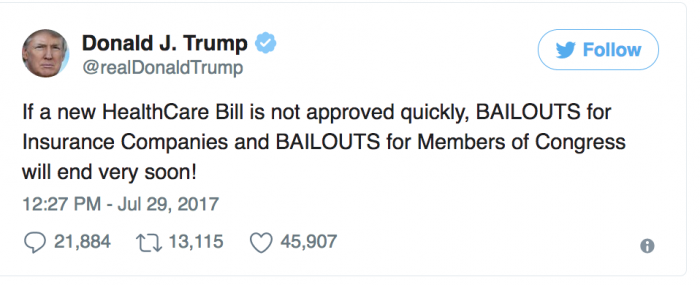 According to a report in Talking Points Memo, the first part of his tweet is a reference to cost sharing reduction payments, subsidies that allow insurers to offset health-care costs for low-income Americans. Trump has threatened to withhold those subsidies before—a move that insurers and health care providers warn would destabilize the individual health insurance market and cause premiums to soar.
The second half of the tweet suggests that Trump is going to continue to target his own GOP-controlled Congress for their inability to undo former President Obama's signature achievement. Trump's comment suggests he'd consider ending the employer contribution for health insurance currently provided to lawmakers.
And if that doesn't work, he will hold his breath until his face turns blue.