When a 2010 Dodge Challenger with the Ohio License Plates GVF1111 plowed through a crowd of anti-fascism protesters in Charlottesville, VA, this afternoon — killing at least one, wounding at least 19 — it was a car registered to a 20 year old in Maumee, Ohio,
The car was registered to James Alex Fields, Jr. He is pictured here with his mom, Ms. Samantha Bloom of Maumee, although her phone number is listed in Florence, KY.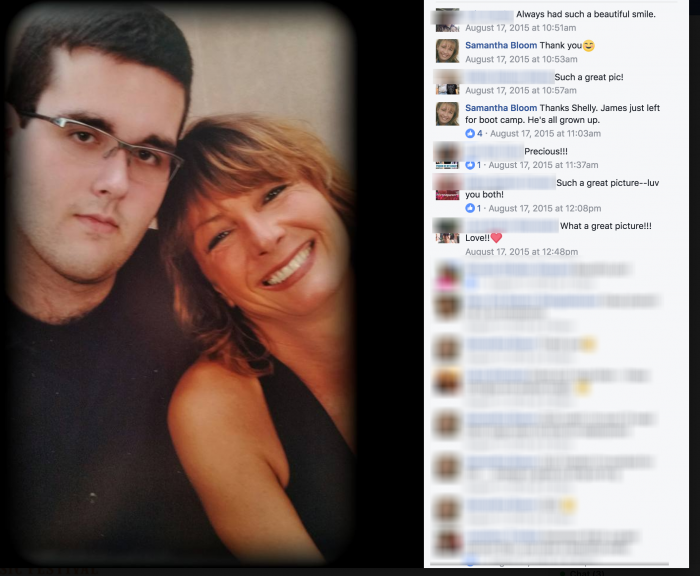 Ms. Bloom, who shares a Maumee apartment with her son, was a proud mom nearly two years ago when she told her Facebook friends her son was "all grown up" and heading off to boot camp. Numerous attempts to reach Ms. Bloom by telephone were unsuccessful.
Information about young Fields is scant on the Internet. Not so for the previous owner of the car, whose name we will not identify. He spent the better part of the afternoon defending himself from neo-Nazi hate posts on his Facebook site. It was finally revealed that the young musician/artist sold his car to Fields nearly two months ago.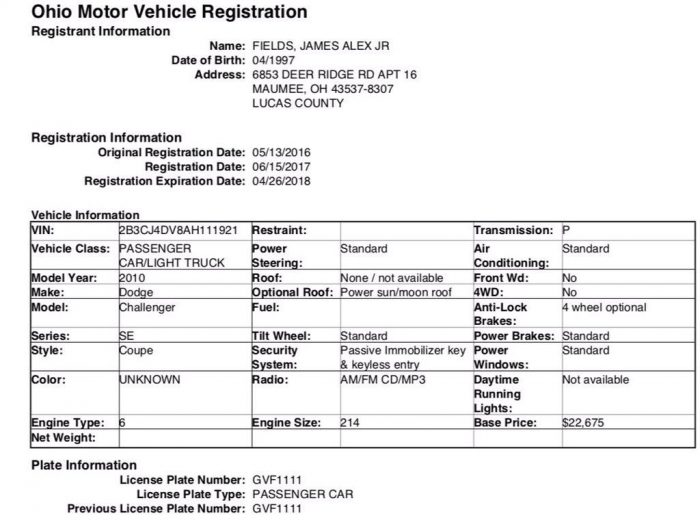 Police have yet to formally identify the driver, but the license plate was clearly visible on the back of the car, and a figure resembling Fields can be seen in some of the photos.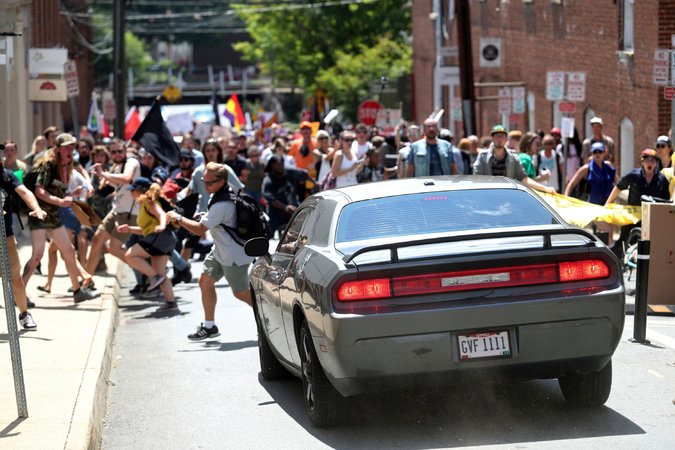 The anti-fascist counter protesters were standing in opposition to a coalition of alt-right, neo-Nazi rabble rousers who led a Tiki-torch lit march in the progressive Virginia University town chanting Nazi and White Supremacist slogans.
Fields is reportedly in custody and charges are pending.
Violent right-wing extremism has been on the rise since President Trump took office, appointing former head Breitbart.com toilet fish Stephen K. Bannon and Nazi Pin Wearing Sebastian Gorka to high positions in his administration.
UPDATE: Shortly after we published our story, the Washington Post confirmed Fields as a suspect.
The Dodge Challenger is registered to 20-year-old James Alex Fields of Ohio, according to vehicle-registration records reviewed by The Washington Post. Albemarle-Charlottesville Regional Jail Superintendent Col. Martin Kumer told The Post Saturday that a man with the same name and age was booked Saturday on suspicion of second-degree murder, malicious wounding, failure to stop for an accident involving a death, and a hit and run. Kumer said Fields is currently being held without bail.