Yesterday, the discredited President of the United States made the claim that some "very fine people" were among the Nazi, Fascist Bastards marching and chanting by torchlight in Charlottesville, VA, Friday night.
Now, it seems as some of Trump's pals are forging evidence against the counter-protesters, one of which was killed by an alleged Fascist Bastard on Saturday.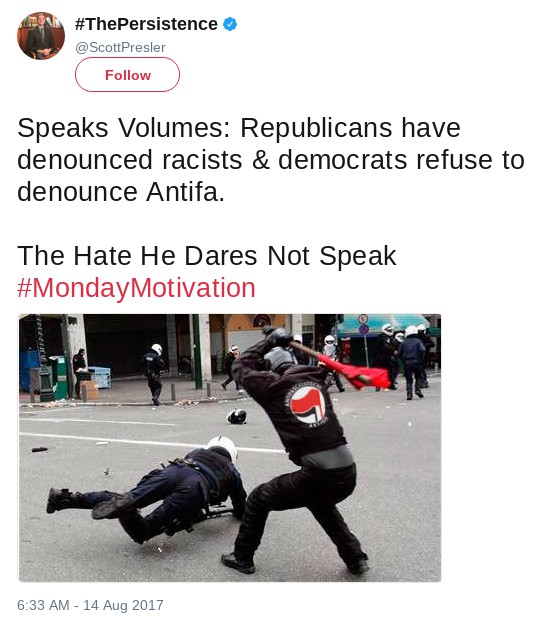 The good folks at Snopes.com found a problem with this photo.
This is not a genuine photograph of an antifa protestor striking a police officer. This image was digitally manipulated to add the antifa logo to an unrelated photograph.
The real image was taken in Athens, Greece in December 2009 during a demonstration on the one-year anniversary of the death of Alexandros Grigoropoulos, a 15-year-old who was killed by a police officer. Photographer Milos Bicanski took the photograph, which is available on Getty Images with the following caption:
Greek youths clash with riot police during a demonstration commemorating the fatal shooting of 15-year-old Alexandros Grigoropoulos' by police a year ago, on December 6, 2009 in central Athens, Greece. Two police officers will go on trial in the new year for the murder of Grigoropoulos.
The protester's jacket in the original image was blank.The antifa logo was digitally added to this image, which was then reshared as if it depicted a recent incident in an attempt to show that "both sides" contributed to the violence in Charlottesville:
If one must lie to support one's position, what does that say about the position being taken?