"Either I've got to be the worst son of a gun there ever was or there's something wrong."
Roy Moore said that. Not today, not last week, not even this year.
Chastised and defeated, former Etowah (Alabama) County Deputy District Attorney Roy Moore said those glum and prophetic words in 1982.
This story was originally published Dec. 5, 1982, in The Anniston Star.
Defeated, but not forgotten by his critics
Former Etowah County deputy district attorney and unsuccessful Circuit Court candidate Roy Moore is jobless and under fire from the Etowah judicial system he criticized sharply in his campaign.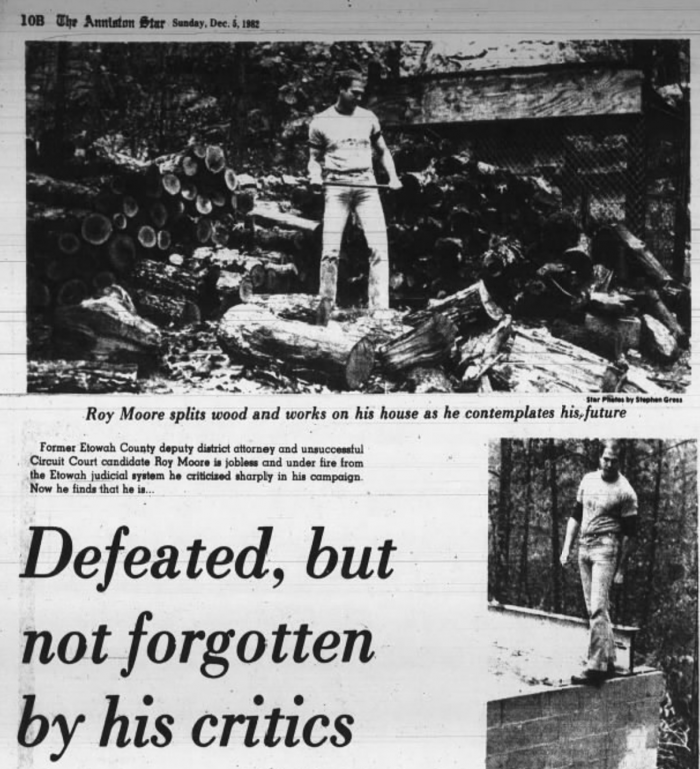 It is a tale of woe, but not regret. Moore is sorry, but he's not apologizing. Not for a damn thing.
They tell stories of loyalty and hatred, guilt and innocence, victory and disappointment …
They offer proof that a lot of people don't like Roy Moore, a 35-year-old Vietnam veteran and West Point graduate. But they also show that a lot do.
Those who support him now don't like to be quoted. They say it's unpopular to support Moore because his enemies are in high places.
They might have been more vocal if he had been elected Etowah County circuit judge, but he wasn't, and they're not.
He's unemployed now, having quit his job to run for office — a campaign that sapped him of his savings, the retirement money he had accumulated in his job, and his enthusiasm. He's in debt, he says.
And his problems don't end there.
His problems in 1982 seem picayune compared to what he's accused of today. Four more women have stepped forward to accuse Moore of illicit groping — even after marriage.