America's own latter-day Adolf Hitler, Richard Spencer, had his Maryland rally blitzed by a socially-aware farm owner noticed the stench of hatred and jackbooted the thugs off the property.
The Washington Post reported that the think tank that Spencer leads, the National Policy Institute, hosted the conference for about 100 people at Rocklands Farm, a winery and events venue in Montgomery County. Spencer said in an interview that a third-party logistics company contacted Rocklands Farm on behalf of the National Policy Institute this month and didn't reveal that white nationalists were affiliated with the event when they booked it. The company told the farm's management only that it was a "corporate" gathering, according to Spencer.
When the owner found out what was going on, he ordered the mental misfits to goosestep the hell off his property.
The conference started about 11 a.m. Sunday and was scheduled to continue until 8 p.m. Caterers at Rocklands Farm served brunch, and participants recapped 2017. At about 4 p.m., Spencer said, someone working the event learned that Spencer was there, and management told everyone to leave.
They left without incident. Rocklands Farm had no comment other than this statement on their website.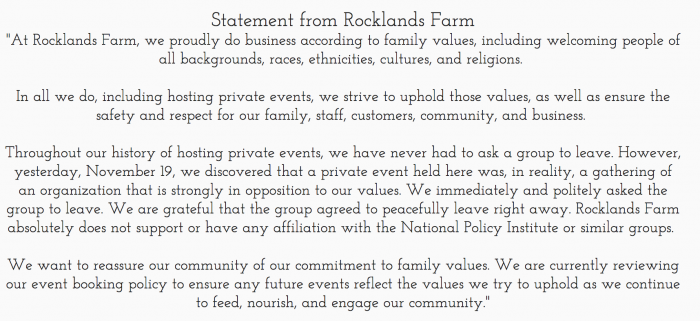 Rocklands Farm is located 48 miles from the front door of noted American Patriot and Soverign Citizen WJJ Hoge III. No word whether or not he suffered any inconvenience due to the shut down of the rally.
Advice to Spencer: Next time, try a hog farm so nobody notices you are there.
Suddenly, I find myself craving a glass of wine.