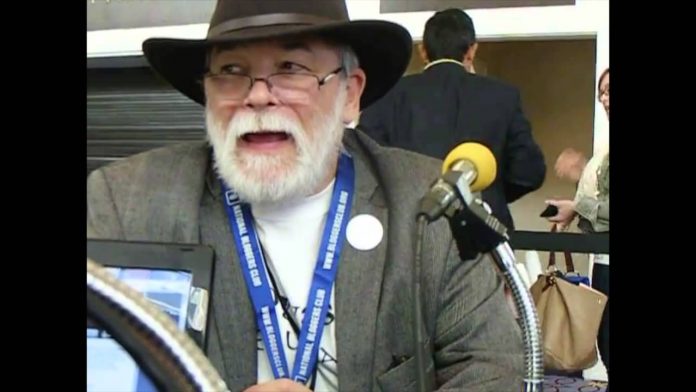 In this current atmosphere of high-profile charges of sexual harassment and inappropriate conduct levied against some very well-known names in the media, entertainment and politics, it seems more important than ever that we be on guard against false accusations.
I am not a high-profile person, certainly not a celebrity, and while I have never been accused of sexual misconduct, I do know the damage that false accusations of stalking and harassment can have on a person. Therefore, as my final story for Breitbart Unmasked, I will use the opportunity to declare a final victory over the liar who goes by the name of William John Joseph Hoge III.
Since he first took notice of me in 2012, Hoge has wasted thousands of taxpayer dollars, expended thousands of his own capital, perhaps to the point of denying his late wife the care she might have otherwise been able to afford if he hadn't been so financially vested in attacking me. I don't know the details of the care she received. I do know that Hoge seemed at least outwardly far more interested in destroying me than he was in his wife's treatment for the cancer that ultimately killed her.
As a result of all that money spent — his own, the citizens of the state of Maryland and even the Federal Taxpayer — despite the lies he told, the forged document he presented as evidence, his lying under oath telling a judge how HARD it is to block a person on Twitter, what does he have to show for it?
Utter, complete failure, disastrous humiliation which he tries to cover by preening in his failing "hate blog" and the senile rants he publishes for the entertainment of a half-dozen people who each have several sock puppet accounts so that they can inflate Hoge's ego and defame from undercover, hiding behind their anonymity.
WJJ HOGE III AND THE FIRST TWO PEACE ORDERS

In the fall of 2012, I ran afoul of Hoge for reasons that are lost in the fog of time. I do know that he began referring to me as a "clown" on his website and I felt the need to respond. Hoge does not like it when people tell him he's wrong.
February 18, 2013 — Hoge approached a Court Commissioner in the Carroll County, MD, Courthouse and secured three criminal charges against me for putting the "@" in front of his Twitter handle. Those charges were "harassment as a course of conduct," "electronic mail harassment," and "illegal access to a computer." (The latter involves a fantasy Hoge clings to even now, believing that I somehow gained control to a computer server in Kansas City and using the IP of someone in Brazil, used that server to send a nasty-gram to Hoge, pretending to be someone else.)
In order to be guilty of a charge of "harassment as a course of conduct," the accuser must be able to prove he made more than one attempt to inform the accused to "stop contacting me."
Here is what Hoge offered as proof.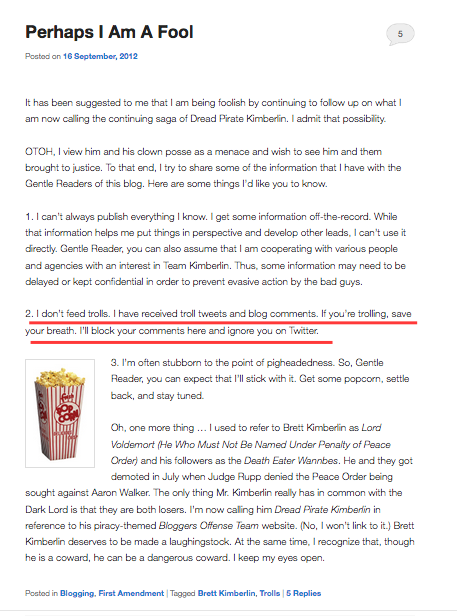 The underlined portion of this post is what Hoge calls his first admonition to me to stop contacting him. Seriously. I think of how much trouble and expense would have been spared if Hoge had only done what he said he would do… block and ignore.
Hoge was spoiling for a fight.
Here was his second "demand" that I cease contact.
Again, I see no mention demanding that I, Bill Schmalfeldt, cease contact. I see three Twitter handles, but if it were to be argued in court by competent attorney, could Hoge prove (if I were to deny it) that I was any of those three Twitter personas?
The States Attorney of Carroll County refused to prosecute and I believed the matter was behind me.
HOGE 0 — SCHMALFELDT 3

I believed I was done with him.
I was sadly mistaken.
THE FIRST PEACE ORDER
Three months before the SA in Carroll County refused to prosecute, Hoge approached the Carroll County District Court and asked for a Peace Order (no contact, or restraining order in most states) against me. Again, rather than just block or ignore me, Hoge wanted to punish me for putting an "@" in front of his Twitter handle in my references or replies to the garbage he was writing about me on his website.
On Feb. 28, the District Court denied the request, citing "no clear and convincing evidence of prohibited conduct."
HOGE 0 — SCHMALFELDT 4

The next day, Hoge appealed the decision to the Carroll County Circuit Court. On that same day, Hoge once again applied to the District Court for a peace order. The District Court denied the order based on a lack of a statutory basis for relief.
HOGE 0 — SCHMALFELDT 5

While waiting for a hearing on his appeal of the District Court's ruling, Hoge approached the District court again on March 18 asking for another peace order. The District Court, again, denied his request, saying there was no clear and convincing evidence of harassment.
HOGE 0 — SCHMALFELDT 6

On the same day, he convinced the Carroll County Court Commissioner to file yet another criminal charge of harassment as a course of conduct. Again, the SA refused to prosecute. Remember, my "harassment" consisted of putting a "@" in front of his Twitter handle.
He convinced the Court Commissioner to file yet another criminal complaint on March 20. It was also tossed by the SA.
HOGE 0 — SCHMALFELDT 7

On June 14, 2013, in his Circuit Court appeal, Hoge convinced an elderly judge who admitted from the bench he had no idea what "the Twitter" was all about that blocking me on Twitter would be tantamount to a person having to change his telephone number to block nuisance calls. The judge approved a six month "no contact" and extended it for another six months in December.
HOGE 1 — SCHMALFELDT 8

Shortly after obtaining his peace order, Hoge "followed" me on Twitter. I blocked him, which is what adults do when they are hearing from someone they don't wish to hear from.
From June 2013 to June 2014, Hoge convinced the Court Commissioner to file 363 individual criminal complaints against me for allegedly violating his peace order. All were dismissed by the Carroll County State's Attorney.
HOGE 1 — SCHMALFELDT 371

THE SECOND PEACE ORDER
At the end of the 12 months, Hoge could not get the peace order extended. So, he tried another one on July 14, 2014. It was denied by the District Court for a lack of statutory basis of relief. The next day he filed an appeal to the Circuit Court.
HOGE 1 — SCHMALFELDT 372

In the interim, Hoge sued me in Federal Court for copyright infringement. We signed an agreement on Aug. 24, 2014, dismissing the case with no admission of guilt. Hoge asked for $620,000 and got nothing. However, at the agreement session, Hoge shook my hand and told me he would not follow through on his appeal of the District Court's July 14 peace order denial.
HOGE 1 — SCHMALFELDT 372 — TIED 1
I believed him and foolishly assumed Hoge was out of my life.
On August 27th, I went to an appointment with my neurologist. Hoge went to the Carroll County Courthouse without telling me he had changed his mind and got an uncontested peace order against me.
HOGE 2 — SCHMALFELDT 372 — TIED 1
On January 30, 2014, Hoge tried to get the same judge to find me in contempt of court for violating the peace order by presenting a letter I did not write, with a signature I did not sign, a signature that was traced from another document, as proof that I violated the peace order. The judge denied the contempt request.
HOGE 2 — SCHMALFELDT 373 — TIED 1
On Feb. 13, upon learning that Hoge's wife had cancer, I broke the letter of the law by contacting Hoge, offering to bury the hatchet, offering to use whatever goodwill I had built over my years at the Clinical Center of the National Institutes of Health to assist him in navigating the red tape should he decide with his wife to seek a clinical trial for the treatment of her cancer. Instead of either accepting or offering a polite declination, Hoge got the Court Commissioner to file a 364th Criminal Charge for violating the peace order. This time, the SA took the case to trial in the Carroll County District Court. I defended myself by suggesting that even if I was under a no contact order, if I saw a safe falling from an office window right over Hoge's head, I would be obliged to holler "LOOK OUT!" That would also be a violation of the peace order. The judge agreed, found I lacked criminal intent, and rendered a not guilty verdict.
HOGE 2 — SCHMALFELDT 374 — TIED 1
A person capable of normal thought processing might take the above scoreboard as a hint that he was overmatched. Hoge is a bully, but unlike most bullies he is more afraid of the gang of people who support him in the fight turning on him than he fears getting his face repeatedly bloodied in a court of law.
In May, Hoge tried TWICE to stick me with another peace order. He first tried in Carroll County, but this time experience had taught me to challenge the court's jurisdiction. I won.
HOGE 2 — SCHMALFELDT 375 –TIED 1
That very afternoon, Hoge sped down to Howard County, where I lived, and filed with the District Court there. Again, he was denied.
HOGE 2 — SCHMALFELDT 376 — TIED 1
He appealed the rulings of both District Courts to their respective Circuit Courts and lost both appeals.
HOGE 2 — SCHMALFELDT 378 — TIED 1
My wife of 25 years died in June 2015. It was clear that Hoge had yet to develop an aversion to the taste of his own blood, so — as here was nothing to keep me in Maryland — so I chose to relocate to make myself less available to Hoge.
THE HOGGY SUIT
On March 2, 2016, Hoge sued me and several others in the Carroll County District Court. The case was decided in August 2017 when the judge dismissed or found against Hoge on all counts.
HOGE 2 — SCHMALFELDT 379 — TIED 1
Hoge asked the judge to reconsider his decision on one of the counts against me. The judge declined.
HOGE 2 — SCHMALFELDT 380 — TIED 1
Now, Hoge is a defendant in a Federal court in South Carolina in a case that is progressing very slowly. I am in no hurry.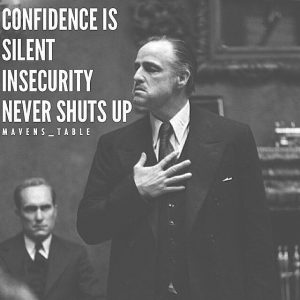 But in the meantime, I will withdraw from public view. I have stepped away from my volunteer position at BU, I have ended my Live365 radio station, my Twitter account is private so Hoge will have to find new and inventive ways to stalk and harass me should he still not be averse to the taste of his own metaphorical blood.
I've enjoyed my time at BU, and I hope you will continue to read the stories posted here by the new writer who, having learned from my experiences, will not reveal his/her name.
I am done with Hoge. 383 times he tried, 380 times he failed. If he wants to boast about that record, he can add that boasting to all the other lies he tells on his nearly unreadable blog of misspelled senile taunts.
If he wants to do more than send his stooges to stalk my parking lot or stab my tires — should he ever grow the sack to do his own dirty work, he knows where to find me.