This is a story of party monsters in the Republican Party: conservatives for whom the 'party' is literal and foremost, who share a glaring absence of personal responsibility within a partisan ethos that is supposedly all about personal responsibility.
Created to unite Chicago's young, hip Republicans for social occasions, the Guccistoregraveyard gmail group's description reads: "This coke that I imported just as 'portant as yo pres'dent." (Update: the group was made private within two hours of this post.) Our story today begins there, with a few potentially career-ending overshares about cocaine and booze in an obscure email group, but it traces back to a scandal involving alleged sexual misconduct by a leader of Chicago Young Republicans (CYR) — and an infamous power struggle that ensued over charges that party officials were covering for a sexual predator.
We begin with these emails, which would be enough to earn a corporate HR department's censure at the very least.
"My physical got pushed to Tuesday, so sadly this weekend will just been an alcohol infused shitwreck minus the beauty of the beer-subtractor cocaina."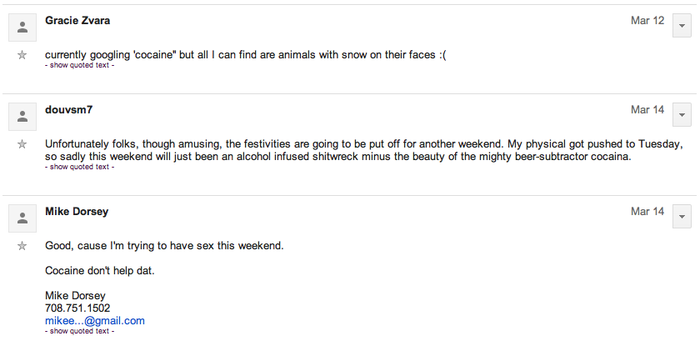 "Borden are you the female that passed out in the bathroom at Bernie's tavern?"
"You and I haven't done coke together in the bathroom yet."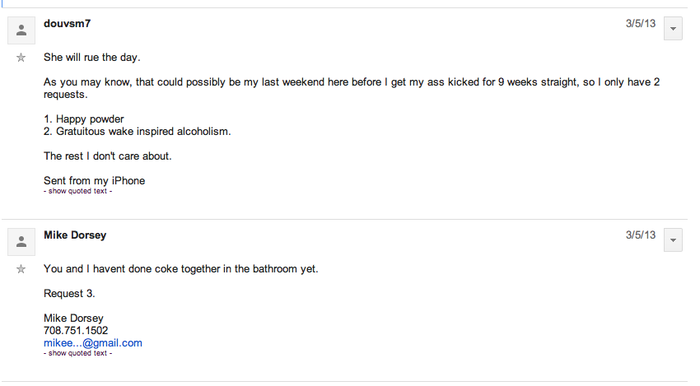 Douvsm7 appears to be Sean Douville, a college friend of Dorsey's who attended the US Army's Officer Candidate School last year. (His Facebook is here.) We are fairly certain that if his current chain of command read these emails, his career would suffer.
A civilian, Mike Dorsey regularly invites list members to attend happy hour events with a new political action committee, Concord 51, that is supposed to be the template for a new conservative movement: younger, more hip, with less emphasis on bedrock conservative social issues like marriage equality and abortion.
"We've created communications and a brand that is representative of not necessarily party politics, but what we believe to be the politics of our generation," said Matthew Swift, a co-founder of Concord 51, who works at a management company.

While much of the GOP's public soul searching has been over the use of technology, how outside groups spent money and the need to draw Hispanics into the fold, Republicans also have fallen behind in drawing younger voters. President Barack Obama won the youth vote 67 percent to 30 percent nationally with young voters providing a significant difference in Pennsylvania, Ohio and Florida, according to an analysis by the Center for Research and Information of Civic Learning and Engagement at Tufts University.

Concord 51's founders hope to change that.
But what really made our antennae quiver was that Andrew Magliochetti was co-hosting this event with Dorsey.
You may remember Magliochetti from his role in the 2010 "Young Eagles" scandal, where a Los Angeles GOP donor covered the $2000 cost of an afterparty at a lesbian bondage-themed nightclub and then got reimbursed by the Republican National Committee. While the female director of Young Eagles was the only person fired for the incident, and the debacle helped end Michael Steele's career as Chairman of the RNC, Magliochetti was apparently the genius who actually took the party to the club, but he did not suffer any sanctions for it. In fact, upon his return to Illinois, Magliochetti was very nearly made Chairman of the Chicago Republican Party.
Monsters in the VIP lounge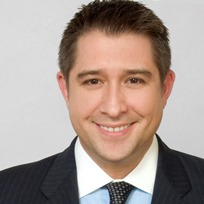 By 2010, Chicago Young Republicans had seen tremendous growth under the leadership of a man named Jeremy Rose. Known to his peers as "The Prophet," Rose had no job experience or college credits, but he was very good at throwing parties and attracting large crowds. He was also reportedly a party monster who had a history of bad intentions when he would get CYR members of both genders drunk. According to his detractors, Rose treated CYR as a meat market, arranging private 'VIP lounges' so he could get inebriated and handsy outside of public view. Things reportedly got even worse at his after-parties.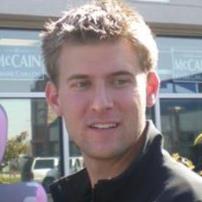 As Chairman of the Cook County Republican Party, which overlaps with Chicago's Republican Party in terms of geography but not organization, Magliochetti often enjoyed VIP status at CYR events, so it stands to reason that he was familiar with those VIP areas and what was going on inside them.
After he came home from the lesbian bondage club debacle, Magliochetti participated in a scheme to replace the Chairwoman of the Chicago Republican Party when she tried to blow the whistle over Rose's alleged sexual misconduct. As recounted in this long but kind of fascinating post about Illinois Republican infighting, Magliochetti was nominated to replace Eloise Gerson during a hastily-arranged executive session after she pushed Chairman Lee Roupas to take action against Rose. Despite knowing the accusations leveled against him, Roupas had already promoted Rose from political director to Executive Director of the Cook County Republican Party. To the party's rank and file, it seemed that Roupas was covering up the party monster.
(T)he complaint filed by the young woman with the Chicago GOP and Young Republican National organization alleges "The Prophet" plied her with alcohol to the point of inebriation, continued to force drinks upon her after she'd told him she'd had enough, took her cell phone away from her when she tried to call for help, blocked her exit when she tried to flee, and then refused to assist her in finding a cab to drive her home, in the dead at night, after all those drinks he served her, when she was afraid of venturing out into crime-riddled Chicago on her own.

Other women and men have come forward with similar detailed accounts that paint a clear picture of a serious problem in the Chicago Young Republican organization, which had been seen as a growing and dynamic new political force on the Chicago scene — until it was rendered a laughingstock by "The Prophet". It's now widely considered kin to Animal House grade fraternities that would surely lose their charters if observant deans and mature adults stopped to realize how much damage the debauchery, skirt-chasing, and victimization of women was inflicting on the conservative cause in a corrupt, bankrupt, battered Midwestern state desperate for an alternative to endless Democrat scandals and abuse of power.

"The Prophet", as nicknamed by members of the CYRs because of his endless womanizing and grand delusion of "being the Republican Party in Illinois", as well as being "untouchable", has been protected from discipline and scrutiny by Cook County Republican Chairman Lee Roupas, Fran Eaton (editor of the Illinois Review), wealthy Chicago donors such as Beth Christie, former GOP Illinois State Chair Andy McKenna, failed Lt. Governor candidate Matt Murphy, and other Republicans on the state and national levels who knew of the complaint filed by the young woman against "The Prophet" — but did their level best to quash it, and squash any truthteller out there who was determined to see an investigation launched into the frat house the Chicago Young Republicans had devolved into.
Like Chairman Roupas and Jeremy Rose, Magliochetti was also a Mitt Romney booster, leading to accusations that the power struggle was really aimed at securing the candidate's 2012 nomination for the White House. But the influence of one wealthy donor who favored Rose, and funded his ascension despite his lack of experience or education, seems a much more immediate and important factor in the dispute.
Gerson found evidence the Prophet's hiring was okayed by (Illinois State Chairman Pat) Brady, even though a sexual assault complaint was filed with the Republican Party about behavior of the Prophet in 2009…which neither Brady nor Roupas ever investigated. They just hired him anyway, seemingly because Beth Christie said so.

FEC records show large donations from the Elizabeth K. Christie Foundation coincided perfectly with terrible decisions made by Brady and Roupas, in terms of hiring, loans to the CYRs, and whatever else Beth Christie interested herself in at the time. Brady and Roupas attempted to remove Gerson from her elected position within the GOP because of the questions she asked about the propriety of all this, but the coup failed when Michael Steele and others at the RNC were informed of what was going on. Steele's office chastised Brady and Roupas, whose political futures were ruined by the scandal.

Sometime this fall, before the November elections, former Illinois state Chair Andy McKenna had a sit-down with Beth Christie during which she was told, point-blank, what an embarrassment she'd become and how she'd made a complete laughingstock of herself and the Republican Party in Illinois. The Huffington Post and other outlets had picked up the tale of the Prophet, and GOP donors coast to coast complained about the influence Beth Christie had on the Illinois state party…and how it looked for her to be carrying on with the CYRs, at her age, making people uncomfortable with her displays and unabashed demands on the party for favors to her "dollies", as the young men in her constant company became known.
Whatever his reasons for the attempt, Roupas's power-grab ultimately failed. When the Huffington Post started reporting on the scandal, Rose submitted a combative resignation from CYR, but still remained in place for several days until state party Chairman Brady finally intervened. And the embarrassing scandal has not kept Rose from working on campaigns — in fact, he is still gainfully employed in Republican politics.
Rose's troubling history has not diminished the flow of political largess to Rose and his CorStrategies partner, Colin Corbett, who is now (in a nice little political bait-and-switch) the current spokesman for the Cook County GOP.

Rose & Co, have been regularly tapped to run the Illinois GOP Conventions in addition to other lucrative local and state political contracts. Rose has been running the political show for the last two years running –allegations of sexual misconduct with young Republican females notwithstanding.
The monsters are still in the party
Which brings us back to Mike Dorsey's cocaine-dusted invitations to happy hour events with the Chicago chapter of Concord 51 PAC, because the legacy of the CYR scandal is written in the names on them. Chris Geissler, who ran for office as a Republican and was a Chicago Young Republicans advisory board member during the 2010 scandal, is listed as a co-host with Magliochetti. Janie Kim, on the other hand, represents the PAC's sincere efforts to increase female and minority participation in the new, more hip conservative brand that Concord 51 is supposed to represent.
The makeup of the group — which was started by a group of young white men, many in finance, public affairs and startups — is also emblematic of the party's demographic problems. Swift said he is focused on increasing ethnic diversity and adding female members. A. Beaumont Allen, who is in public affairs, noted that can already be seen in the increase in women on Concord 51's 35-member board, a third of whose members are now female.
Dorsey — whose Twitter bio describes him as "Austrian in thought, Southern at Heart, American all over" — speaks for the core values of besotted, amoral self-dealing at the heart of the 'young Republican' identity that Concord 51 seeks to foster. We know where these party monsters came from.
"I like sluts, abusing substances, and making fun of people for not being smart."
Addendum: Mike Dorsey has deleted his LinkedIn page and locked his Twitter account.
[youtube]http://www.youtube.com/watch?v=DRB45qBwans[/youtube]