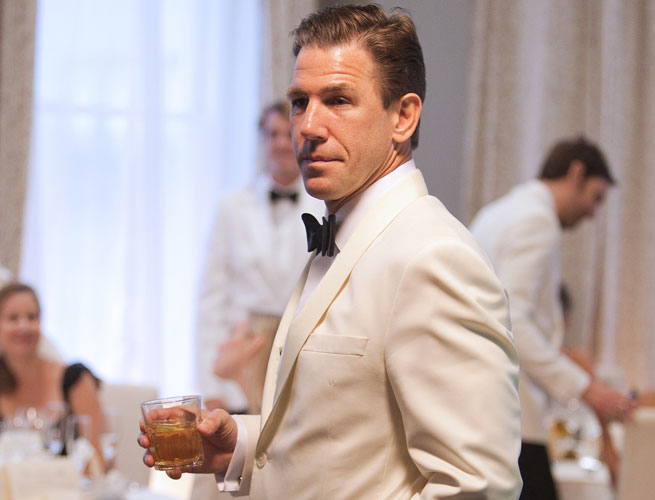 In South Carolina, a sideshow is emerging in the race for Senator Lindsey Graham's seat.
Last week, Thomas Ravenel, reality TV star on the show "Southern Charm," presented almost 17,000 signatures from registered voters to the South Carolina state Elections Commission to be considered as a petition candidate this fall. Once the signatures have been verified, he will be an independent candidate on the November ballot against Graham, Libertarian Victor Kocher of Columbia, and Democratic state senator Brad Hutto of Orangeburg.
Ravenel made a hasty exit from the political scene in June 2007, amid drug charges, embarrassment, and scandal. He was forced to resign the S.C. treasurer's position after being arrested and subsequently indicted on federal cocaine distribution charges by US Attorney Reginald Lloyd. He later pleaded guilty to buying cocaine for himself and his friends, and was sentenced to 10 months in prison. Like many political frat boys, he didn't really learn much of a lesson, and was arrested just a year ago in New York for driving under the influence.
Somewhere between June 2013 and March 2014, Ravenel was offered a part in a fast-paced reality show Southern Charm on Bravo, which has been widely reviewed as trite tribute to white privilege, institutionalized misogyny, and narcissism. (Or, as conservatives in South Carolina call it, being a "southern gentlemen.")  As one reviewer put it, "…If you enjoy the sight of the same man telling a caller during a radio interview that he 'served his time' when he was only in prison for less than a year on FELONY DRUG CHARGES, and who later regales a woman with the stories of all the recreational sports he was able to play while incarcerated, 'Southern Charm' is the show for you."
If you're not sure a reality star is unfit for office, the proof is all over the internet. Here's Ravenel having a very serious conversation with his 21 year old girlfriend. This is just one of the many intimate dramas that has played out to a national audience that has chronicled his life for several months.
[videojs width="542″ height="360″ mp4="http://www.breitbartunmasked.com/wp-content/uploads/2014/07/Thomas_Ravenel.mp4″]
Southern Charm is in its first season, and Ravenel's candidacy has been viewed by many conservatives (and bemused liberals) as a reckless publicity stunt to gain more viewers for the show.
Maybe, but maybe not.
Although Southern Charm only premiered in 2014, Ravenel is a textbook Tea Party extremist, and his platform is meant to collect a viewing audience, and promote an agenda as well as persuade a small fringe share of the voting populace. Sure, he's in it for the fame and the fortune, but that doesn't mean he will be ineffective with his goal. If he can't be the next Ted Cruz or Steve Stockman, he at least has high hopes of being the next Duck Dynasty in the sad world of conservative pop culture.
Ravenel's campaign sideshow, if nothing else, promises to be entertaining. According to the Daily Beast, "Aside from Ravenel's status as a convicted felon, which prevents him from voting for himself but not from running for U.S. Senate, and the hours of Bravo footage that include a hook-up, a pregnancy scare, copious drinking and plenty of jokes about cocaine and prison, Ravenel's biggest cross to bear may be his willingness to speak at greater length and with greater candor than any politician probably should."
As part of his platform, Ravenel enjoys talking about drugs and sprinkling tales of his personal drug conviction with generic terms denouncing the "drug war", but it appears that this is just an extension of his sense of entitlement. As one reviewer of Southern Charm for the Charleston City Paper describes it, "The way T-Rav sees it, he was arrested because of those stupid drug laws and not because he was a reckless drug addict throwing raging coke parties while he was state treasurer. He may have kicked his habit, as Whitney is clear to point out, but he still likes the smell of coke, you know."
He argues that the federal government needs to get out of "the business" of outlawing all drugs.  "Our war on drugs is far worse than Prohibition" in the 1920s, he said. "Then it was just manufacturers; now it's mere users that get locked up."
Of course this anti-government attitude is actually an opening to eliminating most of the powers of the federal government, in true Rand Paul fashion – while they're at it, Ravenel argues, the New Deal and Great Society programs passed by Presidents Franklin D. Roosevelt and Lyndon Johnson  should be eliminated.
The sad truth is that Ravenel, while making amazing reality show fodder with his beliefs, speaks like a true Tea Party ideologue. He's anti-woman, anti-government, anti social welfare and "pro Constitution." Like a good Tea Party candidate, Ravenel has included eliminating various government agencies in his platform.
Could a campaign by a guy like this cast such a large shadow that we forget that Lindsey Graham is representative of the idea of the "southern gentleman" in the deep South, too?
The reality is that Thomas Ravenel is both the crying man above who offered up his intimate relationship with a 21 year-old girl for public consumption, and the anti-government extremist who thinks that all inconvenient laws should be made null and void. He's the guy who goes out and gets drunk with tv cameras in his face, and the guy who was arrested for selling cocaine to his friends several years ago. He is unstable, reckless, spoiled, misogynistic, and possibly addicted to a fast and reckless lifestyle. Get ready, America, because he is a probably going to be an independent, "Constitutional" candidate at the same time his personal life is filmed for a reality show. What a shame that television networks like Bravo keep giving airtime to people with such blatant anti-government platforms.
On July 21, 2014, Thomas Ravenel spoke about his political beliefs in public for the first time since 2007. Listen to his Tea Party agenda as explained to the Beaufort Tea Party meeting at Fuji's Restaurant on Lady's Island: