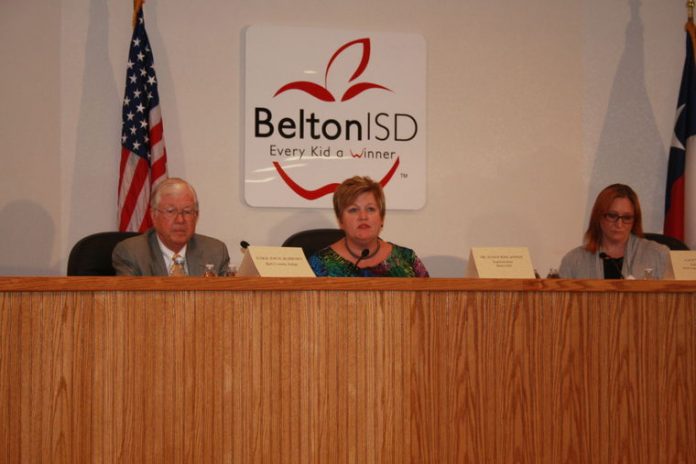 In the wake of the Frontier Airlines flight that carried Amber Vinson to Cleveland and back to Dallas Texas, two children who were passengers on that flight and who terminated their flight in Belton Texas ended up going back to school for two days after being notified that they were on the list of people who had potentially come into contact with Amber Vinson. Last night however, parents were deeply concerned with the potential safety of their children who had potentially been exposed to the deadly Ebola virus via the two children who traveled on the Frontier flight. After a tense meeting with parents in Belton Texas last night, the Belton Independent School district told parents at first that the schools would be opened for classes today with the two children allowed to attend classes. Then less than an hour after that meeting the school district told parents that the two children would not be attending the classes, but instead were told to stay home, but classes would remain open. Then around midnight last night parents were sent an emergency message that told them that not only would the children not be attending classes, but that the schools would be shut down for decontamination.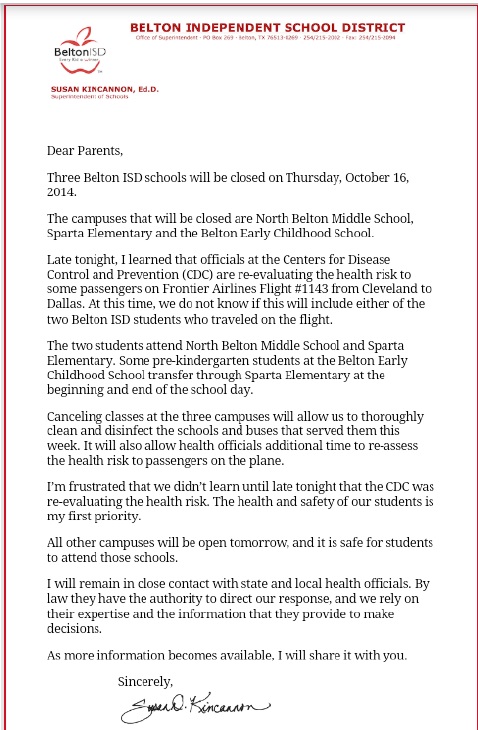 Three schools in Belton Texas will be shut down today. The affected schools are North Belton Middle School, Sparta Elementary, and Belton Early Childhood School. Parents at this point are not only upset at how the school initially reacted, but are in fact near panic stages over their children already being potentially exposed to the two students who attended classes without being told by anyone at the CDC to stay at home, or even to check with the CDC on what precautions they should take once they arrived back home. So without knowing what they were supposed to do, they attended classes normally and went about their daily routines. Now it appears that the CDC is taking it more seriously, and the schools affected are taking it more seriously. Concerned parents are still unsure what the future holds for their children, as well as grocery stores, gas stations and other businesses in the small community of Belton. At this point no one in the community is sure what is going on or what will go on as the days progress.
We will update as reports come in.