Alabama Supreme Court Chief Justice Roy Moore really wants to rent this house, but a team of dedicated reproductive freedom activists says they'll do whatever it takes to keep him from succeeding.
As they rally to raise $11,000, the Montgomery Area Reproductive Justice Coalition has a big endorsement from Lady Parts Justice, a cabal of writers and comics associated with comedienne Lizz Winstead.
Lady Parts Justice calls themselves a "not safe for work, rapid response reproductive justice messaging hub that uses comedy, culture and digital media to sound an alarm about the terrifying erosion of reproductive access."
When BU covered the gathering of Operation Save America (OSA) in Montgomery, Alabama this July, we brought you the story of how one local anti-abortion protester's hectoring and verbal abuse of patients' families ended up ruining any chance for the OSA group to rent the house next door to the Reproductive Health Services clinic.
Weeks before OSA arrived, a flustered woman struck the building, which is the former headquarters of Equality Alabama, with her car. Professional protester David Day had distracted the driver with vicious taunts as she tried to get her children away from him.
That incident underlines a key reason why reproductive rights organizers have kept the converted private residence long after the OSA event ended: it's not just the patients who need protection from the protesters.
Their families and friends often need a safe refuge, too.
Volunteers have now transformed the Perry Street residence into the POWER (People Organizing for Women's Empowerment and Rights) House, a safe place for families and companions to wait while women access services at the clinic, where children are not allowed in the waiting area.
In a trend also observed at many clinics around the country, protesters at the Montgomery location seem to target companions even more than patients.
Because they lack the nonviolence training that clinic escorts receive, the people who accompany women are seen as easier to goad.
Children make especially easy targets for abusive 'sidewalk counseling.' Mothers and friends are subject to shaming and condemnation. Boyfriends and husbands are taunted and humiliated, often with the intent to inspire violent reactions that can be used to raise funds and inflate persecution narratives.
Such incidents have occurred at other abortion facilities in America, with forced-birth zealots documenting the events on social media.
Mia Raven of the Montgomery Area Reproductive Justice Coalition gives a recent example of the needs that POWER House can meet. "It's a common occurrence to have people bring their kids, not knowing better. We had a patient that brought their toddler, so the companion was able to bring the child over to the house and put him down for a nap. We can shield them in the house, whereas if they stay in their car, David or Daniel will start in on the kids, telling them their mom is killing their brother or sister."
Raven is referring to Daniel French, another local forced-birth activist who frequently targets people at the facility.
Sources now tell BU that Roy Moore's staff has once again expressed renewed interest in renting the POWER House location. Moore maintains very close ties to the local anti-abortion organizing community and spoke to the OSA gathering in July.
Sources told BU at the time that Moore made extremely generous offers for the address, but was rebuffed due to his connections with Day and his friends.
Raven says if the rumor of his renewed interest is true, it's because the location is perfect for a 'crisis pregnancy center,' a fake clinic offering disinformation, moralizing, and prayer instead of reproductive health care services or effective counseling.
Such a facility could also support all sorts of anti-abortion activity, especially the worst and most pernicious of the emerging new tactics in the war against women's autonomy.
"It would allow them to stand right on the edge of the clinic lot, putting them less than two feet away from patient's car doors. Imagine the cameras they would put up. They would probably take down the privacy fence so they can stand in the back yard and videotape the staff, the doctors, everyone."
Along with clinic volunteer Xandi Andersen, Raven has organized a fundraising event this Saturday to help raise the $11,000 needed to keep the POWER House out of Moore's clutches for another year. They have also put up a Tilt.com page where anyone around the country can help them reach their donations goal.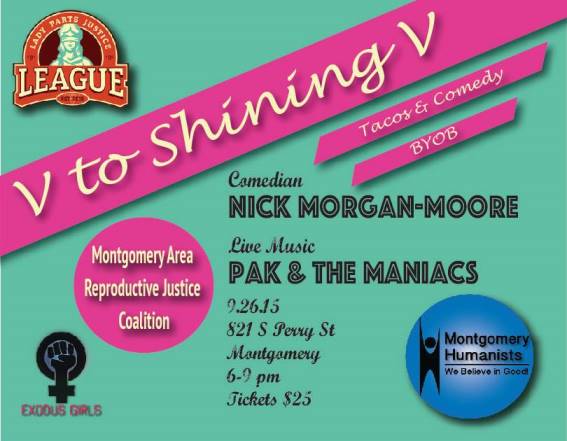 Raven says that Montgomery has plenty of other needs the POWER House can help meet. "We plan on offering sex ed classes and birth control classes," she says. Better information on these topics is sorely needed because the state has repeatedly substituted Roy Moore-style moral posturing for sound public health policy.
In Alabama, school children aren't even taught the basics of their biological plumbing, while bigotry is baked right into the official curriculum.
The Heart of Dixie "teaches abstinence-only sex ed in public schools and mandates 'an emphasis, in a factual manner and from a public health perspective, that homosexuality is not a lifestyle acceptable to the general public and that homosexual conduct is a criminal offense under the laws of the state,'" Raven explains as she quotes state law.
Such 'lessons' are a major reason why Alabama has some of the highest HIV, chlamydia, gonorrhea and syphilis transmission rates in the country.
Alabama consistently scores low on measures of child welfare and poverty. The state has the country's highest rate of child homelessness, places an unfair tax burden on its poorest people while ranking fifth from the bottom in per capita income, has the longest wait time for agency response to child abuse of any reporting state, lags behind Russia and war-torn Lebanon in infant mortality because it is one of the three worst states in the union for low birth weight, and remains one of the worst American states to have a baby.
In their bid to make a dent in at least some of these terrible statistics, Raven and her fellow Montgomery organizers have the support of one of the most powerful women in comedy.
"I love that we are all committing on one day, to help fight each others battles and check in and see what each other needs," Lizz Winstead tells BU. "Then we organize and show who the real majority is."
Winstead, who is the co-creator of The Daily Show, brought her Lady Parts Justice team to the POWER House during the OSA event in July and was impressed by the dedication and solidarity of reproductive rights organizers in Alabama and Mississippi.
Australian comedian Nick Morgan-Moore, seen in the video clip below, will also be flying in to entertain the crowd with Montgomery band Pak & the Maniacs this Saturday at 6 PM.
Montgomery Area Reproductive Justice Coalition Facebook page
Montgomery Area Reproductive Justice Coalition Tilt.com fundraising page