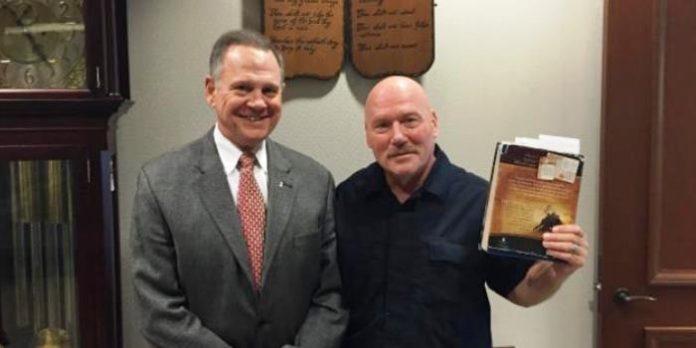 Roy Moore, the Chief Justice of the Alabama Supreme Court and Vogon poet who has personally sown chaos in the state's judiciary rather than accept the equality of same-gender marriages as ordered by a federal judge, will be the opening speaker for a week of rallies and protests by Operation Save America (OSA) in Montgomery this July.
Formerly known as Operation Rescue, since 1993 OSA has become an extremist organization known for stalking and violence against abortion providers, anti-gay organizing, approval of school bullying, aggressive protesting against non-Christian religions, and the disruption of services at Christian churches which do not toe their hard doctrinal line on social issues.
To the OSA, 'religious freedom' means dictating a universal morality and controlling the behavior of other people. Ironically, OAS Director Rusty Lee Thomas (see above) plans to invoke the civil rights legacy of the Selma marchers at Edmund Pettus Bridge to celebrate this authoritarian belief-system.
Calling Moore a "poet, warrior, statesman" in his flyer (PDF), Thomas promises "street activities each day and every night anointed rallies" during the seven-day gathering. Participants will "stand with Justice Roy Moore as he exercises interposition to defend biblical marriage." Hosted at the Drury Inn and Suites on Eastern Boulevard in Montgomery, the "national event" will also feature efforts to promote "personhood" for fetuses in Alabama (see the event Facebook page here).
Already known for acts of violence committed by members during the 1990s, OSA gained further notoriety when its spokesmen claimed the September 11, 2001 terrorist attacks were God's punishment on America for abortion. A trained actor and professional forced-birth activist who lives on the proceeds of his ministry, Thomas still uses this talking point without a trace of shame.
Thomas proudly claims to have "a father's mantle," spreading "a patriarchal vision to reclaim the masculine identity that has been neutered by the feminization of America" — in other words, misogyny is the animating value of his religion, and the human rights of women are entirely rejected from his sanguine theology.
Thomas makes common cause with Flip Benham of Dallas, Texas, who leads OAS in protests against mosque construction (shouting choice slogans such as "Jesus hates Muslims"), crashes gay weddings, and has been convicted of stalking a Charlotte, North Carolina abortion provider.
Under their combined leadership, OSA responded to the Sandy Hook massacre in Newtown, Connecticut by denouncing an interfaith memorial while blaming "godlessness in schools."
Flip Benham is responsible for a 2014 incident in New Orleans, Louisiana wherein OSA members entered a Unitarian church during Sunday services to tell worshippers they were "going to hell" because the church supports reproductive freedoms. The confrontation was reported widely, including an extended segment on Rachel Maddow's MSNBC news program.
Last year, Benham's twin sons Jason and David lost a planned HGTV reality show when their participation in their fathers' hate-filled activities came to light — an event they blamed on Satan's "demonic gay agenda" rather than their own, apparently learned, bigotry.
Roy Moore already has longstanding ties to racial extremists. His former legal adviser John Eidsmoe, a slavery apologist who is now senior counsel for the organization Foundation of Moral Law, is also a favorite speaker for the white supremacist Council of Conservative Citizens, which recently held a 'prayer rally' against gay marriage in Alabama, and the neoconfederate League of the South.
Alabama's forced-birth activists are apparently very excited about the July event and plan to adopt OSA's aggressive, in-your-face tactics to promote their Christian fascist agenda. Last week, longtime local protester David Day made a point of shouting news of the organization's imminent arrival at clinic escorts outside the Montgomery, Alabama Reproductive Health Services facility, seemingly in hopes of frightening them into submission. One of the volunteers recorded his rant: