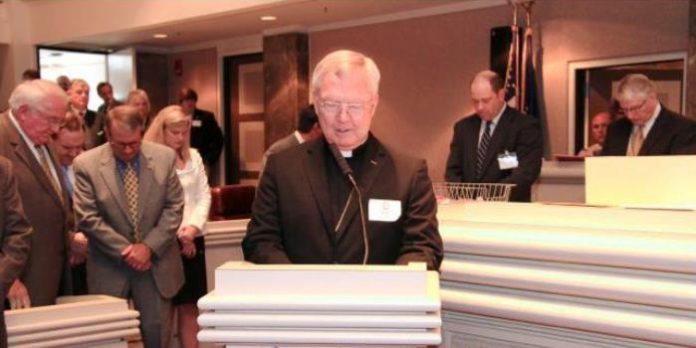 The same forced-birth agitators who failed to keep Huntsville, Alabama's only clinic providing abortion services shuttered are trying again. This time, they're putting the full depth of their hypocrisy on display in the state legislature.
After the clinic successfully reopened last year, former Alabama Christian Coalition leader James Henderson vowed to insert a 2,000-foot buffer zone between clinics and schools — the exact same distance state law puts between the homes of convicted sex offenders and the nearest educational facility.
Ironically, Henderson's gang of weird hobbyists have made the most of the Supreme Court's 2014 decision striking down 'buffer zones' around clinics, allowing them to get in the faces of women who were trying to access their constitutional rights to self-determination.
In fact, one of Henderson's favorite tactics is to claim that these activities are themselves so "disruptive" that clinics shouldn't be allowed, well, anywhere. Henderson has actually tried to make this argument in courts of law, where at least one federal judge has called out his group's aggressive behavior.
Of course, this being Alabama, Henderson's mendacious lobbying has borne fruit regardless of its naked agenda. Ed Henry, R-Hartselle, is now sponsoring HB527, a bill which would prohibit the Alabama Department of Public Health from issuing or renewing licenses (.PDF) to reproductive health care centers within that 2,000-foot radius of any school.
As Henderson himself made clear when he first proposed the idea, the bill is directly aimed at shutting down clinics, especially the one in Huntsville. But in speaking to the Florence Times Daily this morning, a gutless Representative Henry feigned ignorance of the intention behind the legislation.
"I did not know it would impact closing (a clinic)," he said. "(This bill had) been asked for by several of the pro-life groups around the state.

"To me, the whole atmosphere around abortion clinics is very unsettling, with protesters on both sides, and to me not something we need to have the children of Alabama subjected to. We regulate how close liquor stores can be to schools and churches."
Although Henderson's creeps wave their pictures of bloody fetuses, trespass in the parking lot of the school down the street from the clinic, and jaywalk in traffic to inspire horn honking, somehow "protesters on both sides" are the problem in Henry's mind. One wonders exactly what 'pro-abortion protesters' he's referring to: does he perhaps mean the clinic escorts, who stay on the property to help women in their hour of need without any loud noise or disruption? Because they're not the people creating a problem here.
Any "disruption" in Huntsville consists solely of Henderson and his disturbing gang of forced-birth activists.
If it becomes law — and that is the probable outcome — HB527 will be challenged immediately by a host of reproductive rights organizations and the clinics, who will almost certainly prevail in a federal court while Alabama taxpayers cover all the legal expenses. That's just how things are done here in the Heart of Dixie, you see: we might not be able to keep the schools open next year, but we can always afford to protect ourselves from the horror of women controlling their own lives and bodies.