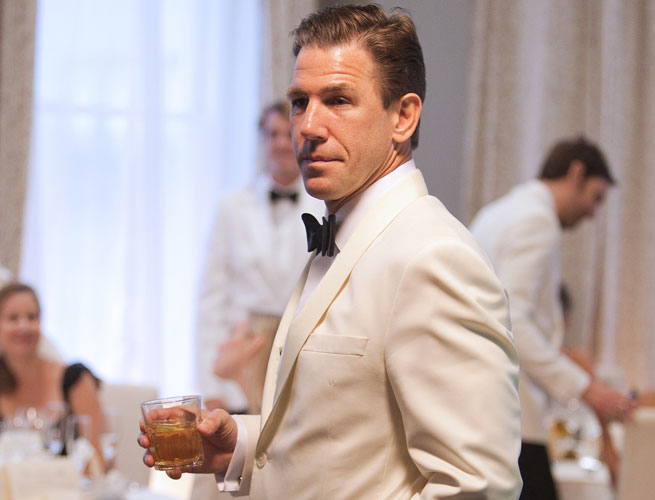 South Carlina's favorite Tea Party reality show star and candidate  Thomas Ravenel is accused of assaulting his wife's girlfriend/hair stylist last week during a visit after she'd been watching the couples' child. The alleged victim, Lauren Moser, told police that she is a friend/hair stylist of Kathryn Dennis. (For those not familiar with the ongoing drama, Dennis is the 51-year-old 'Christian conservative' Ravenel's  21-year-old girlfriend/baby's mama, who is often the main recipient Ravenel's "bad boy" behavior in the reality show Southern Charm.)
Apparently she probably would have been better off staying home, as the Charleston City Paper explains:
Moser says she arrived at the house at about 11 p.m. and relieved the nanny since Ravenel and Dennis had not yet arrived home. She told police that "everything was fine for a while" after the couple arrived home until later in the night when she was sitting outside the residence talking with Dennis. At that point, Moser told police that Ravenel "stormed out of the house with the 7-month-old juvenile and yelled to Kathryn that she needed to take care of the sleeping child," according to the report.
Moser said she had initial reservations about visiting the Ravenel home on the evening of Oct. 17 "but was concerned about going because she had had previous run-ins with the offender [whose] behavior is unpredictable especially when under the influence," according to a police incident report. It appears those fears were founded. First, Thomas stumbled into the pool, drunk, while carrying the baby (who is fine), Moser told authorities. Things only escalated from that moment on, causing a rowdy argument and then a physical struggled ensued.
Moser told police that Ravenel then went to the second floor of the house, and she went into the living room to sit down and "gather her thoughts and to make sure that the baby and Kathryn were fine before she left," according to the report. Then Ravenel reportedly returned to the living room naked and screamed, "Bitch, get your stuff and get out" while bringing Moser's belongings to her. Moser says she gathered her belongings and left.

Moser did not report the incident until Monday night at about 8 p.m. She says she waited to file the report because she "wanted to think about the incident and to wait until her emotions died down." She told police she was in pain the next day but did not have any broken bones. Police observed bruising on the inside of her right arm.
Ravanel is a long-shot Tea Party candidate running in the Nov. 4 election seeking to unseat Republican incumbent Sen. Lindsey Graham. He's mostly known for his immaturity and misogynistic "frat boy" lifestyle that's chronicled on Southern Charm, which is one of the least charming reality shows on television today.
Although the police report indicated that Moser shot video of the incident, the Charleston Police Department spokesman told media that they did not have a copy of it.