Aaron Walker's World of Law seems to be suffering a series of global catastrophes.
Noting a baffling pattern of self-inflicted injuries to his own arguments, the Maryland Court of Special Appeals (COSA) has metaphorically stepped on and crushed the soft, watery skulls of several motions filed by Walker in his attempt to get COSA to declare laws against harassment, especially harassment of minors, declared unconstitutional.
You read that correctly. Aaron Walker, an actual attorney residing in Manassas, Virginia, believes he has a constitutional right to harass you and your minor children.
After a brief from the Maryland Attorney General, COSA saw things differently.
Maryland AG Brian Frosh, in a brief signed by Assistant AG Alexis Rhode, held Walker's argument under water until bubbles stopped coming out of its mouth.
Walker appealed the Montgomery County, Maryland, Circuit Court's dismissal of his complaint against the State of Maryland seeking a declaration that Sections 3-803 (harassment) and 3-805(b)(1),(2) (cyber-harassment of a minor) of Maryland Criminal Law be declared unconstitutional. The case was dismissed in November 2015.
Walker asserted that the statutes (including the so-called "Grace's Law", created after the tragic death of a Maryland teen who killed herself after extensive bullying) violated his rights under the First Amendment — ostensibly — to harass people and bully teen aged girls.
The AG brief derided Walker's standing to challenge a criminal law in the State of Maryland as he was not currently charged with violating any particular statute, noting that when Walker had been subjected to a Maryland Peace Order for harassing conduct, which was dismissed since the court decided Walker had not violated the statute, Walker did not use that occasion to challenge the constitutionality of the law. Merely stating that he could be charged in the future under these statutes does not give Walker standing to challenge them, the AG argued.
The brief also calls out Walker for misplaced reliance or misconstruing several settled cases in his arguments.
The AG brief was filed on June 16, 2017. Four days later, COSA issued orders shooting Walker's case out of the water.
After considering Walker's motion to sever and his reply to his own motion — MOTION DENIED. (An accompanying "Emergency Motion for Extension of Deadline to File Appellant Brief" was denied as moot.)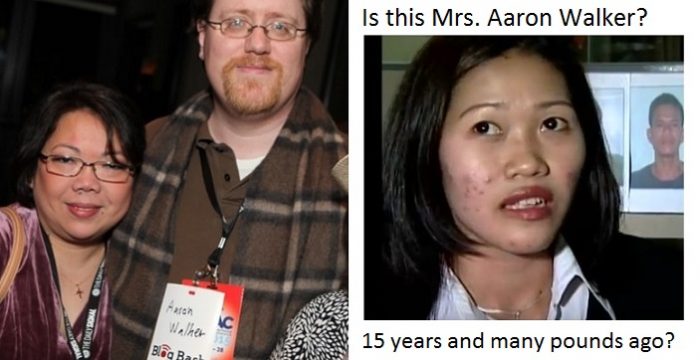 COSA also ordered that Appellee Brett Kimberlin's motion to "Correct the Transcript" be granted. Walker had demanded that certain portions of the transcript concerning his wife, Mary du Bravo and her time as a captive of an Al Qaeda chief in the Philippines be stricken from the record. The court ordered that Walker's motion to strike or disregard Kimberlin's motion be denied.
In a related motion, COSA denied Walker's motion to "prohibit certain appellees from disclosure materials sealed by a lower court," and Walker's "motion to seal" were likewise denied.
(COSA included a footnote in the order stating: "The motion references a paper titled 'Appellees Brett and Tetyana Kimberlin's Response in Opposition to Appellant Walker's Motion to Prohibit Them from Disclosing Materials Sealed by the Circuit Court.' However, no such document has been docketed in this appeal.")
Walker v. State, AG Brief 1 by BillSchmalfeldt on Scribd
Walker Orders COSA by BillSchmalfeldt on Scribd