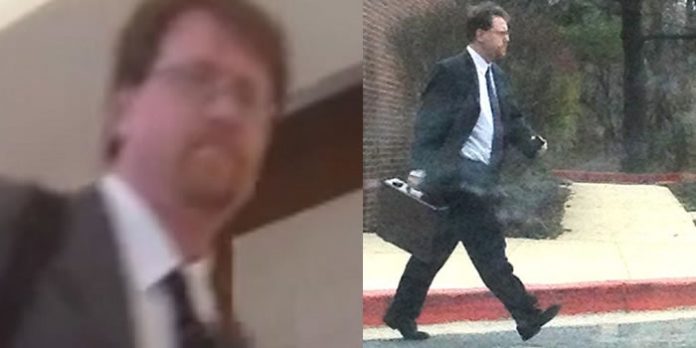 As I mentioned in a recent post about the history of useless attorney Aaron Walker, there was a hearing Friday in Maryland regarding his ongoing campaign against the state's stalking laws.
Judge Michael Mason, who has indicated some disdain for Walker during previous hearings, allowed him to rant about Brett Kimberlin for more than a half-hour before dismissing Walker's fourth complaint motion on the matter since January.
Citing the principle of res judicata, Mason gave Walker fifteen days to file a new amended complaint, but this time he must address matters taking place after January of 2013 rather than re-litigating matters which have long since been decided by other courts.
The burden of proof will also be tremendously difficult to meet, as Walker must establish that both Tetyana Kimberlin and her daughter lied to the state of Maryland when they asked for protection from his vendetta against Brett Kimberlin.
Walker has been a primary orchestrator of the right wing 'blog court' campaign of character assassination waged against the Kimberlin family since 2012. Earlier this year, the State's Attorney declined to pursue charges against Walker under 'Grace's law,' a statute written specifically to protect kids from cyberbullying, after the Kimberlins became alarmed by a series of blog comments directed towards their children.
Claiming his rights of free speech have been violated, Walker has been suing the state of Maryland and/or the Kimberlins ever since.
Conducted mainly through social media over three years, the smear campaign began to seriously impact the Kimberlin children after Walker inserted himself in Brett and Tetyana Kimberlin's marital turmoil during the summer of 2013.
Although the couple reconciled and moved to seal an Application for Statement Charges that Walker had composed, upon becoming aware of the purging motion via the state's case search website, his ally William Hoge obtained a copy on October 9th, 2013.
Riddled with allegedly perjurious statements. Walker's fantasy document then appeared in Hoge's blog, where it had the intended effect of making life miserable for both minor children by way of Google. The Kimberlin family was forced to change schools and take other steps to mitigate the damage to their daughters' lives.
That would seem to be enough to qualify both Hoge and Walker for charges under Grace's Law, which is named for a Howard County teen who committed suicide after endless social media bullying, and has a lower burden of proof than Maryland's normal stalking statute.
The older Kimberlin daughter has now testified twice in Maryland courts to the fear and alarm she feels at their demented pursuit of her family, yet the state's attorney declined to pursue the matter when Tetyana made a charging statement to the commissioner's office.
Nevertheless, Walker is now working on his fifth amended complaint related to the matter. Having presented himself many times as their 'champion,' Walker will now try to make a case that they have lied to state officials about him.
BU will stay on top of this story.