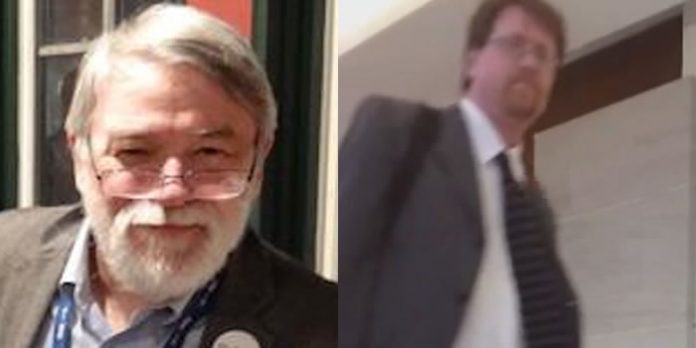 Aaron Walker, the failed Manassas, Virginia attorney whose frenetic ravings helped inflame the right wing blogwar waged against Brett Kimberlin more than three years ago, and then advised a close ally to abuse the Maryland peace order process in order to stifle the free speech of a former BU writer, now wants to have the Maryland statutes which govern restraining orders struck down in the name of free speech.
In the unlikely event that his latest filing is successful, Walker (above, right) could put many thousands of Maryland residents, including children, at risk of harm.
It is the third time this year that Walker has tried to sue the state of Maryland, now-retired Judge Cornelius Vaughey, and/or the Kimberlin family in connection with events that transpired in 2012.
A few months after he was arrested for an alleged assault of Kimberlin in the Rockville County courthouse, Kimberlin obtained a peace order against Walker, who ignored the mandatory seven-day 'cooling off' period to further smear his victim in social media.
At the ensuing hearing, Judge Vaughey had Walker briefly jailed for contempt. The peace order was later thrown out by a different judge. Since then, Walker has tried to re-litigate the matter several times in various legal filings, often padding them out beyond allowable page limits by discussing these and other past topics of litigation with Kimberlin.
Walker first filed his direct challenge to the Maryland peace order statute in January of this year. It was thrown out and escaped BU's attention at the time.
That filing created an interesting sequence of events in March, after BU identified inappropriate and creepy behavior by Walker and William Hoge (above, left), his partner in 'lawfare' campaigns, towards one of the Kimberlins' daughters.
As a result, both men were charged under Grace's Law, a Maryland statute that was specifically passed to empower families against cyberstalkers and cyber-harassment. Although a link between the events cannot be confirmed, sources indicate to BU that Maryland state's attorney Kathy Knight dropped those charges in very close proximity to the dismissal of Walker's first filing.
Walker then re-filed his lawsuit, this time adding Brett Kimberlin and his wife Tetyana while dropping Judge Vaughey and the state of Maryland. Ironically, the move came two years after Walker inserted himself in a marital dispute between the couple, submitting reams of his masturbatory fantasies to a Maryland divorce court and framing himself as her courageous defender.
Apparently no longer satisfied with his previous fabrications, Walker's second legal filing against the Maryland statute this year indulged in even more delirious fantasies about the Kimberlin family than his previous inventions.
Out of respect for the Kimberlins, BU will not repeat Walker's fevered scenarios, but we will note that he seems very worried by the willingness of the Kimberlins' older daughter to speak against him in court, for his worst new libels are all aimed at discrediting the teenage girl.
Dismissed again, Walker's third bite at the apple once again names the state of Maryland, the judge from 2012, and both adult Kimberlins as defendants to argue that the laws covering peace orders are overly-broad, infringing on the free speech of internet users.
The purposeful timing of this filing is easy to discern. Former BU writer Bill Schmalfeldt, who was the target of endless, vexatious legal harassment under the peace order statute, has moved away from Maryland to the Midwest.
Acting under Walker's advice, for over a year Hoge — who is also a Maryland resident — abused the law Walker now wants to overturn. The disabled writer, who suffers from Stage V Parkinson's Disease, was forced to make unnecessary and stressful trips to court.
The statutes that Hoge abused protect victims of domestic violence, stalking, and harassment every day, but now that they are no longer any use to Walker in his endless defamation campaigns, these laws are suddenly dangerous to democracy. See how that works?
Walker also seeks to overturn a Maryland case law which upholds the authority of the state to intervene in the free speech of those convicted of abusing it to harass others. Below is a relevant passage from his bloated filing which is actually safe to show you:
But sources tell BU that the cumulative effect of Walker's demented litigation and filings has been to discredit him with other conservatives, a conclusion which seems supported by the fact that many right wing outlets supporting Walker three years ago are conspicuously silent today.
Following his unexpected arrest for violating Kimberlin's peace order in 2012, Pajamas Media, Michelle Malkin, the Competitive Enterprise Institute, Gateway Pundit, Popehat, and Glenn Beck's The Blaze.com led a chorus of large and small blogs in manufactured outrage.
This time, Walker's actions have no amplification from the rest of the wingnutosphere. In fact, outside of his own blog and Hoge's, there is essentially no audience left watching the 'Kimberlin scene' that Walker has spent four years and thousands of dollars constructing.
It is likely that Walker could no longer suspend the disbelief of many readers when his charges against the Kimberlin family became too wild, too speculative, too obviously-contrived. Indeed, each time Walker's claims have grown more outrageous, his co-defendants in the litigation spurred by Walker's 2013 divorce court shenanigans have redoubled their efforts to reach settlements with Brett Kimberlin.
That divide was made visible during the most recent hearing in Kimberlin's state-level lawsuit against Walker and his co-defendants. After rejecting Walker's 44-page motion to dismiss, Judge Michael Mason reportedly sent him to sit at the back of the courtroom, refusing him the same status as other attorneys in the case.
No longer credible, and never effective, Walker seems quite isolated these days. In all likelihood, his efforts to exonerate the free speech rights of stalkers, kidnappers, and harassers will not improve that situation for him.
Update: 09/21/2015
Aaron Walker's latest loony bin complaint, or his THIRD amended complaint above was just stricken today from Judge Mason's court. This means that Walker's complaint as it pertains to the current additional parties that he added a few weeks ago has been thrown out lock stock and two smoking barrels. So now it's back to the SECOND amended complaint which is scheduled for a motion to dismiss hearing in mid-October. It appears that the Judge, in this case, has Walker's number. And that number is spelled frivolous loony bin horseshit filings which have monetary and punitive sanctions written all over them. One would think the courts have had about enough of Walker's silly frivolous meritless complaints, and may just be ready to sanction Walker heavily for filing bogus complaints just so he can post them on his blog for shits and giggles.
.
Walker's "playing the victim" hoaxes for the last few years have pretty much run their course. No one reads him, no one believes him anymore, and certainly no one thinks he has an ounce of sanity left. Today he was found on Twitter doing his usual schtick of attacking liberals for anything and everything when someone tweeted at him that he had solved the anthrax attacks and wanted Walker's legal help in making sure that his voice was heard. Of course, the guy who solved the attacks (LOL) didn't have any money and asked if Walker could take the case for 200.00 cash for the win. Walker, of course, told him to get with him in the backchannel and said he would see what he could do.
@AaronWorthing @ErickErickscum @Petapup1 i am key witness in anthrax letters aaron know any dc lawyers that will take my case ? r u a pussy

— KINGTROLL (@agentorangetex) September 21, 2015
We know a key witness in the Jimmy Hoffa case, care to exchange notes?
Um, if we can put aside the rancher for a minute, what anthrax letters care? Did they solve it? @agentorangetex @ErickErickscum @Petapup1 — Aaron Worthing (@AaronWorthing) September 21, 2015
I honestly had some trouble following this but I have a proven track record of standing up to terrorists & thugs @agentorangetex

— Aaron Worthing (@AaronWorthing) September 21, 2015
Yes, he surely does have a proven track record. A proven track record of filing lunatic pleadings, getting sent to the time out chair in court by various Judge's for filing 44 page briefs when the court mandated 15 pages, being mocked by Judge's who ask him if he really is a lawyer because they can't quite grasp his LEGAL SCHOLAR MIND, and basically losing pretty much everything he has filed in court over the last few years of him practicing law. Yes, that is quite the track record.
Well, write to me. I can't afford to do much for free, bc of my own issues w a terrorist, but I could do a little for you @agentorangetex — Aaron Worthing (@AaronWorthing) September 21, 2015
Yes, he can file 5000-page briefs with 400 pages of exhibits and then have them thrown out as soon as they are filed (see above)
@AaronWorthing i dont have the money on retirement rail road young has written 2 books against me i have shut down 3 mil bases robert gates — KINGTROLL (@agentorangetex) September 21, 2015
Well, we know some people who landed on Mars a few years ago. They have written numerous letters, not emails mind you, but actual letters which are delivered to us via the post office, claiming that Mars is quite nice this time of year. 
Yeah, but I don't have the money to invest that way, unfortunately @agentorangetex — Aaron Worthing (@AaronWorthing) September 21, 2015
@AaronWorthing find someone for my to desolve battelle and halbertion should be a dream come true for a lawyer

— KINGTROLL (@agentorangetex) September 21, 2015
Yes, a dream come true. But, Walker doesn't have any money, and right now he's mixed up in so many lawsuits against him that it would make your head spin like Linda Blair from the Exorcist. So, pity that, the entirety of the Anthrax case will never be solved because Walker doesn't have two cents to rub together all because he's spending his time playing X-Box and fighting with people on Twitter. Damn.
Hey Walker, I know some guy who knows some guy who has a friend that knows his sister's brother's uncle's aunt, and she says she solved the JFK assassination. Oh, by the way, she also knows the secrets behind MLK and Bobby too. Maybe you can get together with her and solve a hat trick. She doesn't have any money, of course, but she sure knows plenty. How about we hook you up? Last we heard she was at this place below. Of course that place closed down some years back, but if you send a letter to them I'm sure they will have a forwarding address on file for her.