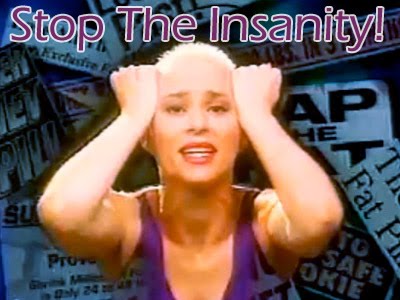 A tea party organization based in Mesa, Ariz., which has collected hundreds of thousands of dollars in donations, spent nearly half of its budget on marketing its own name, according to Federal Elections Commission documents.
Those records, obtained during a CBS 5 News investigation, also show the organization spent no money to directly support tea party candidates.
The website, JoinTheTeaParty.us is registered to a nonprofit corporation in Mesa. When CBS 5 News reporters contacted the director of that company, they were referred to a Washington, D.C., attorney, who said the personnel in Phoenix were too busy to sit down for an interview.
CBS 5 News began its investigation into the company after receiving a phone call from an East Coast tea party activist who said nobody within the tea party movement he had spoken to had heard of the Mesa organization.
The caller also told CBS 5 News it did not appear the organization was spending any of its donations to support tea party priorities.
Among the findings of the CBS 5 News investigation, the organization spent $181,000 on Google, Facebook and other websites for advertising. As a result, when CBS 5 producers typed the phrase, "tea party," into the Google search engine, the first paid advertisement that popped up was for JoinTheTeaParty.us.
Additional digging into the organization's background revealed the director of the nonprofit also has ties to companies that collect and sell people's personal information. Todd Cefaratti is listed as the director the the nonprofit, as well as a company known as reverseleadclub.com.
At a recent tea party rally at the state Capitol, no tea party supporters approached by CBS 5 News had heard of the website.
An e-mail written to CBS 5 News from Washington attorney Dan Backer stated that the site develops and distributes daily information on local and national tea party events. Backer also wrote that the website does not share the names or personal information of its donors with any other commercial interests.
Several donors to the site contacted by CBS 5 News said they were under the impression they were joining the official tea party when they donated to the website. The populist tea party movement is not an official national political party.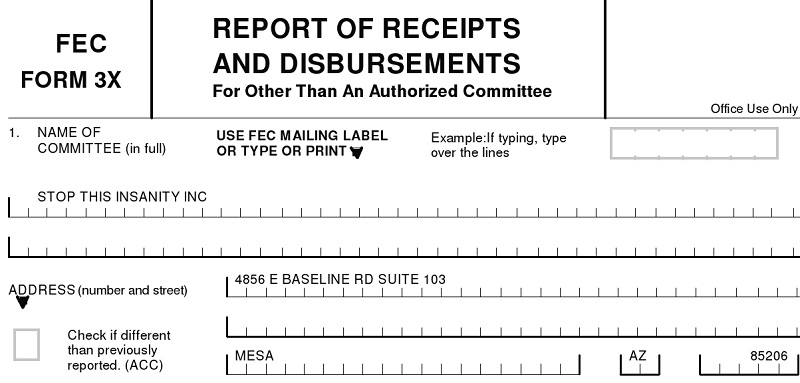 Dan Backer is now associated with The Bloggers Defense Team which is another in a long line of money making schemes that Mr. Backer has been associated with. I came across the recent FilmLadd article that Todd Cefaratti has now joined the battle against Brett Kimberlin which The Bloggers Defense Team has been carrying on in the name of right wing extremist attorney and blogger Aaron Walker aka Aaron Worthing.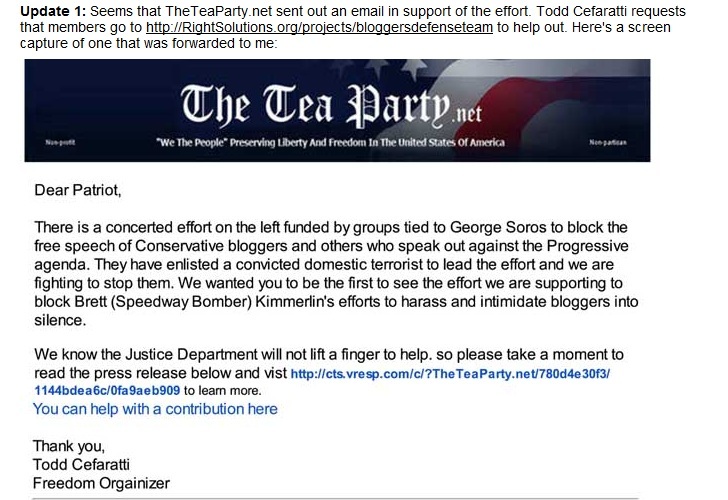 Funny how Todd can't even bother to spell Brett Kimberlin's name properly. I guess it shows how invested he is in the whole cause related enterprise of Brett Kimberlin violating the Free Speech for right wing bloggers. At any rate we here at BU decided to check into the whole Stop This Insanity organization that Todd Cefaratti and Dan Backer have been involved in with the TheTeaParty.net website. It has been a true cash cow for them that is for sure.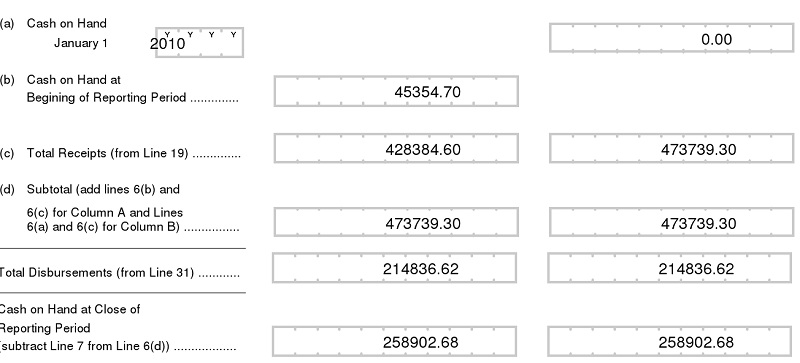 A number of media organizations looked into the TheTeaParty.net website, and it has been noted that the cash that was raised out of that website did not even go to support one candidate for office. The cash raised did however go to pay expenses for running their office and marketing. Over 258,000.00 actually went towards expenses and marketing the website. The rest of the money raised went elsewhere, because in the forms we have it didn't show any payroll expenses or support for candidates which led a number of people to claim that the TheTeaParty.net and JoinTheTeaParty.us websites were in fact nothing more than a fake or a scam.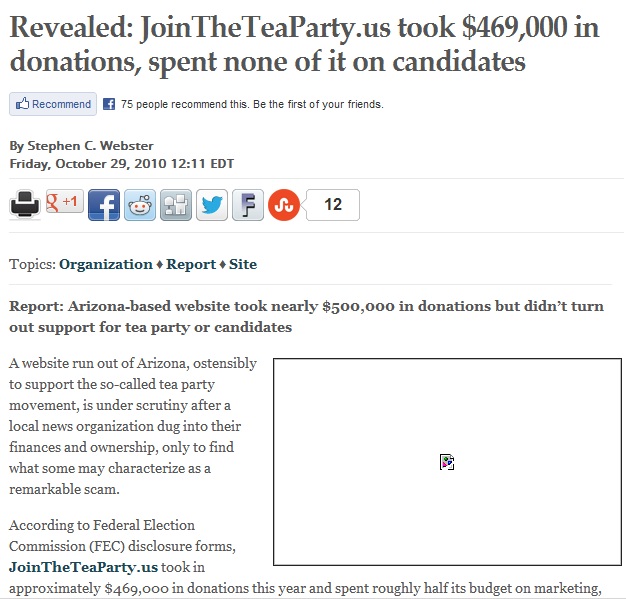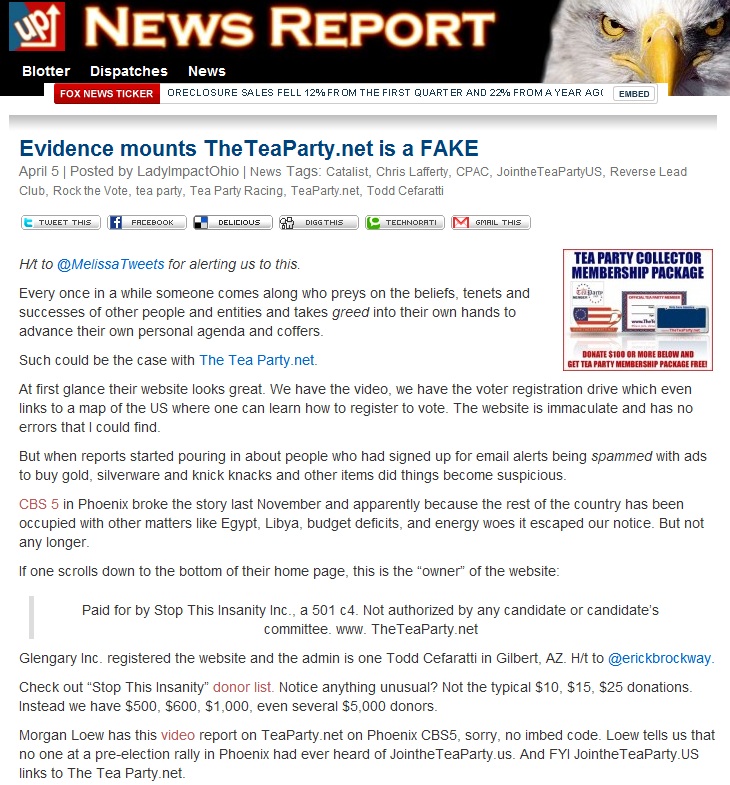 People who read this site will note the issues regarding submitting personal information along with your credit card as being just like the Ali Akbar issues: whereby Mr. Akbar was raising funds through Rally.org for his National Bloggers Club and asking for personal information as well. Well the TheTeaParty.net site run by Todd Cefaratti and Dan Backer had the same issues when they were raising funds for their own websites.

This was the same issue that Mr. Akbar had when asking for donations to The National Bloggers Club as seen below, an organization which has now been replaced by The Bloggers Defense Team and Mr. Dan Backer, and now Todd Cefaratti.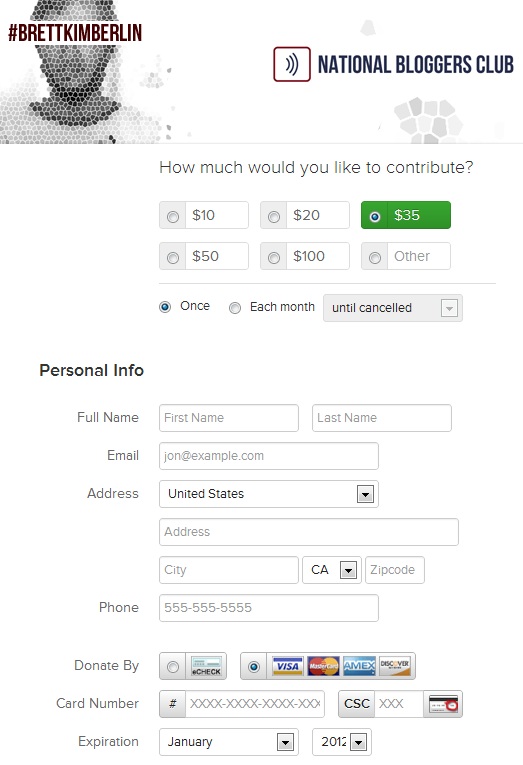 Looking into Todd Cefaratti one finds he has run a number of money making schemes, one of which was reverseleadclub.com which is a mortgage broker lead generator.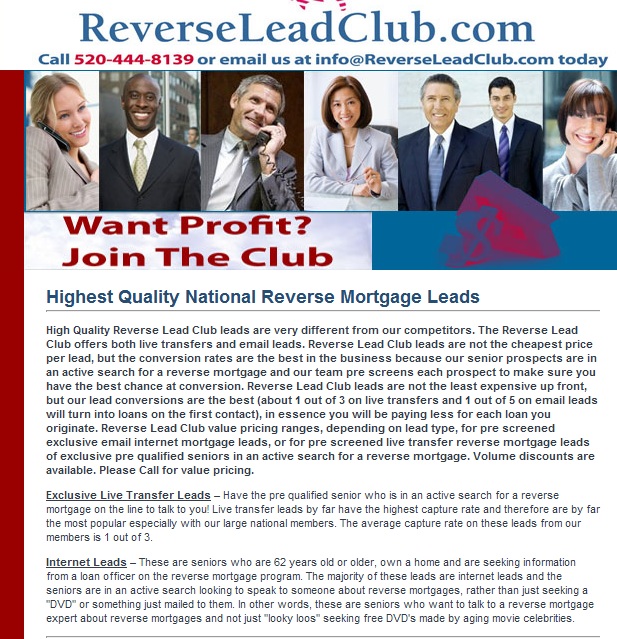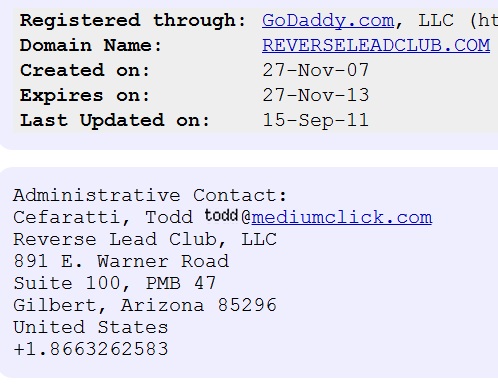 Todd lists himself as a go to guy for all sorts of things. His bio lists him as a Marketing and Financial expert.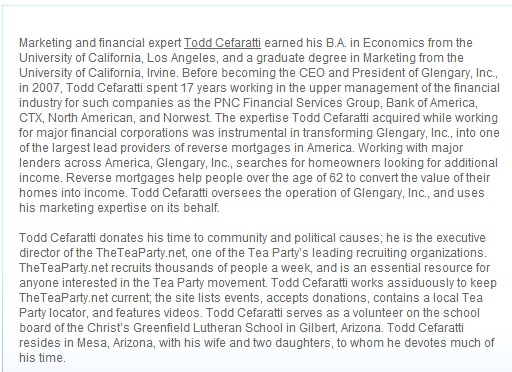 So Mr. Backer and Mr. Cefaratti are good at raising money and finding willing suckers to donate to them. We here at BU however wanted to look into their expenditures for one of their organizations called Stop This Insanity, and came up with how they get their messages out, and quite possibly how they raise boatloads of cash from their websites. Enter Intermarkets.net which bills itself as a fundraising site which delivers marketing, pageviews and email campaigns focused on select demographic markets. Stop This Insanity paid Intermarkets.net a hefty sum of money weekly, and at times every day, to get Stop This Insanity visible on the internet and eventually paid. Looking at how much Intermarkets.net made off of Mr. Cefaratti and Mr. Backer one gets the impression that the only company to really benefit outside of Mr. Cefaratti and Mr. Backer from Stop This Insanity was Intermarkets.net. Some of these payments below were made every other day, some ever day, and some spaced out every week, and all based on donor money generated from their campaigns in which not one candidate was given as much as 10 cents from it.
The interesting part here seems to be that donor money was going to Intermarkets.net in order to generate more donor money without any other purpose than to raise even more money to pay even more advertising dollars to Intermarkets.net. So who runs Intermarkets.net? Kevin Lucido. He is listed as the owner or CEO of the company.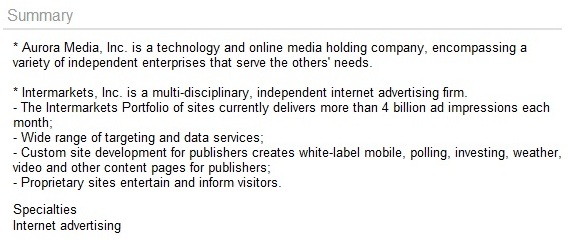 Looking at Mr. Lucido's twitter feed one would think it would be a powerhouse of social media connections and show him to be an internet god. However what we found was the reverse of that, according to his Twitter feed he is about as empty as one can be, yet, with a couple of interesting connections.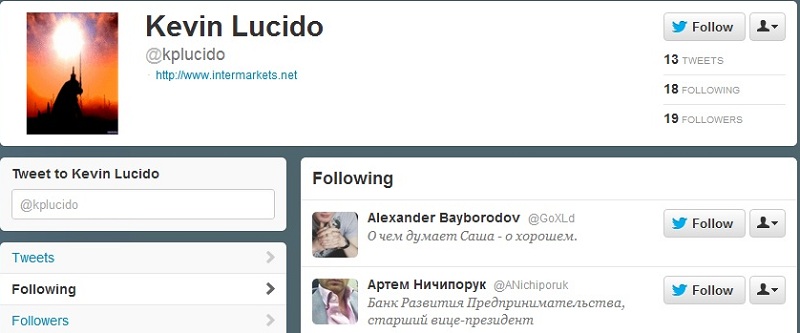 One of the people Kevin follows is Artem Nichiporuk who is connected to a Russian bank in Moscow.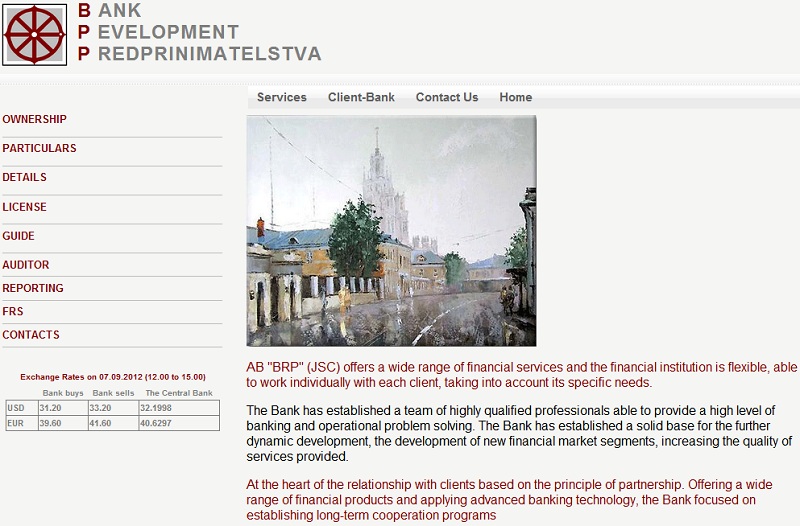 That to us is a very interesting connection due to the fact that Mr. Backer himself is also of Russian descent. But what do we know of Russians except that money is their ultimate god. A Russian would sell his grandmother on the street if she could turn a profit. They are all about the money and everything else be damned.
The other interesting connection is that both Backer and Lucido went to the same school.
The other interesting connection is the Intermarkets clients portfolio.
So the venerable Ace of Spades works with them as well as Michele Malkin, Twitchy.com, and Ann Coulter, and even Matt Drudge of Drudgereport.com, which comprise most of the what BU terms as the usual suspects concerning the war against Brett Kimberlin. A cast of extremist right wingers if I ever saw one, and quite an impressive portfolio for Intermarkets.net.
I also noted the other day that the twitter feed of The Bloggers Defense Team was suspended after only one tweet, and while in Twitter Gulag Mandy Nagy aka Liberty_Chick, another right wing extremist who has called for war against Brett Kimberlin came out begging Twitter support to get them out of the Twitter Gulag. In this request she claimed: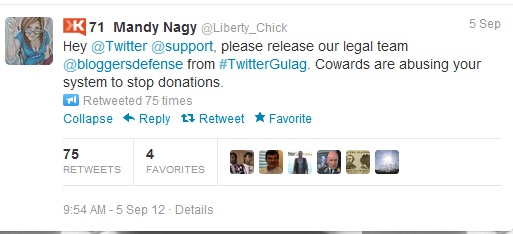 "Cowards are abusing the Twitter system to stop donations." Hilarious if it wasn't so true. This is what it is about, money and not Free Speech. It wasn't help our comrades out because Twitter is stopping Free Speech or because they are a great crew or a great bastion of liberty, rather they are stopping donations from reaching them, and only after one tweet, not thousands of tweets, but one tweet, and somehow Twitter is stopping their donation activity. How quaint.
This is in fact what it is about. They are about making money and then spending that money on everything but what the cause is actually about. The money donated will probably go to expenses to run the campaign they have going, and those expenses, like other campaigns they have run prior, will go towards marketing and paying companies like Intermarkets.net the money they receive from gullible sheep that donate to them so they can make more money by keeping it going. These campaigns run by Dan Backer and Todd Cefaratti so far have produced a great income stream for them, and much like the TheTeaParty.net website, they are launching a new campaign against Brett Kimberlin called The Bloggers Defense Team for the sole purpose of raising money, and not in the phony cause of defending liberty and free speech they created, rather just to make as much money as possible off of it before folding the tent and moving on to the next money maker. It is a job like any other I guess, and all they need to do is find some core belief that people have or something they feel is being taken away from them, and then work that belief into a frenzy of money making and donations to Stop the Insanity; which then ends up being kicked back to friends and business associates which will then probably end up in some Russian bank after expenses and pocket money skimmed off the top are given to those that helped them raise it.
The end result is that Stop This Insanity is nothing more than a money raising scheme and the same probably goes for the recently created Bloggers Defense Team. They have found an arch enemy to go after in Brett Kimberlin. And since he is easy to sell as the bad guy because of Kimberlin's long ago past, its very easy to then whip up the gullible sheep into donating to this cause that they claim Mr. Kimberlin is somehow apart of destroying, which is silencing their free speech because Kimberlin went to court to get a restraining order against one of their friends to stop him from harassing him. But that is just the phony part of the cause, which is nothing more than another in a long line of money making scams that Mr. Backer and Mr. Cefaratti have been accused of committing in the past. When will this insanity actually stop? No one knows at present, but people are in fact getting very wise to their scams, and eventually when this scam hits Law Enforcement investigation proportions it will probably quickly evaporate as the parties involved start disappearing into the internet ether before investigators catch up to them. Until then its game on in a high stakes gamble for more money to line the pockets of those who are very good at raising cash off of suckers who believe in them.