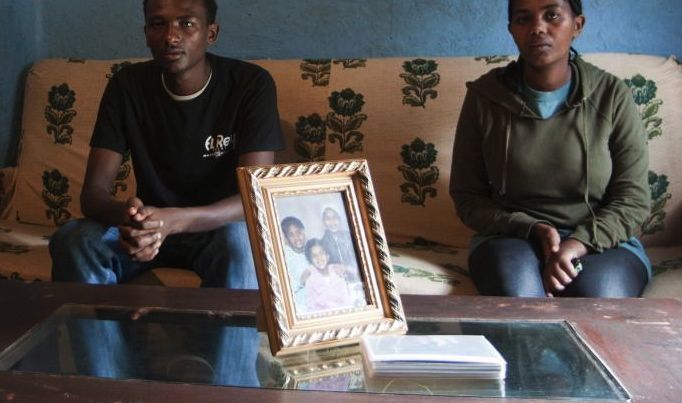 Records show Curtis Bostic who was the attorney for the Christian World Adoption Agency (CWA) was paid 466,000.00 in 2011 and 189,000.00 in 2010 for services rendered to CWA. CWA has been accused by critics of being
– a multi-million dollar Charleston, S.C.-based company which critics contend is nothing but a sophisticated human trafficking outfit.
Christian World Adoption Agency's motto was:
God is in control of our agency and your adoption.

Well it seems that God filed for bankruptcy and those who paid CWA for children were left holding the bag when they filed for Chapter 7 liquidation in February 2013.
As a result of a CBS News investigation and the banning of adoption agencies worldwide, CWA went bankrupt in February 2013. A few months prior to the bankruptcy filing Mr. Bostic's law firm was still being paid for services connected to the CWA — even though they were soon to file a chapter 7 bankruptcy petition. Records obtained by BU show that The Bostic Law firm was paid 26,641.07 dollars on November 7th 2012, and another 5,000.00 dollars on November 20th 2012. On December 5th 2012 Bostic's firm was paid 5,906.86 along with another 243.25 paid December 12th 2012. The last payments to them were 5,000.00 on December 19th 2012, and 1,942.73 which was paid on January 16th 2013; less than one month prior to the filing. The total over the three month period was 44,733.91 dollars.
The Bostic law firm was not listed as a creditor in the bankruptcy filing either, leading some to conclude that Bostic was paid handsomely before other creditors which mainly consisted of the people paying CWA for children. Those people are pretty much out of luck when it comes to getting their money back. The creditors list, of which about 90 percent are people who paid CWA for fees to adopt children were left holding the bag while Bostic collected his funds for services rendered ahead of the line. One such document shows just how much people were willing to pay CWA for children from another region of the world whereby they were over billed for fees which they complained of in the bankruptcy creditors meeting: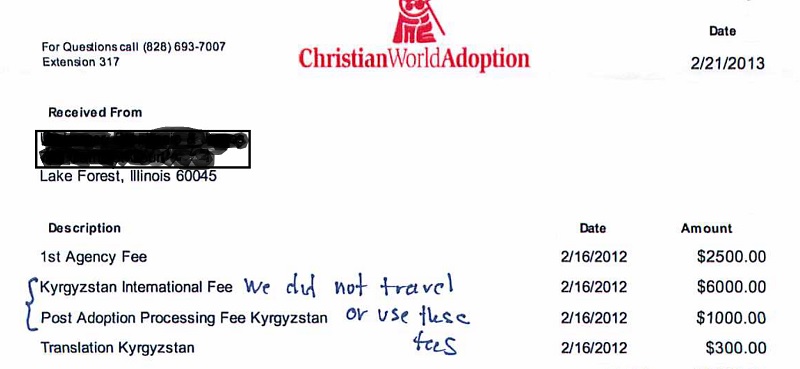 The CBS investigation in 2010 revealed that prospective parents were told that the children they were adopting were in orphanages when that was later shown to be not true at all.
The video above highlights the issues involved with CWA's practices and how they went about coercing Ethiopian families to sell their children to CWA, who then told the children that they would be going off to America to get an education where once obtained they would be allowed to come back home. Prospective parents were told a different and more compelling false narrative to tug at their heart strings and get them to pony up money for the adoption. The children were not told that they could no longer come home, nor were they under the impression that they were being adopted on a permanent basis. In the video above Curtis Bostic is seen at the end trying to explain the CWA's position after it was revealed to be a potential scam. Bostic goes on to claim that of course people might complain about the process, but that CWA had been responsible for thousands of adoptions worldwide, and that prospective parents would probably complain later but they were not a measure of the whole of CWA's practices. Bostic told CBS News:
"Sometimes, people are upset when they just simply misunderstand things," Bostic told CBS.
Of course people can misunderstand things, especially when the truth comes out. It is also easy to claim that a misunderstanding happened when people are finally told the truth by the very children they adopted. Bostic also said in another interview:
It is not the job of an attorney to ascertain what the truth is. It is the job of an attorney to represent people.
Quite a statement coming from a man running for a congressional seat in South Carolina. Of course his boosters like Ali Akbar who is a convicted felon probably won't care that Bostic was involved in the selling of Ethiopian children, or that the CWA, whom Bostic's firm represented, was paid very well for several years to give them the best legal services money could buy. But we here at BU question whether or not Bostic is worthy of the congressional seat he is working hard to obtain. If his job is not ascertaining the truth on anything he does, then what does that say about him as a politician? It says to us at BU that the truth be damned, its really all about the dollars and the client who pays you. So if people are supporting Bostic to represent them in Congress, then it stands to reason they would want someone honest and who cares about the truth, and not some paid shill who will do or say anything to get elected. What is clear here is that Bostic doesn't care about the truth, even when damning video shows the reality behind the Christian World Adoption Agency he represented.
At last check today Curtis Bostic is still the registered agent for Christian World Adoption Agency.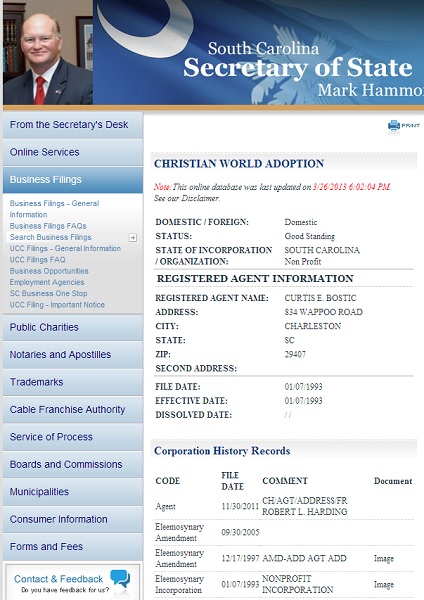 Does he deserve a congressional seat or the hot seat for being the irresponsible surrogate for CWA?
You be the judge.