As if the shooting of an unarmed teenager wasn't enough, right wing media, assisted by Matt Drudge and other outlets like IJR and The Daily Caller, are now on a credibility crusade concerning anyone involved in witnessing the shooting of Michael Brown. Today, IJReview has posted an article that was penned by Larry O'Connor from Breitbart News, which claims that one of the witnesses to the shooting, Dorian Johnson, has a criminal record (misdemeanor) for theft, and lying about his first name to police officers when he first moved to Ferguson MO. This theft resulted in an additional charge of filing a false police report, which is standard procedure for police when they accuse you of giving them a wrong name while they are investigating a case. In that case he gave his name as Derrick Johnson instead of Dorian. But somehow because he was arrested for stealing a backpack belonging to someone else in an apartment complex, and giving a different first name when questioned, his credibility to testify to what he saw that day in Ferguson is now in question.
During the summer after his first semester at Lincoln, Johnson was charged with a misdemeanor after giving police a false first name after he was arrested on suspicion of theft. He later pleaded guilty.

He was accused of stealing a package containing a backpack belonging to someone else from an apartment complex. When he was arrested in that case, he identified himself as Derrick Johnson and said he was 16.

He is wanted for failing to appear in Jefferson City municipal court to answer to the theft charge, court officials said.
According to Adolphus Pruitt, the Local chapter NAACP president, these facts didn't really matter when it concerned his testimony of what he witnessed that day in Ferguson.
Adolphus Pruitt, president of the St. Louis NAACP chapter, which has been encouraging witnesses to come forward, said Johnson's false report case "doesn't concern me."

"He's been very clear about what occurred, and now we have … four others stating facts that support the statements he's been making," Pruitt said. "Why would that diminish other accounts that are relatively the same?"
He is correct, in fact 4 other witnesses have backed up his testimony. But that doesn't stop Breitbart CEO Larry O'Connor from trying his level best to besmirch Johnson's testimony or his credibility in the public kangaroo court that right wing media controls.
As for other credibility issues, The Daily Caller is now reporting that there is another credibility problem with the Forensic Pathologist who helped or assisted Dr. Michael Baden with the autopsy of Michael Brown. The Daily Caller reports that Shawn Parcells has been accused in the past of working without a license and of fabricating his job title. Oh my, what will right wing media latch onto next? It doesn't matter of course to these media sources that Dr. Baden has an unquestionable record, but now they go after a person who assisted him. What's next, going after the janitor who cleaned up after them? Does the janitor in fact have a record that they can go after? Or, could he be an African American? And if so, could he in fact have seen the truth? I am sure these types of story ideas go through the minds of Right Wing media every minute of the day, anything to enrage their base will do. Doesn't matter that what they usually claim as truth is usually false, they just keep at it, lie after lie after lie while questioning other people's credibility. And if there is something they can use to call into question someones credibility, then they will most certainly do so. Of course they are the credible ones, right wing media would never gloss over facts, would never tell you scary stories that are not true, they would never in a lifetime make shit up out of whole cloth. No, right wing media are defenders of truth, justice and the American way.
But speaking of credibility, let's look at the Prosecutor who has been tasked with running the current Grand Jury in Ferguson who is tasked with delivering an indictment against Officer Wilson, the man who shot Michael Brown to death. Where or where do we have a potential credibility problem with him?
A group of clergy leaders planned a protest Thursday outside the St. Louis County Justice Center in Clayton, joining the call for McCulloch to step aside in favor of a special prosecutor. McCulloch's deep family connections to police have been cited by some who question his ability to be impartial. McCulloch's father, mother, brother, uncle and cousin all worked for the St. Louis Police Department, and his father was killed while responding to a call involving a black suspect.

The prosecutor, who is white, has insisted his background will have no bearing on the handling of the Brown case.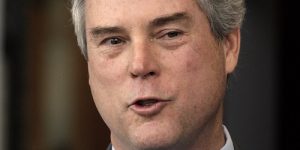 So, do the residents of Ferguson really believe that justice will actually come from a prosecutor whose own father was killed by an African American, and who also has extremely close ties to the very racist police department that has been at the forefront of clamping down on its own residents? Not forgetting of course that most of the residents who live there claim the police are racists, and in which video after video has shown this to be a fact. So this prosecutor, who has these close ties that bind to the very racist nature of the police department in Ferguson, and whose family have all worked for this very racist police department, will suddenly, without question, obtain justice in Ferguson after it has been shown time and again that justice will never prevail there?
Talk about credibility issues….