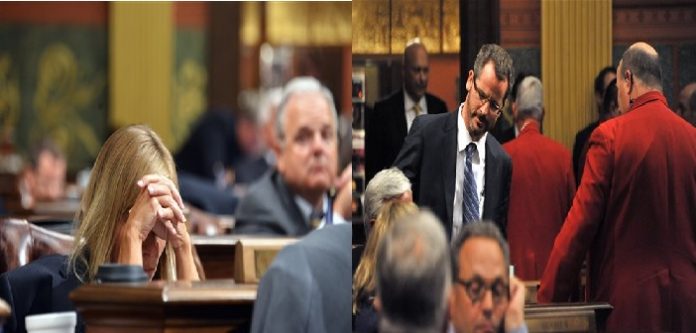 Yes, the more these religious Tea Party bigots claim God is their master, the more they seem to NOT practice what they preach. From the AP:
One socially conservative Michigan lawmaker was expelled from office and another resigned early Friday after they rocked the Legislature with an extramarital affair and a botched attempt to conceal it with a fictional, sexually explicit email.

Republican Rep. Cindy Gamrat became just the fourth legislator to be kicked out in state history shortly after 4 a.m. An hour earlier, GOP Rep. Todd Courser resigned, effective immediately, when it became clear that majority Republicans had secured enough support from Democrats for his expulsion by promising to ask the attorney general and state police to investigate the lawmakers.

Both were immediately escorted from the chamber.
Both Representatives were having an extramarital affair with each other according to reports, and when it appeared they would be caught, Rep Courser came up with a plan to smear himself with baseless propaganda masked to look like it was coming from liberals, which he then sent out in an email to various GOP members and media in an effort to claim it was a smear, so when the actual affair came out he could claim it was just another in a long line of baseless liberal smears. Things fell apart however, and it was quickly discovered that this was just a coverup for the affair he was having with Gamrat.
Courser, 43, of Lapeer in Michigan's Thumb region, admitted to sending an "outlandish" phony email to GOP activists and others in May claiming he had been caught with a male prostitute. The email was intended to make his affair with the 42-year-old Gamrat appear less believable if it was exposed by an anonymous blackmailer who Courser said had demanded his resignation.

The self-smear email called Courser a "bi-sexual porn addicted sex deviant" and "gun-toting Bible thumping … freak" and Gamrat a "tramp."
Of course that was a great looking smear which was designed to make it look like it was coming from liberals, and as such, anyone (liberals) who would call him a gun toting bible thumping freak would be seen as just launching another attack on his Christian belief system. Of course it didn't work out that way as they were eventually caught and then expelled.
On Thursday, a special House committee recommended the expulsion of both freshmen tea party legislators, who had based legislation on their Christian beliefs and clashed with GOP leadership even before the controversy broke. But the full chamber then deadlocked for hours, as more than two dozen Democrats in the minority refused to vote.
Yes, they based their legislation on "CHRISTIAN BELIEFS" mind you, while of course committing adultery behind the barn door.
In calling for both legislators' expulsion, Rep. Ed McBroom, a Republican from Vulcan in the Upper Peninsula who chaired the disciplinary panel, said: "These two members have obliterated the public trust. They've obliterated the trust of their colleagues. And each day that they continue here they reduce the public trust in this institution."
Yes, they obliterated the public trust like so many other Tea Party lunatics with their so-called Christian beliefs that help them get elected when the truth behind them is that they are just as sinful as the rest of humanity. You know what they say about throwing rocks at glass houses. Well, I guess the Christian lifestyle just bit them in the ass, because, you know, lustful, sinful, sexuality will ruin anyone.