The Twitters are all a-tweet over President-elect Donald Trump's choice of RNC Chairman Reince Preibus as the White House Chief of Staff.
Selecting the very top GOP Establishment Insider will probably do wonders to secure Trump's future relationship with the people who almost voted him into office (Trump trails Hillary Clinton in the popular vote by nearly 2-million votes). After all, Trump was going to go to Washington to "drain the swamp" of the Washington insiders…like Preibus.
Not that the Trump/Preibus relationship has been anything less than sunny in the past…
APRIL 13, 2016
Trump's latest assault on the Republican Party — and specifically Priebus — came in an interview with The Hill newspaper published before Tuesday's CNN town hall.
"It's a disgrace for the party. And Reince Priebus should be ashamed of himself," Trump told the Hill.
OCTOBER 7, 2016
The chair of the Republican National Committee on Friday issued an extraordinary rebuke of its party's presidential nominee 31 days before the election, after a 2005 video surfaced of Donald Trump making vulgar comments about women.  "No woman should ever be described in these terms or talked about in this manner. Ever," RNC Chairman Reince Priebus said in a statement.
DECEMBER 18, 2015
Republican National Committee Chairman Reince Priebus on Tuesday condemned Donald Trump's proposal to ban all Muslims from entering the United States. "I don't agree," Priebus said. "We need to aggressively take on radical Islamic terrorism but not at the expense of our American values."
AUGUST 3, 2016
Republican Party Chairman Reince Priebus is — quote — "furious" with Donald Trump. These are not words that are thrown around in such a place. And that's a problem for Donald Trump, because he needs the RNC's operation to get out the vote.
APRIL 2, 2016
In recent days, Mr. Priebus, who insists that the committee has stayed scrupulously neutral throughout the contentious primary fight, has also let it be known that he does not plan to let the Trump campaign take over the party apparatus if he captures the nomination. At an off-the-record happy hour with reporters last week, Mr. Priebus said clearly that, regardless of precedent, he would not be layered over by Mr. Trump's loyalists, according to two people present.
APRIL 12, 2016
Donald Trump slammed the chairman of the Republican National Committee (RNC), claiming the party's system for selecting its presidential nominee is a "scam" and a "disgrace."
During an exclusive interview with The Hill at Trump Tower, Trump said, "It's a disgrace for the party. And Reince Priebus should be ashamed of himself. He should be ashamed of himself because he knows what's going on."
SEPTEMBER 2, 2016
Senior advisers to Mr. Priebus and Mr. Trump have collided over the turbulence in the campaign, the senior Republicans said. Mr. Trump's top policy adviser questioned Mr. Priebus's competence in a caustic email this week after the Phoenix speech. And Mr. Trump's son-in-law, Jared Kushner, and Mr. Priebus's chief of staff clashed in a tense meeting over the use of the committee's war chest.
JULY 9, 2015
Republican National Committee Chairman Reince Priebus called Donald Trump by phone Wednesday to personally tell him to tone down his 'loud' statements on immigration. Although Priebus is not known for being combatant, our sources tell us Priebus and Trump spoke for nearly an hour and shouting could be heard throughout the duration of the call.
Oh, yeah. This is gonna work out just fine. Other rumored (not kidding) choices Trump is strongly considering are: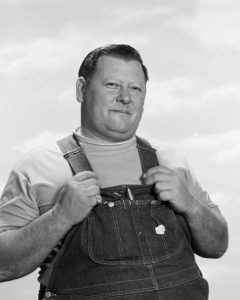 Secretary of State Newt Gingrich
Homeland Security Secretary Rudolf Giuliani
Commerce Secretary Vince MacMahon
Interior Secretary Sarah Palin
<snark> The President-elect was prepared to offer the Secretary of Agriculture spot to "Hee Haw" star Junior Samples until he learned Samples has been dead since 1985. </snark>