The New York Times reports tonight that during an interview with President Donald Trump, he said he "never would have hired" Jeff Sessions as Attorney General if he had known Sessions would recuse himself from the Russia investigation.
In a remarkable public break with one of his earliest political supporters, Mr. Trump complained that Mr. Sessions's decision ultimately led to the appointment of a special counsel that should not have happened. "Sessions should have never recused himself, and if he was going to recuse himself, he should have told me before he took the job and I would have picked somebody else," Mr. Trump said.
In a wide-ranging interview with The New York Times, the president also accused James B. Comey, the F.B.I. director he fired in May, of trying to leverage a dossier of compromising material to keep his job. Mr. Trump criticized both the acting F.B.I. director who has been filling in since Mr. Comey's dismissal and the deputy attorney general who recommended it. And he took on Robert S. Mueller III, the special counsel now leading the investigation into Russian meddling in last year's election.
Trump did not take firing Mueller off the table.
Asked if Mr. Mueller's investigation would cross a red line if it expanded to look at his family's finances beyond any relationship to Russia, Mr. Trump said, "I would say yes." He would not say what he would do about it. "I think that's a violation. Look, this is about Russia."
There is no reaction at the moment from the Attorney General despite being thrown under an already crowded bus undercarriage by the President.
"Jeff Sessions takes the job, gets into the job, recuses himself, which frankly I think is very unfair to the president," he added. "How do you take a job and then recuse yourself? If he would have recused himself before the job, I would have said, 'Thanks, Jeff, but I'm not going to take you.' It's extremely unfair — and that's a mild word — to the president."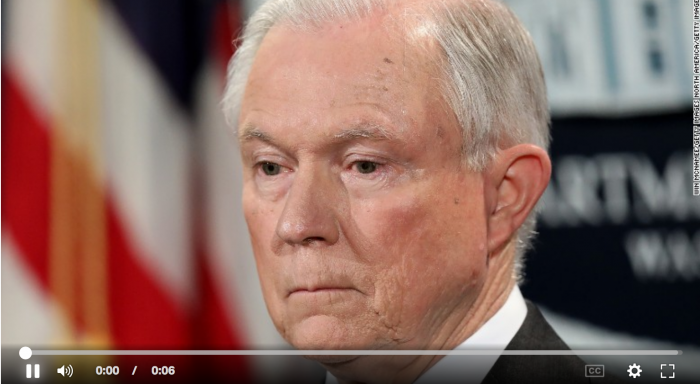 Once again, Trump denied he is a subject of Mueller's investigation.
"I don't think we're under investigation," he said. "I'm not under investigation. For what? I didn't do anything wrong."