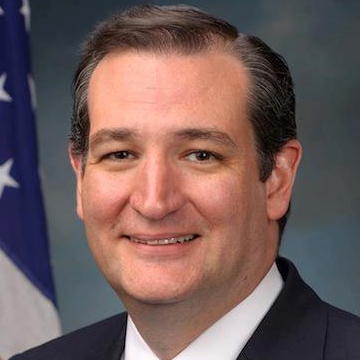 Ted Cruz has made his clearest signal yet that he will be the Tea Party's man in 2016 by naming Paul Teller, who was fired from the Republican Study Committee in December, to be his new deputy chief of staff. Teller was fired for leaking private conversations with lawmakers to outside groups, fueling an intra-party feud between movement organizers and the Republican establishment.
Senator Cruz evidently wants to be seen as the most extreme and paranoid member of the upper chamber. He has worked hard to win the support of outside groups like Groundswell, which lobbied House Republicans to waste all of last Summer on conspiracy theories about the IRS and Benghazi. Amanda Terkel of the Huffington Post calls the move a "slap in the face" to House leadership, which would not comment on Cruz's hiring of Teller.
Cruz has worked closely with conservative advocacy groups and often clashed with the House GOP leadership. During the government shutdown in October, House Republicans fumed against the senator for conceding defeat on repealing Obamacare after leading them into the unpopular shutdown.

"It is an honor and privilege to work for Sen. Cruz," Teller said in a statement. "His leadership is truly motivating, and I can't wait to get started on our collaboration for liberty."
Cruz's appointment of Teller will doubtless please the Groundswell people, especially his friend Ali Akbar. Both men have been faculty members at Morton C. Blackwell's Leadership Institute, one of the most influential outside groups in Republican politics. There is no word yet on whether Cruz, who will run for president as the Breitbart.com candidate in 2016, has plans to endorse fellow Leadership Institute alumnus Steve Stockman in his primary bid against John Cornyn, but we doubt it will be a very long wait.
Bonus: we have found video of Mr. Teller at an event held by America's Future Foundation telling attendees how to advance their careers on Capitol Hill. 
[youtube]http://youtu.be/bJXWrB8Vy-Y[/youtube]