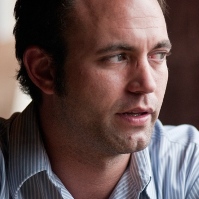 Brandon Darby is a the former left-wing anarchist turned right-wing anarchist who leveraged his friendship with Andrew Breitbart to become a fixture at his media company. Darby remains popular with tea party activists, and his elevation to the editor's position at Breitbart Texas over better-qualified writers reflects the close relationship between Breitbart and Tea Party Patriots. But perhaps success has overwhelmed Darby, because he deleted his Twitter account late Wednesday evening rather than continue to face questions about the glaring absence of journalistic ethics at Breitbart News.
Over the weekend, Darby was feeling the pain of the medium as some conservative journos like RedState's Ben Howe and others came down hard on him for not specifically crediting ex-Breitbart journo Dana Loesch, now at TheBlaze, for an interview he posts in his story. He provides a hyperlink to "The Dana Show" but why go vague? What, they forgot her name? In a weekend story on the Bundy Ranch, Darby referred to a  "host" and "a radio reporter" without mentioning Loesch. Howe asked on Twitter, "Hey @brandondarby, great recap. Who is this 'host' you refer to?" Pretty sure Loesch is memorable, especially since she left the site in a cloud of stress after filing a 75K lawsuit against the site in 2012 for not releasing her from a contract and steering other sites away from hiring her. The case settled in July of last year.

This appears to be a common refrain for journalists who go to work for Breitbart News. You can go to work there, but you might not get out when you want, or, for that matter, cleanly and without bizarre legal strings attached. As The Mirror reported recently, now ex-Breitbartian Larry O'Connor just got out after months of trying, though exact details of the contractual agreement were not obtained.
Acts that would be firing offenses at your local weekly sales paper seem to be the daily routine at Breitbart, and this is certainly not the first time that Darby has been accused of plagiarism or unethical conduct. His Twitter woes spiked recently when a Texas tea party activist alleged that Breitbart News demanded a substantial payment to cover his rally, then provided unsatisfactory coverage without disclosing their role as paid promoters. That was shortly after Darby fired writer Lee Stranahan for daring to tell conservative grassroots activists just how badly super PAC lawyer Dan Backer has been screwing them over. Your takeaways from Darby's career at Breitbart is that loyalty to the brand outweighs truth, ethics, or talent, that he cannot withstand any scrutiny, and that his character defects are reflected in the organization itself.
[youtube]http://youtu.be/Pe4NCaz4NgM[/youtube]