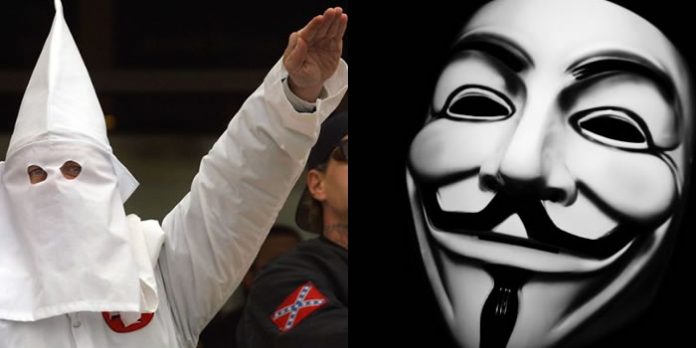 If something is too good to be true, it's probably false. When scrutinizing information that comes wrapped in blaring, clickbait headlines about the loose coalition of 'hacktivists' known as Anonymous, it pays to keep that simple rule in mind.
Posted late Saturday evening, a list of US senators and city mayors allegedly tied to the Ku Klux Klan is an object lesson in why we should be skeptical of stories attributed to an extremely loose affinity group that often defies easy understanding.
The document, which can still be seen here, lists Thom Tillis (R-SC), John Cornyn (R-TX), John Isakson (R-GA), and Dan Coats (R-IN) as "associated" with the Ku Klux Klan.
In addition, the mayors of Ocala, FL, Fort Wayne, IN, Lexington, KY, Norfolk, VA, and Knoxville, TN are also listed as "racist scum."
But everyone on the list except Tillis and Cornyn has denied any ties to the 'Invisible Empire,' which once thrived in the South and has begun active recruiting again in recent years. Furthermore, some of the claims fall apart under even mild scrutiny.
Initial impressions that the list was connected to Anonymous 'hacktivism' proved false, as the unknown person who posted the document to Pastebin.com has repeatedly acknowledged.
i am not apart of anonymous nor have i ever claimed to be,i am my own man that acts on my own accord.i do however respect #OpKKK

— Amped Attacks (@sgtbilko420) October 29, 2015
In fact, Twitter accounts associated with Anonymous are planning to release what they claim is a list of names of one thousand KKK members on November 5th. Known by the hashtag '#OpKKK' and framed as a transparency effort, that event has nothing to do with the list released by 'Amped Attacks,' however.
The Twitter account most closely associated with #OpKKK made sure to clarify that point.
#ICYMI #OpKKK was in no way involved with today's release of information that incorrectly outed several politicians https://t.co/M1ltrb2P0B — Operation KKK (@Operation_KKK) November 2, 2015
At TechCrunch.com, Editor John Biggs made the distinction clear, but left the suggestion that Anonymous had in fact already begun revealing names in his headline. His early article may have influenced later takes, including a now-deleted Daily Kos diary.
US Uncut author Tom Cahill also initially reported that the 'outing' had been performed by Anonymous.
But the Pastebin document itself went viral overnight, too, with nearly 200,000 views at the time of this writing thanks to thousands of shares on social media.
As Newsweek reports, the document was just one of at least four lists of alleged KKK members posted to Pastebin, some of which include phone numbers and email addresses. Such details are often included by more malevolent 'social engineers' as a means to encourage harassing communications and other forms of trolling.
Fearless, Mayor Madeline Rogero of Knoxville offered rebuttals on 'old media' and new media alike.
Writing at her website Freak Out Nation, Conover Kennard writes that "You may sleep well tonight knowing that your elected officials are not at a Klan rally."
Known on Twitter as @Anomaly100, Kennard has developed close relationships with 'Anons' in recent years. And as a target of past social media attacks by the Klan, she has become something of a symbol to many people who affiliate with #OpKKK, although she stresses that the operation is not some sort of vengeance for her experiences.
'Amped Attacks' told Kennard how he came up with the list. While admitting to illegal activities, the nameless hacktivist offers a partial explanation for how he recovered his information.
"I worked for nine days to gather and verify all the information that was gathered before its release," he said. "I got the information from several KKK websites when I [hacked] them and was able to dump their database. I went through many emails that was signed up with these sites and a few of the emails that sparked my interest was the ones of the politicians in question there would be no reason for them to be signed up on any KKK website unless they supported it or was involved in it."
But there are problems with this approach, not least of which is the matter of fake profiles that we recently saw in the Ashley Madison hack. Given the subject matter, it is also not unreasonable to expect that white supremacists with an interest in politics might post contact information for office holders on their websites.
Like many people, I reached out to Amped Attacks in hopes of receiving a better sense of the context in which he discovered the email addresses, and Amped Attacks claims to have passed his screen shots to journalists, but no new evidence has surfaced while the account has remained quiet.
Having observed disinformation operations and erroneous false starts before in these circumstances, BU will stay on top of this story.