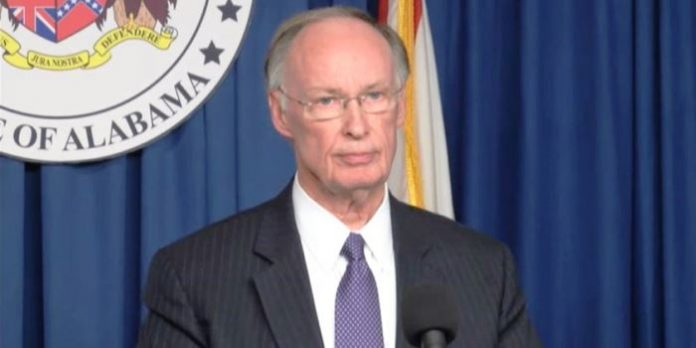 According to an explosive allegation made by Alabama Political Reporter Bill Britt yesterday, Republican Governor Robert Bentley pressed law enforcement and regulatory agencies to investigate two men for blogging about his alleged affair with political adviser Rebekah Mason.
Two individuals with detailed knowledge of the incidents say Bentley ordered the use of the National Crime Information Center, (NCIC) and the Law Enforcement Tactical System (LETS) to find any incriminating evidence that might be used against attorney Donald V. Watkins, and Legal Schnauzer blogger, Roger Shuler.

These powerful databases serve as a "Google-style" search engine for law enforcement, allowing agencies to search the most private aspects of a person's life. A search on these sites can produce social security numbers, drivers licenses numbers, property ownership, criminal history, and more. "If you really know now to use these resources you can turn a person life upside down," said a former lawman.

Former ALEA staff and attorneys refused to cooperate with Bentley. However, some of those same individuals are not certain that new ALEA Chief Stan Stabler would be as cautious saying, "Everyone is a potential target now that Stabler is part of the cover up."
Indeed, Stabler's sudden rise from sergeant to head of the ALEA is an obvious political promotion, lending credence to stories about Gov. Bentley using state planes, troopers, and other assets to conduct his affair.
But neither of the targeted online writers was unknown to law enforcement in the state of Alabama.
Four decades before the Black Lives Matter movement, Watkins represented the family of Bernard Whitehurst and was largely responsible for exposing the cover-up of a police murder in Montgomery.
Reporting on Bentley's alleged affair in a series of Facebook posts, Watkins claims that Bentley created a dark money 501(c)(4) non-profit corporation called the Alabama Council for Excellent Government to be a slush fund for his relationship with Mason.
In 2013, Roger Shuler was beaten, arrested, and held for months by Shelby County law enforcement on the orders of a specially-appointed judge recalled from retirement.
The previous Republican governor's powerful son Rob Riley, whose name is synonymous with dark money politics in Alabama, sued Shuler for libel when he reported rumors that Riley Jr. had an affair with a state lobbyist.
Transcripts and documents in the case, which drew criticism for violations of Shuler's free speech, remain sealed from any public review.
While Shuler was incarcerated, Republican dark money operatives with ties to Alabama made strenuous, but unsuccessful efforts to attach his name to Breitbart Unmasked.
According to Britt, the United States Department of Justice is currently investigating whether Bentley fired ALEA chief Spencer Collier as part of the cover-up. Collier confirmed the governor's affair in a press conference last week on the same day that AL.com published an audio recording of Bentley having an intimate phone call with Mason.
Gov. Bentley concealed his romantic escapades from the public until last year, when rumors swirled after his wife Dianne filed for divorce.
But Watkins tells Britt that Bentley's feud with him goes back to at least 2013, when the governor tried to sic banking regulators on his business.
He said in 2014 Bentley asked the SEC to investigate his businesses, even through they are not under SEC regulation. "That investigation went nowhere," said Watkins.

But again, in 2015, Bentley sought a criminal investigation, according to Watkins, "I provided the investigators with all the documentation and that case was close within 30 days."

"Every case started with a hint or a suggestion of impropriety on my part by Bentley's Office and each case went nowhere," said Watkins.

ALEA was twice asked to conduct a criminal investigation into Watkins, this has been confirmed by law enforcement officers.
As Republicans took over every level of Alabama government in the Tea Party wave of 2010 with a little boost from Karl Rove, they proclaimed a new era of political accountability was at hand. Apparently, they meant to say that they would spend the next six years politicizing the justice system against anyone who tries to hold them accountable.