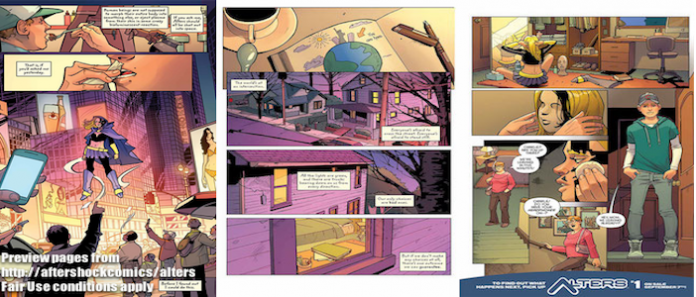 Few things worry the few remaining acolytes of Andrew Breitbart than the thought of skirt-wearing men sneaking into the ladies' room to catch a peek at their wives and daughters going potty. Now they have something else to worry about.
The guardians of morality at Breitbart.com are tilting toward the fainting couch today with the publication of a story about how a North Carolina comic book store is selling a cover with a (gasp!) transgendered superhero, engaged in the act of (gulp!) switching the bathroom door signs from gender-specific to gender-neutral. (Faint!)
The cover relates to the North Carolinian House Bill 2, which seeks to "provide for single sex multiple occupancy bathroom and changing facilities in schools and public agencies."
The comic went on sale yesterday at a special signing event with cover artist Richard Chase for $10 per book, significantly higher than the $3.99 for the standard version of the comic, due to its exclusivity.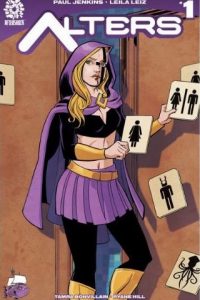 The cover was commissioned especially for the North Carolina comic book store, Ssalefish Comics, to connect the comic known as Alters to the HB2 kerfuffle in the Tar Heel State.
Here is the horrifying, democracy-threatening description of this comic born of Hell that wants to make sure beer-bellied men wearing culottes can sneak into the privacy of a female restroom to ogle your wife, your daughter, even your grandmother, as they answer the call of nature.
From a diverse team of creators composed of differing genders, gender identities, ethnic backgrounds and sexual orientations comes a groundbreaking first-ever superhero series with a central transgender protagonist created by a mainstream writer.
As the world struggles to accept the emergence of these Alters, a young woman begins her transition from male to female only to find herself also transitioning into a powerful Alter. Faced with persecution by the multi-powered fascist known only as Matter Man, she will face the world as Chalice–a hero for a new age. But as Chalice navigates the path to becoming her true self, she must juggle the complications of her civilian life and the responsibilities of her newfound power.
Where will it all end? Will this lead to a day when people are allowed to be what they want to be? To love who they want to love? To spend their lives in peace without being harassed by people with a narrow-minded religious or political point-of-view that would keep them in the closet or locked into bodies that don't fit their gender identity?
One can hope.