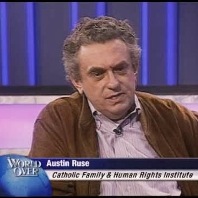 We have been checking daily to see whether Austin Ruse has posted anything new at Breitbart.com since he was fired by the American Family Association's radio network on the morning of March 14th. His last column, a conspiracy-addled jeremiad against the Southern Poverty Law Center, was published that afternoon. Since he began writing for the site last September, Ruse has never gone longer than three weeks without publishing a column. As you can see in the sidebar, we are now in the eleventh day of our vigil.
Ruse is the president of the Catholic Family and Human Rights Institute (C-FAM), an organization that promotes anti-gay laws in Russia and has been labeled a hate group by the SPLC. He was also a key member of Groundswell, the conservative lobbying effort which propelled the IRS "scandal," the Benghazi "cover-up," and other conspiracy theories in the Republican-controlled House of Representatives last year.
On Wednesday, March 12, while he was filling in for Sandy Rios, another Groundswell figure, Ruse told her American Family Radio audience that all the "hard-left, human-hating people that run modern universities" should "be taken out and shot." The next day, Ruse tried to excuse his eliminationism by saying that "dumb liberals" were just taking him too literally.
The pajama boys over at Right Wing Watch have their panties all in a twist about what I said, and I sometimes think that the left is really dumb, these are the low-information voters that make all of these mistakes when they get into the ballot box and all of these mistakes as they go through their lives and one of the reasons is because they are so dumb.
But Ruse had gone too far for even the right wing, anti-gay American Family Association, which pulled him from the show and announced he would not return. As the SPLC reports, that was soon followed by a resignation from the board of C-FAM.
Yesterday, the fallout continued. One of the four board members of C-FAM (Ruse is one) resigned. On Monday, the group Faithful America started a petition asking the board member, Monsignor Anthony Frontiero, a prominent Catholic priest of St. Joseph Cathedral in Manchester, New Hampshire, to resign. Yesterday, Frontiero informed Faithful America via email that he had.
This was not the first time Ruse has stuck his foot in it, however. It turns out that he has a reputation for framing his ideological disputes as violent confrontations. In 2000, for example, he told an audience that a Catholic priest had offered him absolution if he would "take out" Hillary Clinton. Of course, all of this is couched in a "pro-life" agenda so extreme that Ruse worked to block the UN Convention on the Rights of Persons with Disabilities simply because it included "reproductive health" as a human right.
Austin Ruse has supported conspiracy theories about the death of Matthew Shepard, the Wyoming college student who was murdered in 1998 for being gay, because he seems to think that doing so will damage the credibility of hate crime laws rather than his own credibility. Ruse not only dismisses the idea that hate crimes exist, he denies that anti-gay bias is even a problem. Hilariously, Ruse claimed that Russia's notorious anti-gay bill has the support of "human rights organizations" — by which he means hate groups like C-FAM.
Clearly, Austin Ruse is a world-class hatemonger. When he began writing at Breitbart.com, Media Matters called him their "go-to anti-gay extremist." Will Breitbart.com allow Ruse to write for them again, when even the extremist AFA now considers him beyond the pale? Rest assured that we are watching and waiting to pounce.
Video: Austin Ruse attacks efforts to study anti-LGBT violence as "lying and trickery"
[youtube]http://youtu.be/fbs5qADT9tk[/youtube]