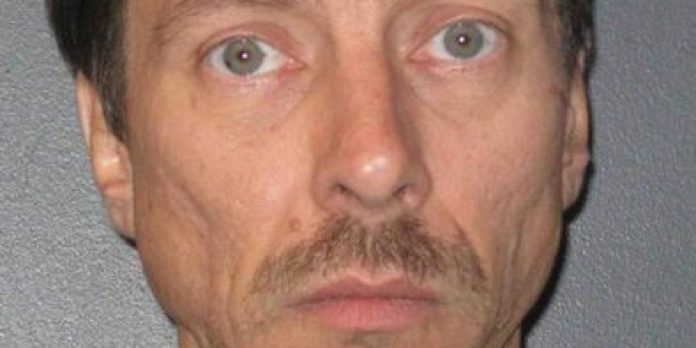 Self-described sovereign citizen Dennis Marx, who set out to hold a protracted siege and hostage crisis at the Forsyth County, Georgia courthouse last Friday only to be cut down in a hail of gunfire by deputies, had a side business in gun trading. Marx had spent at least the last ten days planning his assault on the courthouse with semiautomatic weapons as well as homemade and commercial explosives. His actions appear to have been spurred by the impending loss of his gun rights.
Marxman Enterprises is registered as a nursery under his wife's name with the Florida Department of Agriculture and Consumer Services, but Marx listed the concern on Google+ and Facebook as an authorized distributor of Strike-Hold gun lubricant. He also called himself a Glock Professional, which probably indicates that Marx attended company-sponsored training events. It is clear from the Marxman Enterprises Facebook wall that he and his wife traded weapons and sold Strike-Hold at numerous gun shows. (UPDATE: Marxman Enterprises is still listed as a Florida "2nd Amendment Center" by the NRA's Institute for Legislative Action.)
Last year, Marx filed three lawsuits against the Forsyth County Sheriff's Office and SWAT team alleging the department used excessive force and conducted illegal searches and seizures. In fact, Marx had been arrested on felony marijuana charges last year and was due to plead guilty on Friday, but he had split with his attorney over the deal. Among the weirder social media artifacts left behind by Marx and his wife are these bizarre YouTube videos in which they risk the lives of several goldfish to demonstrate the product they sold. [youtube]http://youtu.be/PDXOvBr_jXA[/youtube] [youtube]http://youtu.be/rBSJKfHE3vs[/youtube] According to the description text for the second video, the couple carried out this stunt at a gun show:
DO NOT ATTEMPT THIS DEMO UNDER ANY CIRCUMSTANCE Demonstrating the power and protection of Strike-Hold. No goldfish were harmed while filming this Strike-Hold demonstration video,the goldfish survived the Panama City Florida Gun Show and earned their freedom while doing so. They are now enjoying life in the pond. DO NOT ATTEMPT TO REPLICATE THIS STRIKE-HOLD DEMONSTATION STRICKTLY FOR STRIKE-HOLD PROFESSIONALS ONLY!!!
ADDING: this all-caps post on Julie Marx's Facebook page suggests some deep-seated irrationality at work.
DON'T EVEN BOTHER CONTACTING YOUR STATE LEGISLATORS. GO FEDERAL! THE LOCAL SHERIFF'S AUTHORITIES IGNORE THE RULES AND LAWS STATE LEGISLATORS PASS AND I CAN PROVE IT. THE REPERCUSSIONS INFLICTED ON FAMILIES BY THESE SENSELESS 'LAWS' PERTAINING TO MARIJUANA ARE DEVASTATING. DUE TO THE FORFEITURE LAWS ATTACHED TO THE MARIJUANA LAWS, AS A FAMILY WE WERE DEPRIVED OF OUR FAMILY TREASURES, ALMOST $25,000,00 AND ALL OF THE WEAPONS WE OWNED! AS A DIRECT RESULT OF THIS 'FORFEITURE' CONFISCATION BY THE LOCAL SHERIFF'S OFFICE, WE WERE LEFT WITH NO MEANS OF SELF-DEFENSE and/OR FUNDS TO ESCAPE A DANGEROUS SITUATION. ALL OVER LESS THAN 4 OUNCES OF MARIJUANA, WHICH PROHIBITS CONFISCATION AND FORFEITURE ACTIONS, ACCORDING TO GEORGIA LAW THESE EVENTS LED TO THE MURDER OF MY DAUGHTER… EDUCATE YOURSELVES! NOW! BEFORE IT IS TOO LATE TO SAVE OURSELVES AND OUR SICK CHILDREN! THANK YOU!
We will continue looking into this story.