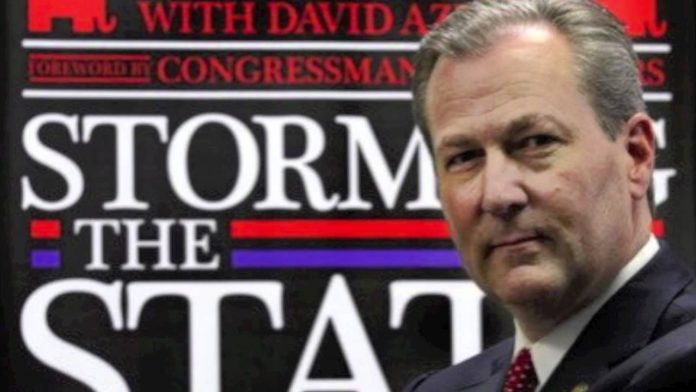 Speaker of the Alabama House of Representatives Mike Hubbard was arrested yesterday for voting on a bill despite having a clear conflict of interest. It was just one of 23 counts in a special grand jury indictment that "is part of an ongoing public corruption investigation in the state," according to WHNT. Hubbard faces two to 20 years in prison and $30,000 fines for each count of the indictment, which may have sequels.
The Lee County special grand jury has already produced one indictment and one guilty plea in the state House of Representatives. Hubbard, whose arrest seemed certain on Friday when he visited the Opelika Sheriff's office with his attorney, represents Lee County.
Persons from whom Hubbard solicited financial favors "include former Alabama Governor Bob Riley, Business Council of Alabama CEO Billy Canary, Hoar Construction CEO Rob Burton, Great Southern Wood CEO Jimmy Rane, former Sterne Agee CEO James Holbrook, lobbyist Minda Riley Campbell, Harbert Management Corp. vice president Will Brooke and political operative Dax Swatek."
Billy Canary's wife Leura was a federal attorney appointed during the Alberto Gonzalez era at the Department of Justice. She is well-known in the state for prosecuting former Democratic governor Don Siegelman on bribery charges before recusing herself. The resulting conviction and sentence have always been controversial.
Hubbard's lawyer plans to hold a press conference today in which he will frame the indictment as an election-time political attack by a panel of his own constituents.
The question remains: will there be other indictments? Political people such as Rob Riley, the governor's son who was once investigated by Lois Lerner for campaign finance violations, tend to be lawyers who know exactly where the line is. Hubbard is a media mogul, however; he only knows the business of commercial airtime, not the legal limits of his salesman's ambition. Any further indictments linked to him will probably follow the lines of his interests.
If the state can prove that he lobbied executive state agencies for fees during a time that he helped systematically gut state agencies, Hubbard may not find the trial jury in a forgiving mood.