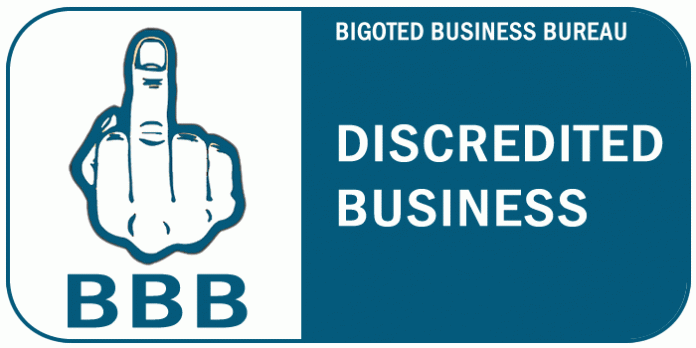 Arkansas Governor Asa Hutchinson decided not to sign the state's new 'religious freedom' law today after hearing outcry from business leaders, including the CEO of Walmart, as well as his own son.
The news was a disappointment to Samuel Chastain, Executive Director of the Bigoted Business Bureau, which just announced a major expansion in the state of Indiana and had planned a similar expansion in Arkansas.
BU spoke to Chastain as he delivered the organization's distinctive door sticker to Memories Pizza in Walkerton, Indiana. "The Bigoted Business Bureau is very proud of Crystal O'Connor and her family for standing strong against the tide of tolerance, but we are disappointed in Governor Hutchinson," he said.
O'Connor's family-owned pizzeria made waves this morning by becoming the first business in the state of Indiana to publicly invoke the controversial new 'Religious Freedom Restoration Act' and deny catering services to gay weddings.
The law, which is ostensibly modeled on federal legislation signed by President Clinton in 1993 but which actually contains unique language giving private business owners protection against anti-discrimination laws, is the brainchild of anti-LGBT activists who claim that wedding planners, bakers, and other businesses shouldn't be forced to treat non-heterosexual couples equally.
"We're not discriminating against anyone," O'Connor told ABC 57 in a clear sign that she does not understand the plain English-language meaning of the word 'discrimination.' "That's just our belief and anyone has the right to believe in anything."
"I believe this is a great business," Chastain added as he presented O'Connor with a door sticker bearing the distinctive logo of the Bigoted Business Bureau. "This sticker should help LGBT Indianans understand that their kind don't belong here.
"Conversely, it will help other bigoted Hoosiers discover these fine business owners and create lasting customer relationships built on the deep, personal trust that comes from a shared loathing of other people."
The Bigoted Business Bureau is a new creation, but reflects old values, Chastain explained.
"In fact, this is my grandfather's robe I'm wearing," he said. "My grandmother cut and sewed the eye holes on his hood. The state of Indiana has changed a great deal since he wore it to lynchings and cross-burnings, but we still reserve the right to exclude customers over any obscure bit of biblical text we like."