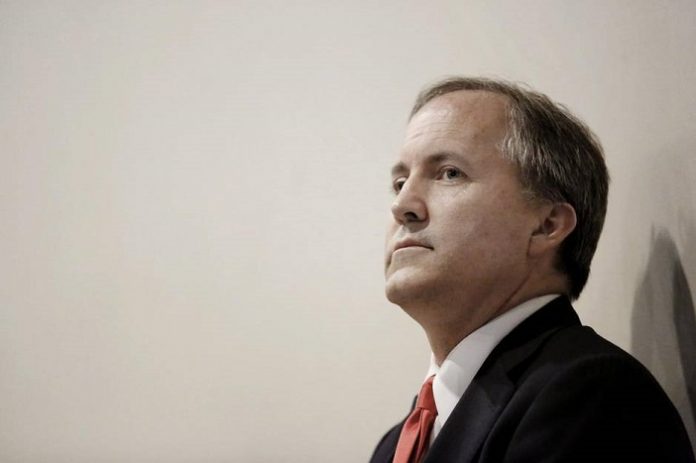 Another Tea Party wingnut bites the dust. This from the San Antonio Express-News:
Texas Attorney General Ken Paxton will reportedly surrender to authorities Monday in North Texas on three felony fraud charges stemming from an alleged investment scheme into the McKinney-based technology company Servergy, as well as his failure to register as an investment advisor representative with the state.

A Collin County grand jury issued the indictment against the first-term attorney general on Tuesday, two sources who had been briefed on the proceedings told the Chronicle on Saturday.

Paxton faces two counts of first-degree securities fraud and one count of third-degree securities fraud, with the most serious charges carrying a minimum sentence of five years in prison, special prosecutor Kent Schaffer told The New York Times.

Schaffer said Paxton is accused of encouraging people, including current and former members of the Legislature, to invest more than $600,000 in a McKinney-based technology company called Servergy without telling them he was making a commission. He also misrepresented himself as an investor in the company that the U.S. Securities and Exchange Commission was investigating for defrauding stockholders as recently as December 2014. The first-degree charges each carry a sentence of five to 99 years in prison and a fine of not more than $10,000.

The third-degree charge stems from his failure to properly register with the state as an investment adviser representative, which carries a sentence of two to 10 years in prison, as well as a $10,000 fine.

The indictment was immediately sealed Tuesday, but will be unsealed Monday afternoon, according to a high-ranking source with the Texas Department of Public Safety who asked not to be identified. Local media reported a Tarrant County judge already has been named to preside over the case, which is expected to go to trial.
When will people wake up, the Tea Party and associated wingnuts are in the business of making money fast. They don't really give two shits for the constitution or the people or even the law, as they have shown numerous times they are above the law, and the constitution is just a way for them to gin up the base so they can make money fast. Its all a shell game to them. How long will the Attorney General hang on to office under this new cloud? Hard to say, since Rick Perry is still hanging on by a thread, with one count dismissed so far and the other count still standing. Of course in Paxton's case, it might not be so easy to get dismissals since it wasn't about politics at all with his case, it was just business as usual behind the scenes.