The Washington Post reports this morning that Democratic Presidential Nominee Hillary Clinton dipped her golden ladle into the rich and creamy soup of the Clinton Foundation and scooped up a bowl of $258,000 of charitable donations to his foundation to pay off a couple unrelated legal costs.
Naw. I'm spoofing ya. Hillary Clinton never did any such thing, using donations to her family's charitable foundation to pay off personal legal bills. But can in imagine the outrage, the clamor, the ripping out of hair and rending of garments if such a thing were even hinted at as being true?
Now Donald Trump, on the other hand… this is being reported this morning.
According to the Washington Post, Donald Trump turned on the money spigot and filled up a golden jug with $258,000 from the Donald J. Trump Foundation to pay off two legal settlements.
Those cases, which together used $258,000 from Trump's charity, were among four newly documented expenditures in which Trump may have violated laws against "self-dealing" — which prohibit nonprofit leaders from using charity money to benefit themselves or their businesses.

In one case, from 2007, Trump's Mar-a-Lago Club faced $120,000 in unpaid fines from the town of Palm Beach, Fla., resulting from a dispute over the size of a flagpole.
("It was a yuuuge flagpole, believe me. I don't have to brag, but most men would be glad to have a flagpole like that, I'm telling you.")
The Post reports that Palm Beach agreed to waive the fines if Trump's club made a $100,000 donation to a specific charity for veterans.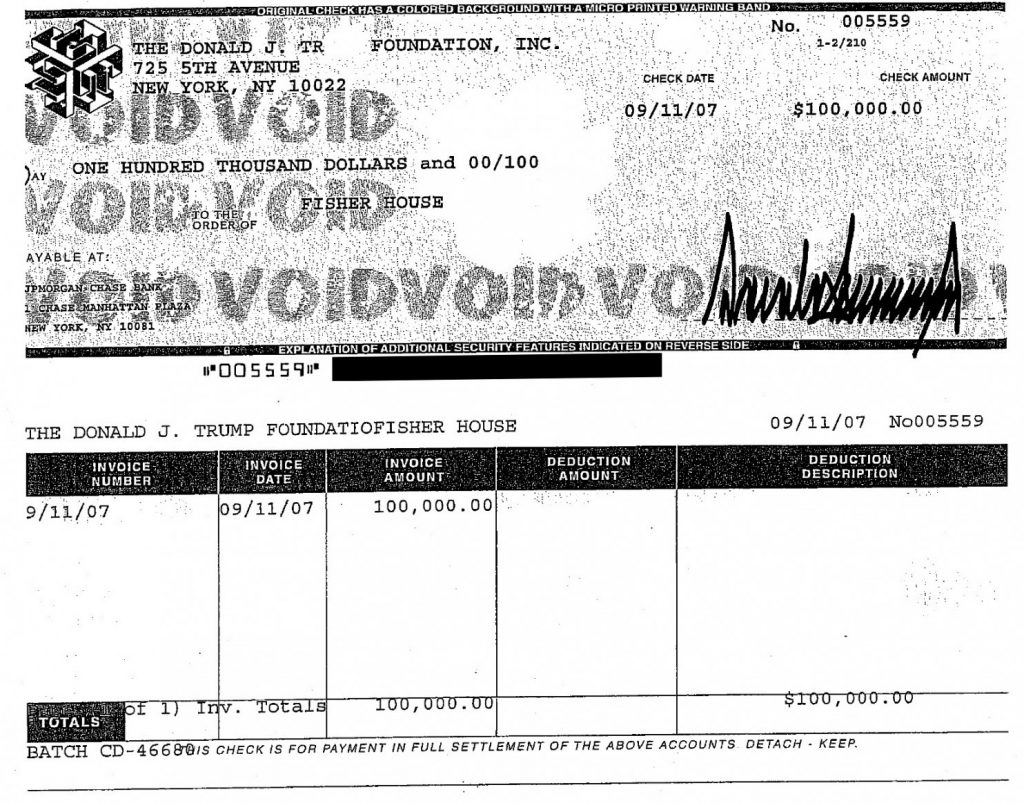 In another case, the Post reports Trump settled a law suit surrounding one of his New York golf courses with a check for $158,000 made out to the plaintiff's favorite charity.
According to the Post:
If the Internal Revenue Service were to find that Trump violated self-dealing rules, the agency could require him to pay penalty taxes or to reimburse the foundation for all the money it spent on his behalf. Trump is also facing scrutiny from the office of the New York attorney general, which is examining whether the foundation broke state charity laws.

More broadly, these cases also provide new evidence that Trump ran his charity in a way that may have violated U.S. tax law and gone against the moral conventions of philanthropy.

"I represent 700 nonprofits a year, and I've never encountered anything so brazen," said Jeffrey Tenenbaum, who advises charities at the Venable law firm in Washington. After The Post described the details of these Trump Foundation gifts, Tenenbaum described them as "really shocking."

"If he's using other people's money — run through his foundation — to satisfy his personal obligations, then that's about as blatant an example of self-dealing [as] I've seen in a while," Tenenbaum said.
Not much being said about this on the corporate-owned media at present. Still, can you imagine if the first paragraph was accurate? Hoo boy!
The Mainstream Media may not have a lot of standards, but when they do, they prefer them to be double.