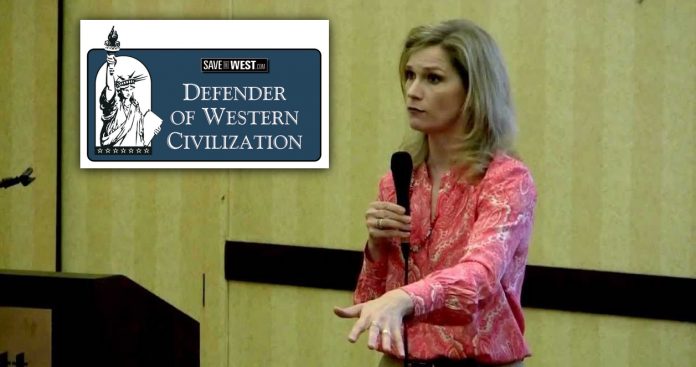 According to a piece on Right Wing Watch this morning, Catherine Englebrecht, founder of "True the Vote" — an organization which flatters itself into believing it may be a "voter integrity organization," was interviewed today by Breitbart News Daily, an alt right attack machine which pretends to be a news organization, on the grossly misnamed "Patriot Channel" on SiriusXM radio.
Ms. Englebrecht was brought on to spin a web of lies and innuendo, and like the obedient right wing spider she is, she spun up a whopper.
She "reported" that the Obama administration is likely intentionally signing up noncitizens to vote. Note the key word, "likely." That seems to mean, "this is what we want to push out as fact, but we don't have a single fiber of proof, so we'll just pretend it's happening."
Engelbrecht told Breitbart's Alex Marlow that "there's potential" for noncitizens voting "to be a very big threat" in the election. She cited the "motor voter" law that allows people to register to vote when obtaining government services if they affirm their citizenship under oath.

Engelbrecht claimed that the "citizenship metatag gets scrubbed out very quickly" as these documents make their way through government agencies, so "it is absolutely a real thing to worry about noncitizens voting."

"And it's hard to look at the situation any other way except to believe that it's been done intentionally by this administration," she concluded.
But then, when your job is to restrict voter rights to keep minority and female voters out of the voting booths, it's hard to look at any situation in any way that doesn't involve the evil of the Devil Obama.
One who listens to the "Patriot Channel" or pays any heed to "Breitbart News Daily," of course, is not tuning in to get the latest facts on the events of the day. These alt right channels exist to affirm the fear and prejudices of the frightened people who believe the Great Trumpkin will rise from his Trumpkin patch and bring freedom to all the good little boys and girls who want to return to the days when America was a black-and-white TV comedy.
it's hard to imagine that "True the Vote" can tell the truth about much of anything.
The good folks at Right Wing Watch recall it was just last week when "True the Vote" announced that it had discovered that Arcan Cetin, the man accused of shooting five people at a mall in Washington state last weekend, had illegally voted as a noncitizen in three elections.
The story was quickly picked up by conservative media hoping to fan the flames of the story that noncitizens—and even murderous noncitizens—are out in great numbers stealing our elections.

The only problem was that Cetin is in fact a naturalized U.S. citizen and therefore was legally eligible to vote.
It seems that "True the Vote" has assumed the Orwellian technique of perverting the meaning of words, turning them into the opposite of their actual intent. They have shown themselves to be as "True" to the American voters as Breitbart "News" has proven to anything close to a reliable source of information.
Not a problem for the people who tune in. They want to be lied to, and their wish is the alt right's demand.
Still, it's hard to be too critical of Englebrecht, what with all that terrible weight on her shoulders being a "Defender of Western Civilization" and all. She was thus ordained by the hate-mongering, Islamophobic, Nationalist blog Save the West.com in April 2015.