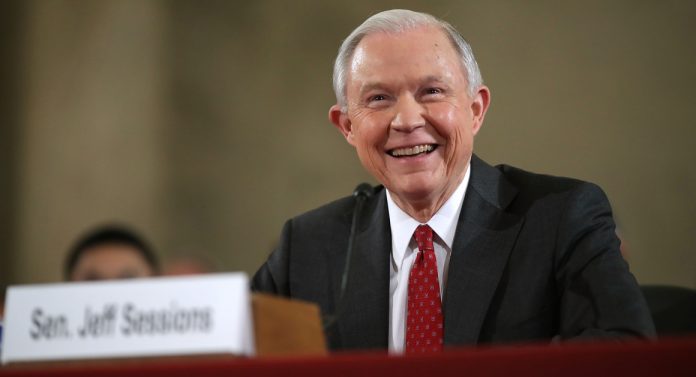 Jeff Sessions was confirmed as the new Attorney General on a 52-47 vote paving the way for an alleged racist to be the new Attorney General of the United States. Liberals fought hard to block him, but in the end they knew it was a losing battle. From Politico:
But the final hours of the confirmation fight over Sessions and his fitness to serve as attorney general came to a head over the extremely rare and dramatic rebuke of Sen. Elizabeth Warren (D-Mass.), who Republican senators deemed had violated Senate rules forbidding one member from impugning another.

"Frankly, Jeff Sessions is a very fine person, and they all admit that," Sen. Orrin Hatch (R-Utah), who has been incensed for weeks over how Democrats have fought the nomination, said Wednesday. "I guess because he's from Alabama, they think every white male is a racist, or at least might be. So that's wrong. I just think that's wrong, it's obnoxious and it's something that we ought all decry."
Of course Orin Hatch would make such a claim, as most right wingers approve of Sessions and his "if it ain't white it ain't right ways." I mean just look at all these old white guys trying desperately to hold onto power as if the good old days are right around the corner. Those good old days they think are of course where African Americans and minorities knew their place, and that place was at the literal bottom of society. That is how these old white geezers want America, and why Donald Trump and his Make America Great Again campaign slogan appealed to them so much.
The nomination of Sessions — one of the Senate's most affable characters — has been fraught with controversy since the beginning. The veteran Alabama senator had been rejected for a federal judgeship more than three decades ago over accusations of racism as a prosecutor, which was an immediate focus in his latest confirmation fight. Democrats also charged that Sessions' deeply conservative stances on issues like immigration, civil rights, abortion and criminal justice reform were out of line for what was expected of the nation's chief law enforcement official.

His surrogates attempted to fight off the racism charges early on, lining up scores of African-American surrogates who testified on Sessions' behalf, both through the media and in his confirmation hearing in January. During his own testimony, Sessions directly rejected the racism allegations, calling them "damnably false charges."
No, they are not damnably false charges. Make America Great Again or #MAGA, is a coded language that means Make America White Again, where all minorities are treated like slaves or worse. Sad days ahead for New America, which seems to still be at war with old America. Its a generational thing that won't go away until all the old geezers now in power eventually die off and are replaced with a younger generation of people who have been exposed to new America, and who don't relish living in old America anymore.