They must have quite the liberal vacation policy at FOX News. For instance, just one day after making what some saw as an oral sex joke regarding Ivanka Trump and a microphone, Jesse Watters from "The Five" suddenly announced he was taking some time off.
Talking Points Memo reports:
"I am going to be taking a vacation with my family, so I will not be here tomorrow and Friday," he said at the end of Fox News' "The Five. "Try not to miss me too much."
"You know, the left says they really respect women and then when given an opportunity to respect a woman like that, they boo and hiss," he said.
"So I don't really get what's going on here but I really liked how she was speaking into that microphone," Watters added while making a fist and holding it up to his face.
The Fox News host denied that he was making a lewd comment about Ivanka Trump.
"During the break we were commenting on Ivanka's voice and how it was low and steady and resonates like a smooth jazz radio DJ," Watters said in a statement on Wednesday. "This was in no way a joke about anything else."
Our advice to Mr. Watters? Next time, don't use your fist to represent your manly parts.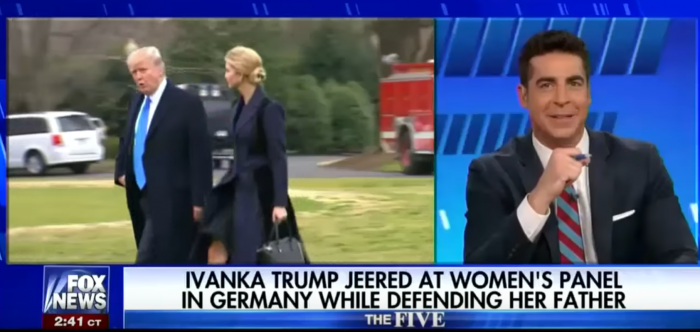 Your pinky finger should suffice.