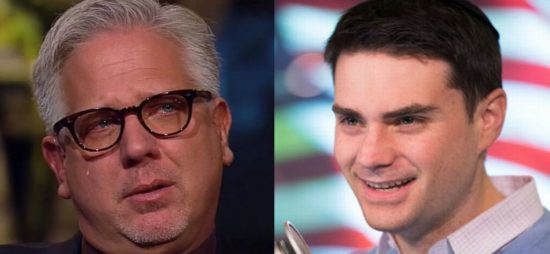 Good old Glenn Beck, remember him? The guy with all the chalkboards and lunatic fringe craziness back in the tea party days? Well, good old Glenn has had serious financial difficulties for the last few years, with staff being fired, or leaving on their own, to mountains of money sunk into a publishing empire that never really materialized. Blame it on management or mismanagement or just plain old time to pick up the stakes and move on towards retirement of a brand that never really took off.
Enter Ben Shapiro, that ugly sack of right wing stupidity who hates liberals — and while working for David Horowitz claimed that liberals needed to be destroyed as if they are some kind of plague, has now moved into the Glenn Beck space and is wanting to take over Glenn's dying publishing empire TheBlaze. Not long ago Ben was heard to say things like this:
"THE MEDIA MUST BE DESTROYED WHERE THEY STAND. THAT IS OUR MISSION AT TRUTH REVOLT. THE GOAL OF TRUTHREVOLT IS SIMPLE: UNMASK LEFTISTS IN THE MEDIA FOR WHO THEY ARE, DESTROY THEIR CREDIBILITY WITH THE AMERICAN PUBLIC, AND DEVASTATE THEIR FUNDING BASES."
Yes, good old Ben, he lives on hate and promotes it wherever he ends up. I'm sure when he takes over Beck's old empire he will find that it isn't easy to pick up a dying breed and dust it off and bring it back to its former glory. In the end it will be just another sunk cost, with millions spent trying to appeal to an ever shrinking base of lunatics. Glenn Beck knows this very well, for he's lost millions on this venture, and now all he wants is to get out with a small retirement package and a few hundred thousand dollars for his efforts. Publishing is hard..