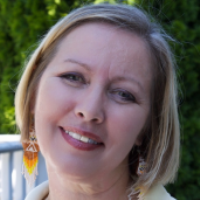 While looking into the background of Lynn Thomas, who we unmasked last week as the originator of the kimberlinunmasked Blogspot domain, we found that she has written for a hate group website.
"Americans For Truth About Homosexuality" proudly calls itself "a national organization devoted exclusively to exposing and countering the homosexual activist agenda," meaning they peddle misinformation and bigotry. AFTAH was listed as a hate group by the Southern Poverty Law Center and also lost its tax exempt status in 2011. But just two months before that happened, Thomas attended the International Mr. Leather convention on behalf of AFTAH and was grossed out by all the gayness.
Going into the "leather market" was an experience. I started at the back of the room, with the intention of weaving my way through the aisles, so as not to miss anything and see all of the vendors. But I was inundated with images of rough men doing rough things to one another, and paraphernalia on sale for people to do rough and obscene things to one another. There were whips and chains and straps to tie people down; dildos [fake penises] in the size and shape if animal species' erect penises. They were labeled baby elephant, donkey, horse…and the thought of where those things would go and what would be done with them, made me nauseous.
Poor Lynn Thomas, trying to make sure she saw everything that could possibly offend and sicken her, only to be offended and sickened by all of it!
She took a camera with her, but she did not take any pictures because (she says) the leather fetish people were looking at her funny. Thomas describes the BDSM demonstrations that she watched for two hours, but she does not quote anyone, and her details are actually generalities. In fact, on second reading, we suspect that Thomas did not attend the event at all, but rather fabricated her account based on things she had actually seen, done, or heard of people doing.
We already believe her alleged nausea was fake, and not just because homophobia is often projected self-hatred. Thomas has no problems working with Ali Akbar, whose Grindr profile listed him as bisexual and whose reputation paints him as gay. Either Thomas has changed her views since 2011, or her views were feigned at the time she wrote for AFTAH. We have circumstantial evidence that she was in fact a gigantic hypocrite: by 2011, Lynn Thomas had reportedly taken part in Jack Idema's all-day anything-goes bisexual unsafe sex parties for years. In fact, our sources indicate that she was probably already infected with the HIV virus herself.
Thomas's second marriage ended in August after an understandable collapse of trust in the relationship. Now our sources say she is sick with the disease that killed her idol and living alone in a small apartment. How much did Idema's penchant for torture, violence, and sex with anything that moves rub off on Lynn Thomas? And how much of it is reflected in her "reporting" on International Mr. Leather?
We have come to understand the Kimberlin obsessives as just another hate group–a Westboro Baptist Church that writes blogs and files frivolous criminal charges rather than picketing funerals. Thomas has made an entire career out of joining such groups, and if our sources are correct she will likely die of her own hypocrisy.