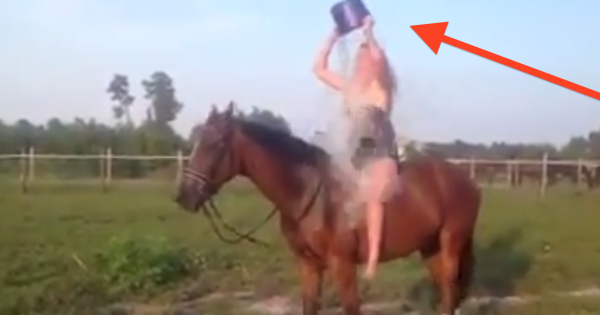 Your attention please: do not, repeat DO NOT attempt the ALS ice bucket challenge while sitting on the back of a horse.
Viral for two days, the video above is a hilarious fail that very nearly turns tragic. It's also a sign of how dangerous some of these videos have become: the Telegraph reported yesterday that 18 year-old Cameron Lancaster died after dumping a bucket of ice water on his head and then jumping 80 feet into an abandoned quarry.
The death of Mr Lancaster, from Burntisland, a small coastal village in southern Fife, comes amid mounting criticism of the challenge. Some observers say it has begun to stray from its original aim of raising awareness and money for the neurodegenerative disease ALS, or motor neuron disease.

In recent weeks, participants have filmed themselves performing increasingly risky stunts in new variations of the challenge.
Has a good thing gone too far? We've seen some truly hilarious scenes in this phenomenon, but is it time for participants to settle down before people get hurt? Share your thoughts in our latest totally-unscientific opinion poll!
[yop_poll id="2″]