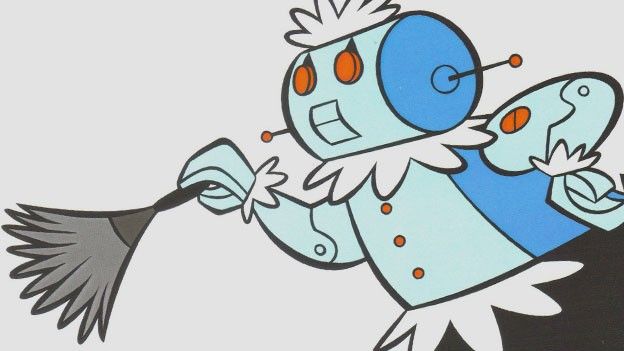 When you think of the future, it's hard to forget the many objects that were predicted by the Jetsons. So far we've seen the advent of mobile phones and microwaves, electric cars and other gadgets, but Rosie, the family's beloved robot maid, is a technology that has been ever-elusive to the modern world.
Sure, we have robot vacuums that can bump around in the kitchen and suck up our dust balls and dirt, but who is going to go grab our medication, purse and house keys on demand?
It may seem like whimsical goal, but mobile robots would be much more useful in homes if they could locate people, places and objects. And that's what researchers have been working on creating. Today's robots "see" the world with cameras and lasers, which have difficulty reliably recognizing things and can miss objects that are hidden in clutter. Robots can "sense" what is around them is through the use of small ultra-high frequency radio-frequency identification (UHF RFID) tags. Inexpensive self-adhesive tags can be stuck on objects, allowing an RFID-equipped robot to search a room for the correct tag's signal, even when the object is hidden out of sight. Once the tag is detected, the robot knows the object it's trying to find isn't far away.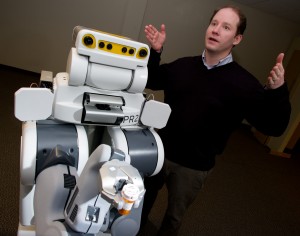 "But RFID doesn't tell the robot where it is," said Charlie Kemp, an associate professor in Georgia Tech's Wallace H. Coulter Department of Biomedical Engineering. "To actually find the object and get close to it, the robot has to be more clever."
Kemp, alongside former Georgia Tech student Travis Deyle and University of Washington Professor Matthew Reynolds, have developed a new search algorithm that improves a robot's ability to navigate tagged objects.
The team implemented their system in a PR2 robot, allowing it to travel through a home and correctly locate different types of tagged household objects, including a medication bottle, TV remote, phone and hair brush. You can watch the robot (who, honestly, seems a bit befuddled as it searches around the room) in action below:
The research was presented September 14-18 in Chicago at the IEEE/RSJ International Conference on Intelligent Robots and Systems (IROS).